2013 San Jose Jazz Festival - Latin Jazz & Salsa
24th Annual San Jose Jazz Summer Fest
Friday, August 9 - Sunday, August 11, 2013
Plaza de César Chavez Park, Downtown San Jose, CA
Click HERE for tickets
The 24th annual San Jose Jazz Summer Fest is the hottest event of the summer featuring a stellar lineup of international stars, emerging artists and regional favorites. You'll enjoy more than 100 bands on 11 stages playing jazz, salsa, Latin, blues, R&B, New Orleans and more. It's the biggest live music event in Silicon Valley—the perfect summer experience with tasty food, wine and microbrews; jazz for kids and after hours events for the grownups.
This year's roster includes international sensation Pink Martini; smooth jazz superstars Dave Koz and Friends; Preservation Hall Jazz Band, which is now celebrating its 50th anniversary with its first album of all-original material; Wil Campa Y Su Gran Union, Cuba's #1 dance band; Hammond B-3 guru Dr. Lonnie Smith; The Cookers, a hard bop super group of legendary players; Broadway legend Ben Vereen; 80s R&B hit machine Cameo; MacArthur "genius" fellow Dafnis Prieto; Robert Glasper collaborator Derrick Hodge and dozens more. Full line-up at jazzfest.sanjosejazz.org.
Focus On Latin Jazz & Salsa
Every year, San Jose Jazz Summer Fest features more Latin jazz and salsa than any other festival in the West. In 2013 they've expanded their roster of Latin artists, presenting them on stages throughout the festival. Highlights include two performances by Arturo O'Farrill & the Afro Latin Jazz Orchestra; MacArthur "genius" grant recipient Dafnis Prieto, who performs a set that is 100% improvised; Transcendental Ensemble, which brings its take on the fiery street music of Bahia, direct from Brazil; Colombia's Audiotrópico which delivers an authentic Latin sound carefully built atop influences of jazz, electronica and funk; Saxophonist Yosvany Terry, who merges sounds of his Cuban homeland with contemporary currents he found in the New York jazz scene; and the great John Santos Sextet presiding over our Latin jazz jam that you can take part in.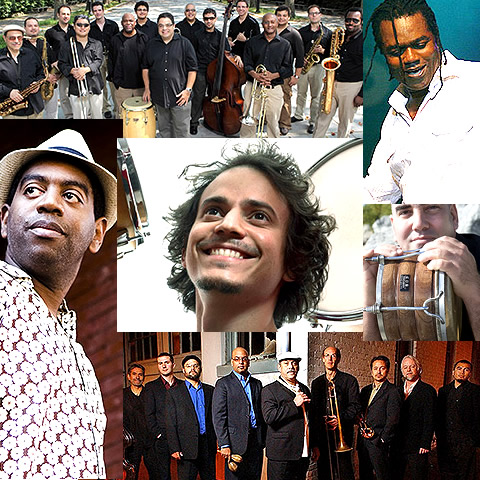 The ambitious lineup on this year's Kaiser Permanente Salsa Stage will transport you to three major centers of salsa culture. On Friday, you'll experience the sounds of New York played by the Josh Jones Ensemble performing a tribute to Ray Baretto and Louis Romero's Mazacote playing NYC-style salsa dura. Saturday, it's Puerto Rico—highlights include Edgardo & Candela performing with the great Cuban timbalero Calixto Oviedo and Orquesta Saboricua, playing Puerto Rican-influenced New York salsa. Saturday headliner Ricardo Lemvo takes salsa global by combining the classic sound with pan-African styles. On Sunday we travel to Cuba, birthplace of son, rumba and the contemporary timba, with the award-winning Latin Jazz Youth Ensemble of San Francisco. Closing the day is Cuba's greatest dance band, Wil Campa Y Su Gran Union, the salsa stage's biggest hit at last year's Fest. While the styles may differ, every band plays exciting, danceable music, so get out there!
General Admission:
Single Day: $20; Weekend Pass through 7/31: $45; Online until 8/9: $55; At Gate: $60
Click HERE for tickets
VIP:
Weekend Pass through 7/31: $250; Thereafter and at gate: $300; Sat or Sun, $150 per day
Click HERE for tickets
San Jose Rep Stage General Admission: Sat, Sun - $10 per day
Click HERE for tickets
Children (Ages 5 – 12): Daily Pass: $5; Weekend Pass: $15
Click HERE for tickets
Michael Lazarus - viernes, 26 julio 2013, 12:58 pm