Cuba in Nijmegen
HENNES LATIN STAGE 2013 - Cuba in Nijmegen (The Netherlands)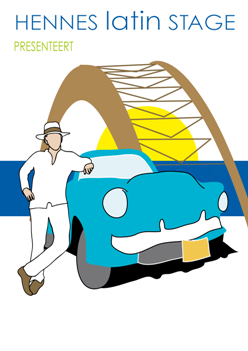 "Hennes celebrates his annual party and everyone is invited."
Local entrepreneur Hennes (nickname for Henri van Woerkum) is crazy about Cuba. The music of the Caribbean island makes him happy, so happy that he has organized for the 8th year a Cuban music festival and all inhabitants of the City of Nijmegen (The Netherlands) are invited.
"I've always liked to dance, but in 1985 when I walked into a Salsa dance school, I was hooked. 'Here I am cheerful,' I said to my partner. 'I want to learn this.' So this is how my love for Caribbean music started and never left", says the enthusiastic Hennes.
"It's so different from European dance music. A dance is meant to be a game between husband and wife. I almost don't see this back in ballroom dancing. Cuban music comes from the heart and your lower parts, you don't think, you feel."
It's not hard to put Hennes on his soapbox. "The first time in Cuba, I was hooked. Even better than the music from the rest of the Caribbean." A new love came into his life, children followed and the frequent trips to Cuba stopped. But Hennes can't do without Cuba and its music.
"Together with my current partner, I invite Cuba here. Since 2012 we do this entirely in-house. Hard work, but I get a lot in return: a great party, Cuba comes to Nijmegen".
Hennes Latin Stage takes place during 'the international 4 day marches Nijmegen' the largest marching event in the world, held since 1916. With participants from 24 countries. All over the city of Nijmegen, considered to be the eldest city in The Netherlands, various artists/bands perform free, in very different styles. During the Nijmegen 4 day Marches there are more than 1 million visitors in the city of 170,000 inhabitants. Hennes Latin Stage has a beautiful picturesque setting along the River Waal. Why not see for yourself and come dancing with Hennes & his friends to the great music of CUBA?
Bands in previous editions of Hennes Latin Stage:
Elito Revé y su Charangón (2012)
Maravilla de Florida (2008, unique: 3 nights in a row)
Septeto Naborí (2008, unique: 3 nights in a row)
Azúcar Negra (2007, unique: 3 nights in a row)
Among many others
Line-up July13 - July 19, 2013:
Saturday Juli 13, 2013
06.30 pm: supporting band Trio Caney
09.30 pm: GRUPO CONTRABANDO
Dj: DJ Lalo
Sunday July 14, 2013
Morning performance with DJ Yuchi & Friends
06.30 pm: supporting band Trio Caney
09.30 pm: TRIO CANEY & FRIENDS
Dj: DJ Yuchi and friends
Monday July 15, 2013
06.30 pm: supporting band Trio Caney
09.30 pm: MAYKEL BLANCO Y SU SALSA MAYOR
Dj: DJ Joost
Tuesday July 16, 2013
06.30 pm: supporting band Trio Caney
09.30 pm: MAYKEL BLANCO Y SU SALSA MAYOR
Dj: DJ Jango
Wednesday July 17, 2013
06.30 pm: supporting band Trio Caney
09.30 pm: ORQUESTA SALSABOR
Dj: DJ Joost
Thursday Juli 18, 2013
06.30 pm: supporting band Trio Caney
09.30 pm: TOMI y su TIMBALIGHT
Dj: DJ ERICB (Special guest)
Friday Juli 19, 2013
06.30 pm: supporting band Trio Caney
09.30 pm: LARIBA
Dj: DJ Yuchi
Michelle White - Saturday, 13 July 2013, 08:00 AM