Concierto Bailable - Timba Cubana - Havana D' Primera - Invitado Tirso Duarte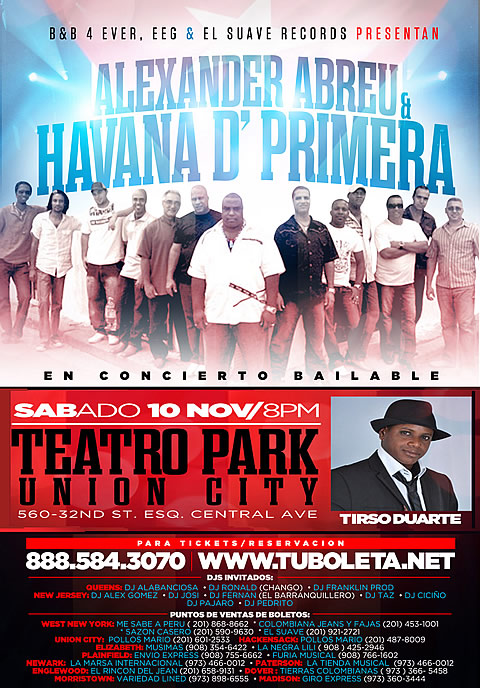 Sabado, Nov. 10, 2012 / 8PM -- Saturday, November 10, 2012 at 8:00 PM
Alexander Abreu & Havana D' Primera
Invitado especial Tirso Duarte
(ex-vocalista de Charanga Habanera y Cesar "Pupy" Pedroso)
Teatro Park de Union City, NJ -- 888-584-3070 -- www.Tuboleta.net
Park Theatre
560 32th Street, Union City, NJ 07087
Phone: (888) 584-3070 -- Website: www.Tuboleta.net
Para boletos oprima aquí = http://goo.gl/qxfNp = Click here for tickets
Alexander Abreu & Havana D' Primera en Concierto, Invitado Tirso Duarte
Tirso Duarte , ex-vocalista de Charanga Habanera y Cesar "Pupy" Pedroso
Saturday / Sabado, Nov. 10, 2012 / 8PM
Park Theatre - 560 32th Street - Union City, NJ 07087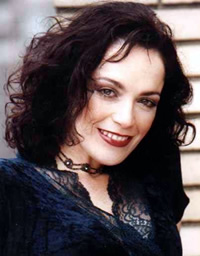 If you live in New York and you want to purchase a hard copy ticket, please email Victoria-Hadar at h_h_v [at] yahoo [dot] com

Victoria-Hadar is unique to the New York and New Jersey latin dance scene. She has specialized in Latin dancing for over 18 years and has learned to dance with top teachers in Europe and Cuba – including with the Cuban national dance company Ban Rra Rra. She currently teaches cuban dance classes in both NY and NJ.

Tirso Duarte el que se escucha en todas partes.
Vaya Tirso y Alexander los esperamos con mucha ansiedad !!
Michael Lazarus - Wednesday, 03 October 2012, 12:48 AM