SpanishEnglishGilberto "Gilbertón" Moreaux Soto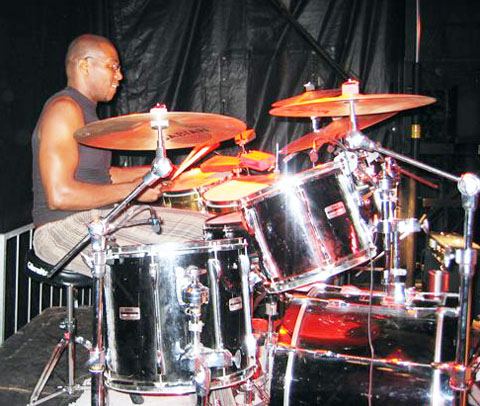 instrumento/instrument: timbales
grupos/groups: D'Talle, Charanga Forever, Charanga Habanera, Bamboleo
grabaciones/recordings: Charanga Forever: La Charanga soy yo, Charanga Forever: Charanga Forever, Bamboleo: Te gusto o te caigo bien, Los 10 de la Salsa
lugar de nacimiento/birthplace: ?
formación musical/musical background: ?
lugar actual de residencia/current residence: Vancouver, BC
Gilberto Moreaux Soto has played timbales with Bamboleo, Charanga Habanera and Charanga Forever, in that order. He's currently playing with D'Talle in Canada.
The only thing I know about his early career is that he played with Conjunto Artístico de las FAR. I believe he was also a member of "Los 10 de la salsa", the group which later changed its name to "Manolín, el Médico de la salsa".
We'll update this section as soon as we get new information on this great timbalero. [Majela Serrano]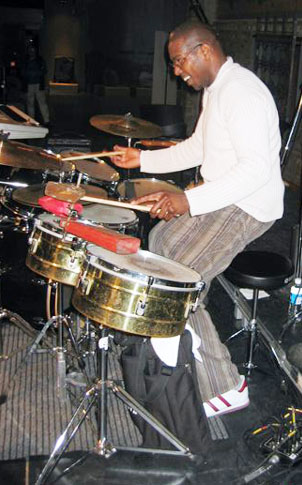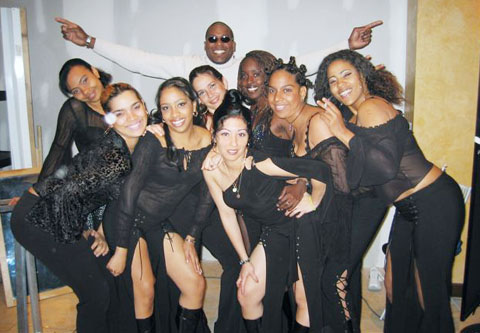 Gilberto in his enviable position as the only male member of D'Talle
Michelle White - Wednesday, 23 March 2011, 03:31 AM