New Stuff
[hide]
Photos of the Day
[hide]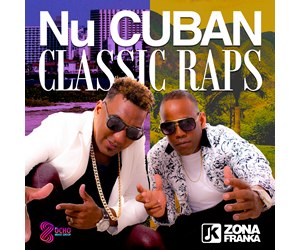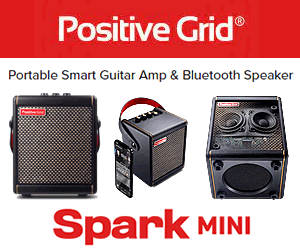 Herlan Sarior Llopis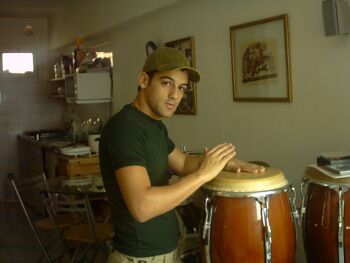 instrumento/instrument:Timbales
grupos/groups: Espectáculo del Hotel Comodoro, Jazz Proyect, Impacto, Sello L.A, Bamboleo
grabaciones/recordings: Homenaje a José Valladares, Bamboleo: Ya no hace falta, Bamboleo: ño que bueno está, Disco de la orquesta femenina LB, Romanceando, Pendiente de tí
lugar de nacimiento/birthplace: La Habana, Cuba
formación musical/musical background: Conservatorio "Amadeo Roldán"
lugar actual de residencia/current residence: Palma de Mallorca, España
The rock-solid timbalero of one of Timba's best and most exciting rhythm sections.
Herlan Sariol Llopis. Nacido en la habana el 10 de mayo de 1981. Hijo y nieto de músicos, su padre Enrique Ignacio Sariol López (Lalo), su abuelo Eduardo Sariol (Lalo) baterista fundador de la orquesta de la televisión cubana (ICRT) . Estudió durante 3 años en el conservatorio Amadeo Roldán donde recibió clases del famoso profesor Roberto Concepción. Entre sus discos grabados se encuentran: Homenaje a Jose Valladares producido por Emilio Vega, Ya no hace falta, Ñño Que bueno está, orquesta Bamboleo. Vitali y su Timba Habanera producida por un pianista esloveno, donde participaron músicos como: Mario Rivera - Los Van Van, Amaray - Manolito Simonet, Coco Freeman, NG La Banda, Pepito el de Florida, Pupy y los que Son Son, Frank Rubio (ex-bajista de Issac y Paulito) Tony Pérez reconocido pianista, Alexander Abreu trompet, Amauri Pérez trombonista. También grabó toda la percusión en el CD de la orquesta femenina Salsa lB, producido por Angelito, tecladista y arreglista de Paulo FG. Varias grabaciones en los estudios Abdala de Silvio Rodriguez junto al guitarrista "el yanqui".grabó el bongó y timbal en el CD del ex-cantante de Bamboleo Alejandro Borrero titulado Romanceando. Grabó el timbal en el cd titulado Pendiente de ti producido por el ex-cantante de Bamboleo Alain Daniel Pico Roque y arreglado por "Soria". Ha formado parte de las orquestas espectáculo del hotel Comodoro, Jazz Proyect TNT, Impacto, Sello L.A., Bamboleo. Ha realizado giras por toda Europa 2 veces, China, Japon, Estados Unidos 6 veces. Tuvo el privilegio junto a la orquesta Bamboleo de compartir escenario con la conocida orquesta DLG. Es artista de la compañía de percusión Latin Percussion LP. Actualmente reside en España, Palma de Mallorca donde toca con distintas bandas de jazz latin, son, salsa y flamenco.
Michelle White - Wednesday, 23 March 2011, 03:31 AM