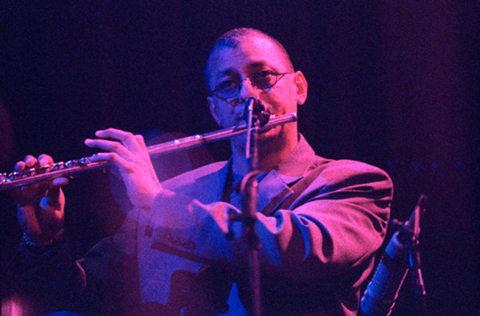 photo by Peter Maiden - Fillmore Auditorium, San Francisco, May, 2002
intrumento/instrument: flute, saxophone
grupos/groups: Jorge Maza & Típica Toronto, Cubanismo, Charanga Forever, Charanga Habanera, orquesta "La 440", Grupo "Alfonsin Quintana", Grupo "Hector Tellez", Grupo "Layé", Grupo "Impacto", Grupo "Sierra Maestra", Grupo "Canto Libre"
grabaciones/recordings: Cubanismo, Charanga Habanera: Tremendo delirio, Charanga Habanera: Pa' que se entere La Habana, Charanga Habanera: Hey You, Loca, Charanga Habanera: Love Fever, Charanga Forever: La Charanga soy yo, Charanga Habanera "Charanga Habanera"(Dom) , Cubanismo: Mardi Gras Mambo, Mauricio Venegas y Efrain Rios"Andocubano"(tumimusic), Juanito's Kariba All star "Salsoca-Beat"(gema), Tristezas"Las canciones cubanas con alma de la epoca"(Globe Roots), Efrain Rios y proyecto guitarras "El panorama de la cuerda cubana"(Jasrac).
lugar de nacimiento/birthplace: La Habana
formación musical/musical background: graduado del conservatorio de música "Amadeo Roldan"
lugar actual de residencia/current residence: Toronto
Jorge Emilio Maza played sax and flute for both Charanga Habanera and Charanga Forever, and was also musical director of La Forever for a period of time..
Maza, a founding member of Charanga Habanera stayed witht the group for ten years, from 1988 to 1998. He didn't stay for very long with La Forever and is currently playing with Jesús Alemany's "Cubanismo" with such musicians as Efraín Ríos, Roberto Riverón, Carlos Alvarez, "El Panga", "Peruchín", etc.
I understand he was a member of the Banda Nacional de Conciertos after finishing his studies, but I'm not sure if he attended the ENA or Amadeo Roldán.
I last saw him a year and a half ago in Havana, where he was recorded with Cubanismo on an album that featured Tata Gúines as a guest artist. [Majela Serrano]
A few years ago Maza moved to Canada where he performs with his group Toronto Típica. [Michelle White]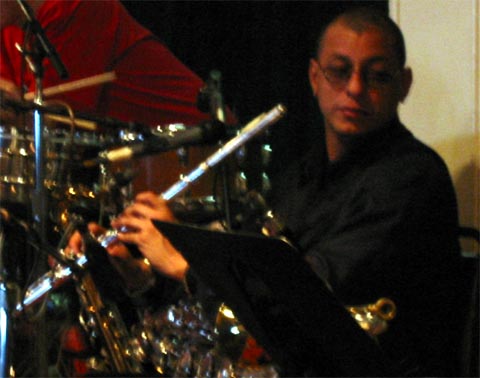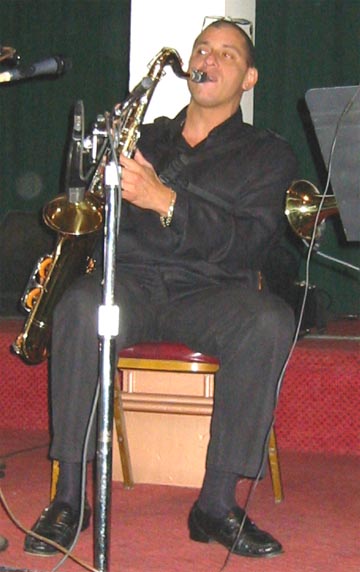 Michelle White - Wednesday, 23 March 2011, 03:31 AM