London Timba Report - Mind the Clave
Timba Events London 2014
The streets of London are no strangers to the sounds of the Cuban clave. The Capital closed 2013 in style with Los Van Van performing at The Forum on the 26th of October after a year of absence. Early 2014 saw Manolin "El Medico de la Salsa" perform at The Cuban (Camden) on the 6th of February and that is just the beginning.
For the Cuban Salsa dance fanatics, don't miss out on the AfroSalsa dance Festival 2014 . The Festival will be taking place on:
Saturday July 12th (9.30 am - 4.00 am) and Sunday July 13th (12.30 pm - 11.30 pm) at
The Missing Sock
Finders Corner, Newmarket Road,
Stow-cum-Quy, Cambridge CB25 9AQ
Two great days out of Salsa dancing, music, fine food, partying and friendship!
More than 15 hours of workshop to choose from in: Salsa, AfroCuban, Ladies /Men Styling, Bachata, Kizomba, percussions.
Classes for all levels. Indoors and covered outdoors, weather-proof spaces.
Non-stop partying until 4.00am on the Saturday night, and extra partying until 23:00 on the Sunday night.
Exclusive shows by the invited teachers.
Delicious food and drink specials available on site. Ample parking space.
For more detaila\full program\booking visit:
http://www.cambridgecubansalsa.co.uk/index.php?post/2014/03/29/The-AfroSalsa-Festival-2014
In terms of International artists live performances London we have
Maykel Blanco y su Salsa Mayor
Saturday
21 June Doors 9pm - 4am
Electric Brixton Town Hall Parade London SW2 1RJ
0871 220 0260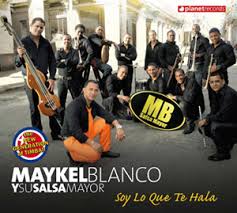 Maykel Blanco and his Salsa Mayor spun their way into the Havana music scene ten years ago and remain perhaps the most popular live band
in Cuba with a stunning live show. For this, their UK debut Maykel and the band will be playing their hits including Recoge y vete, Esto está, Cimarrón, Que tengo, Anda y Pégate, Si le gusta repite, Quitándome lo malo among others.
Supported by London's finest Cuban DJs until the sun comes up.
Kevin Moore - viernes, 02 enero 2015, 05:00 pm