SpanishEnglishAbracadabra - (OHL Music) 2016
CD Review: Abracadabra by Oriente López (OHL Music 2016)
Review by Bill Tilford, All rights reserved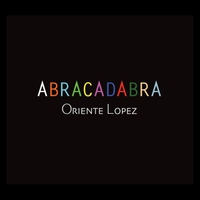 Abracadabra is a recording that defies an easy description due to the complexity and variety of the contents. Think of an audio kaleidoscope where things change not only between songs but often also within them. Some of the songs, such as Saltos en la Escalera, Abracadabra and Oba Iré, are redolent of the legendary Jazz/Fusion group Afrocuba with which Oriente López worked in the past; there are stong Brasilian influences in Caido Amargo and Herida De Pena (Oriente plays some accordion on Herida); there is Cuban Funk mixed with a variety of things in El Dulcetero Llegó and Aterriza; El Alma Del Jardín and Pasáste Por Aquí are beautiful ballds; Peregrino is a nice mix of Nueva Trova and Son; El Fin, El Mar a strong Rock Canción and Arrollando El Carnaval a lively conga. But all of this oversimplifies the songs. Throughout the recording, there are flourishes of other things - a touch of Jazz here, a flourish of flutes there, and something unexpected here and there.

Oriente López composed and arranged all the music in the recording, but the lyrics were written by Ana Mireles (Oriente mentioned in a recent interview that he prefers to have someone else write lyrics for his music). As you can see from the track list, an extremely impressive collection of vocalists collaborated in this project. I did not list the studios involved in the credits because there are several, and the liner notes don't associate them with corresponding tracks, but several independent studios were also involved in the project.

Abracadabra was nominated in the Fusion category in Cubadisco 2017, and if you have to give it a label, that is as good as any. Much of it is very danceable, all of it is very listenable -especially if you like the little musical surprises that jump up repeatedly, just like in a good kaleidoscope. I'm not going to include a clip in this review because as I said earlier, in this case a single track would not do justice to the whole.
Tracks (Music by Oriente López, Lyrics by Ana Mireles)
1. Saltos En La Escalera (lead vocal: Pavel Urquiza)
2. Abracadabra (lead vocal: Javier Rubal)
3. Peregrino (lead vocal: Oriente López)
4. Calido Amargo (lead vocal: Leslie Cartaya)
5. Oba Iré (lead vocal: Mayito Rivera)
6. El Dulcerito Llegó (lead vocal: Javier Porta)
7. Baja La Candela (lead vocal: Alaín Pérez)
8. En Fin, El Mar (lead vocal: Malena Burke)
9. Mi Tatara (lead vocal: Kelvis Ochoa)
10. Pasáste Por Aquí (lead vocal: Gerardo Contino)
11. Aterriza (lead vocal: Yamila Guerra)
12. Herida De Pena (lead vocal: Magilee Alvarez & Oriente López)
13. No Te Olvidé (lead vocal: Magilee Alvarez)
14. El Alma Del Jardín (lead vocal: Oriente López)
15. Había Una Vez (lead vocal: Oriente López)
16. Arrollando El Carnaval (lead vocal: Angel Bonne)
Musical Credits for Abracadabra
| Role - Instrument | Name |
| --- | --- |
| Piano, Keyboards, Accordion, Flutes | Oriente López |
| Electric Bass | Alaín Pérez (7); Luis Manresa (2, 3, 6); José Gola (8, 13); Carlos Mena (1, 5, 11, 16); John Kupicz (12); Itaiguara Brandao (4, 15) |
| Baby Bass | Jorge Bringas (9, 10) |
| Acoustic Bass | Carlos Mena (14) |
| Electric Guitar | John Tropea (8, 11); Román Lajara (1, 7) |
| Acoustic Guitar | Gil Gutiérrez (2), Itaiguara Brandao (4); Román Lajara (12, 13); Jorge Luís Pérez (12); Julio C. López "Pachy" (8) |
| Tres | Yuniel Jiménez (3, 9); Román Lajara (13) |
| Drums | Jimmy Branly (1, 3, 4, 6, 8, 11); Calixto Oviedo (7, 9); Maurizio ZottarellI (15) |
| Percussion | Conrado García (all percussion 5, Congas 7); Calixto Oviedo (Timbales 7); Mauricio Herrera (Batá 1, Congas 9, all percussion 16, Chimes 10); Vicente Sánchez (Congas 3, 8); Ramón Porriña (Cajón & Palms 2, Cajón 8); Yusnier Sánchez (Congas 15); Gilmar Gomes (all Samba percussion 4); Fernando Favier (Cajón, Palms & Cymbals 12, 13); Mario Lino Fernández (Bongoes 3, 7, 8, 10, 14, Maracas 3, 9, 10, Güiro 9, 10, 14, Cowbell 14); Igor Arias (Congas 14); Román Díaz (Shekere 1); Gabriel Machado (Timbal 10) |
| Trumpet & Flugelhorn | Chris Ferrer (1, 3, 4, 5, 6, 7, 9): Yaure Muñiz (1, 8, 11); Guillermo Trujillo (5); Juan Carlos "Wichy"López (1) |
| Trombone | Rey David Alejandre (1, 4, 6, 12); Chris Ferrer (5, 16) |
| Saxes | Soprano: Felipe Lamoglia (4), Neil Leonard (5); Alto: Chris Ferrer (5, 6, 16); Tenor: Carlos Averhoff Jr. (1, 8, 11); Luis Faife (1, 6, 7) |
| Background Vocals | Pavel Urquiza (1); Glenda Del E (1, 2, 4, 8, 9, 7, 11); Vicente Sánchez (5, 16, 9); Emilia Przesniak (5, 9); Luiís Manresa (6); Iraysmi Andrea Ramírez (6); Barbara Martínez (2); Oriente López (2, 3, 5, 7, 8, 9); Igor Aria (14); Yamilia Campos (10, 16); Sebastian López (5, 16); Salvador De Angela (12); Michelle Collier (14); Magilee Alvarez (3, 12, 15); Gerardo Contino (5); Ailyn Arias (6); Aime Arias (6) |
| Additional Vocals | Ana Mireles (Poem, 9); Román Díaz (1, 9); Yun Huang (9); Sebastián López (9); Ailyn Arias (15); Aime Arias (15), Vicente Sánchez (15) |
| Violin | Omar Puente (7, 10); Yunior Terry (2, 8, 10, 13); Rafael Cos Peña (2, 4); Juan Miguel Hechavarría Pérez (2, 4) |
| Viola | Ana María Rojas Gallego (2, 4) |
| Cello | Jennifer VIncent (2, 8, 10, 13); Karen Lizeth Londoño Múnera (2, 4) |
| Executive Producer | Oriente López |
Bill Tilford - Sunday, 23 July 2017, 08:35 PM