CD Review: Border-Free by Chucho Valdés and the Afro-Cuban Messengers
Jazz Village 2013, Colibrí (as Sin Fronteras) 2013
Review by Bill Tilford, All rights reserved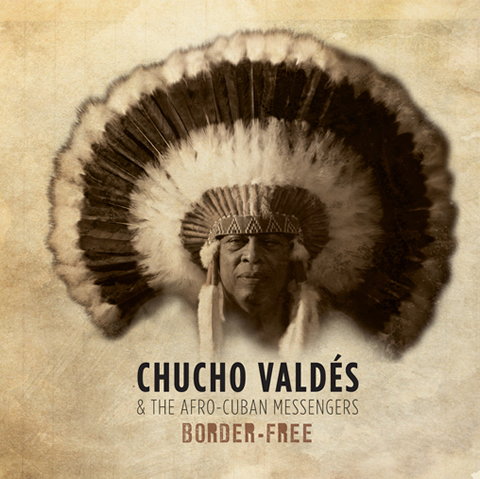 Executive Summary: Holy S***!!

Full Review: Musically speaking, Cuban Jazz icon Chucho Valdés, who also has eight GRAMMY awards on his shelf, seems to be getting younger all the time, in a good way. At an age where many musicians are grateful just to be alive and performing at all, Chucho is still knocking our socks off with new compositions, equally-impressive recordings and concerts. His latest, Border-Free, has a solid Afrocuban core but also draws upon Flamenco Jazz, hard Bop and Gnawa music from Morocco among other things. Border-Free resets both the personnel and the repertoire of the Afro-Cuban Messengers, and this new release is a wild ride.
The opening track, Congadanza, a tribute to Maria Cervantes, features some shock and awe piano from Chucho riding over a conga rhythm that sometimes pauses to allow Chucho to unleash to full force of an idea. Caridad Amaro, a tribute to Chucho's grandmother, includes a quote from J.S. Bach's Preludio in D Minor and a beautiful conversation between Chucho's piano and Angel's bass. Branford Marsalis takes a nice turn on tenor in Tabú, which ends with a nice exchange between Bradford, Reinaldo (trumpet) and Chucho over the batá drums. Bebo, a laid-back Cubop piece which is named in honor of Chucho's father, also features Branford and Reinaldo together. Afro-Comanche was inspired by part of the history of the Comanche tribe and has a few Native American musical echos. Angel gets an extended bass solo midway through the song. The song ends with an extended Afrocuban canto to Oggun. Pilar, a tribute to Chucho's mother, is a romantic ballad with several extended bass passages; Angel uses the bow and his upper register in some of these passages with beautiful results. Santa Cruz uses some Flamenco Jazz references. The Gnawa influences show up most prominently in the closing track Abdel, which brings Branford Marsalis back on soprano sax. The group rides out the same way it rode in, with intensity.
The U.S. release of Border-Free is scheduled for July 9, 2013. It has already been released in Europe. This will be one of the contenders for the best Latin Jazz release of 2013.
October 2013 Update: Not surprisingly, Border-Free has been nominated in the Best Latin Jazz Album category in the 14th Latin GRAMMY Awards.

May 2014 Update: Border-Free has been nominated for a Cubadisco (Jazz Cubano) with the title Sin Fronteras under the Colibrí label.
Tracks:
Congadanza
Caridad Amaro
Tabú
Bebo
Afro-Comanche
Pilar
Santa Cruz
Personnel in Border-Free
| Role - Instrument | Name |
| --- | --- |
| Piano, Leader | Chucho Valdés |
| Trumpet | Reinaldo Melián Alvarez |
| Batás, Lead vocals | Drieser Durruthy Bombalé |
| Drums, Vocals | Rodney Barreto Illarza |
| Double Bass, Vocals | Angel Gastón Joya Perellada |
| Percussion, Vocals | Yaroldy Abreu Robles |
| Tenor and Soprano Sax | Branford Marsalis |
Kevin Moore - Thursday, 15 May 2014, 10:46 AM