A Dream Come True by Cubana All Stars
CD Review: A Dream Come True by Cubana All Stars (Viva Combo Music 2012)
Review by Bill Tilford, All rights reserved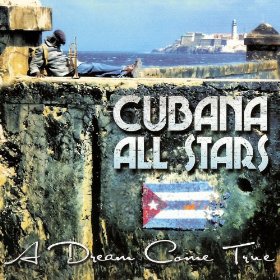 All-stars projects of any sort depend upon a lot of factors in addition to the musicians themselves - it takes the right producer, an intelligent choice of material and perhaps most importantly, the ability to say something different from the original versions of the songs (these projects almost invariably involve covers of earlier material). One of the success stories, the Estrellas de Areito recordings of three decades ago, benefitted from the guidance of the late Juan Pablo Torres as producer, for example. Many of the projects that fail musically do so because they gather the right musicians together and then fail to connect the rest of the other dots.
A Dream Come True, recorded in the EGREM studios in Havana during April 2012, is a massive project featuring approximately 40 top recording artists mostly living in Cuba with some special invitees from other countries including Juan Munguia-Cubas, Isaac Delgado, Chocolate Armenteros, Justo Betancourt, Xiomara Laugart, Dennis Savón and Rafael Morales. (The total roster is 41 if you include what we think is a cameo by Alfredo de la Fe in Corranse ahi caballeros.) Richie Viera produced the recording, Joaquin Betancourt-Jackman is musical director, and Adalberto Alvarez also played an important role in the project.
This isn't the mother of all alternate takes - this writer once saw a recording which will remain nameless that was basically nothing but alternate covers of Guantanamera - but most of the songs include two, three or four alternate takes using different singers and usually subtle (but occasionally significant) differences in the arrangements. There are 3 different takes of A Bayamo en coche, 3 takes of Son de la madrugada, 4 versions (including an instrumental descarga version) of Muevete, 3 versions of Xiomara, 3 versions of Que manera de quererte, 2 takes of Preparate pa' lo que traigo, 1 take of Corranse ahi caballeros and 1 take of Aqui el que baila gana. The rationale was primarily to give different singers a turn at the various songs, but as we mentioned earlier, there are also some differences in the instrumentation and arrangements as well. All of the takes are scored for a very tight big band, usually with multiple vocalists. This writer feels that the concept worked at its very best with Xiomara and Corranse; the upper brass wails on both of these, and it is fun to hear them fully scored out for big band. The "legendary" alternate of Xiomara has a nice percussion intro not present on the other takes. Corranse brings some rumba and charanga elements to the program. Picture Original de Manzanillo augmented with a big band, and you'll get the idea.
These are great arrangements, and we enjoy hearing a big band take on something like Muevete; the question is were multiple versions of them really necessary in so many cases since with a few exceptions the arrangements were usually similar? The answer for disc jockeys and some radio programmers may very well be "yes", for regular listeners, it probably depends upon how much importance you give to specific singers. It's safe to say that between the various alternates, you'll probably find a version that you like. We like this recording even though we would have preferred to see perhaps two versions and a longer song list. If we set the duplicates issue aside, this is a worthy successor to the Estrellas de Areito projects from years ago.

After looking over the promotional information, it appears that this was done with an eye towards a possible tour by either the entire cast or various sub-units (another possible reason that we might understand for the various alternate takes in the recording). Here is a promotional video of the lead track, Preparate pa' lo que traigo:
Musicians and singers include Alexander Abreu, Adalberto Alvarez, Carlos Alvarez, Pancho Amat, Yoandy Argudin, Chocolate Armenteros, Laritza Bacallo, Rodney Barreto, Joaquin Betancourt-Jackman, Vania Borges, Pedrito Calvo, Leider Candebat-Chappotin, Andres Cuayo, Alfredo de la Fe (guest on Corranse), Guillermo del Toro, Issac Delgado, Samuel Formell, Raúl Tobias Gil, Lazaro Gonzalez, Xiomara Laugart, Jorge Leliebre, Cesar López, Tommy Loure, Boris Luna, Rolando Luna, Juan Manuel-Ceruto, Haila Mompié, Eduardo "Tiburon" Morales, Rafael Morales, Juan Munguia-Cubas, Eliaes Ochoa, Tomas Ortiz, Tania Pantoja, Paulo FG, Alaín Pérez, Amaury Pérez-Rodriguez, Tomas Ramos, Mayito Rivera, Robertón, Dennys Savon and Policarpio Tamayo.
Bill Tilford - Sunday, 13 October 2013, 08:41 PM