New Stuff
[hide]
Photos of the Day
[hide]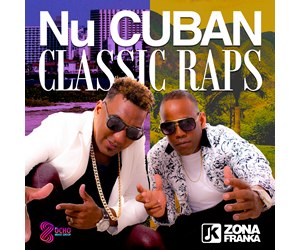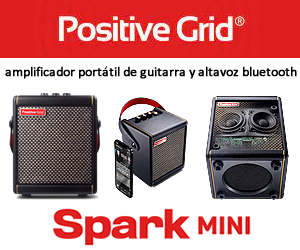 Concert Review: Alexander Abreu and Havana D'Primera at Kraken
27 October 2017
Stockholm, Sweden
Review by Michelle White, all rights reserved
Click here for the picture gallery from the concert.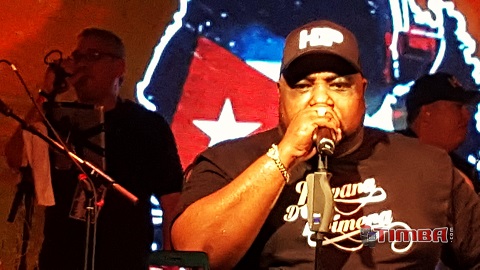 Alexander Abreu
The concert was arranged by DJ Isra and Ritmico and held at the venue Kraken, which has a capacity of 1000. The event also featured El Chacal as the opening act. It was sold out weeks in advance. I arrived a little late and there was still quite a line outside and people arriving even after I did. The typical Stockholm attitude of showing up fashionably late to a concert wasn't a great idea this time. Also the venue coat check only had three people working, which slowed things down. Isra has promised to see that this doesn't happen for the next concert. When I got inside around 11pm, El Chacal was already in full swing and the place was packed and sweaty-hot despite the cold and rain outside.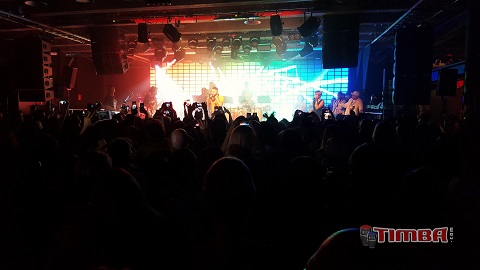 El Chacal @Kraken
As you may know, I'm not a big fan of reggaeton, but of course I know El Chacal because of his many collaborations with timba artists - and also from his popularity in general as one of the important names in Cuban reggaeton. Unlike me, most of the audience knew his songs very well and were singing along throughout his set and filming with their cell phones. The audio mix seemed off at the beginning of his set, but was adjusted and improved.
My impressions of El Chacal's is that he is a very good performer, charismatic and energetic on stage. His singing was good and he is backed by an excellent band. The use of a live band rather than just backing tracks is one of the nice things with Cubaton bands nowadays. They have really moved towards a more interesting sound than the old, monotonous four minutes of the same drum machine samples. El Chacal also does a lot of fusion for example the flamenco fusion "Llegaste Tú", which he performed that night. However, I must admit my failings in my knowledge of his repertoire, and I cannot give you his track list. I will end by saying the his band was very professional and the music had me dancing even though I didn't know it. They did a great job of raising the energy level of the audience. El Chacal convinced me that it may be time for me to take a closer look at what's happening currently in Cubaton.
When El Chacal's set ended, there was about one hour of DJ so the dancers could get their groove on. Kraken is designed like a big rectangle with the stage at one end and a bar at the other. To the right of the big rectangle/stage area is a smaller square with it's own bar as well as a seating area. In Stockholm, the dance culture is that most dancers pay close attention to the band and press up against the stage during the concert. Not much partner dancing in the area in front of the stage but a lot of solo dancing. The partner dancing during the show takes place mainly in the back by the bar or in the side section. So the DJ sets are when many of the dancers get their fix of partner dancing.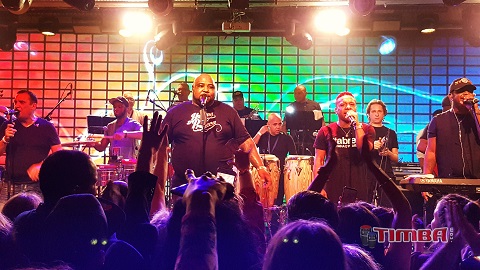 The main event began around 1am as the band slipped into the intro to "Me dicen Cuba". What can you say about this iconic song? When they came to the line "para que sepas el porqué...a mí" the singers dropped out and the audience responded with a deafening "me dicen Cuba!" In fact, throughout the entire concert there was enthusiastic singing from the audience.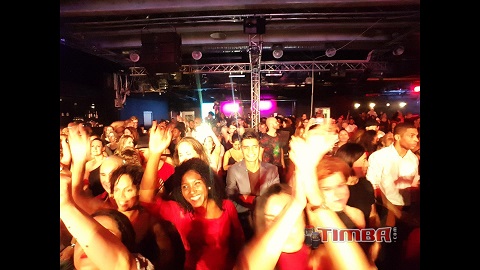 After "Me dicen Cuba" they followed with "Al final de la vida", "Qué sorpresa", which got a big response from the audience, and then "Pasaporte". The band played impeccably reminding me what an awe-inspiring experience it is to see one of Cuba's greatest bands live. The last time I saw them was October 2015.
One of the strengths of Havana D'Primera is that the musicians get to utilize all their talents. So in addition to Enrique and Jannier, they also have Yosvel (keyboards) on coros as well as Amaury (trombone), when he's not playing a mambo. This really increases the depth and intensity of the coros.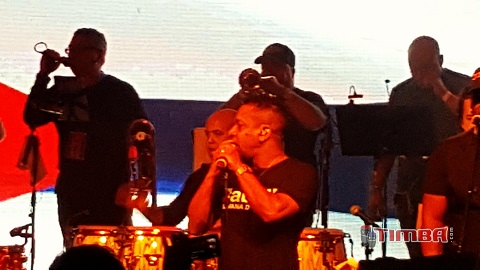 Robin plays "La Bayamesa" during "Me dicen Cuba", Jannier and Amaury on coro
An unexpected guest was FClan, who joined Alexander for "Yo vengo de Cuba". The song is a favorite of mine, and this concert was also the first time I saw FClan live.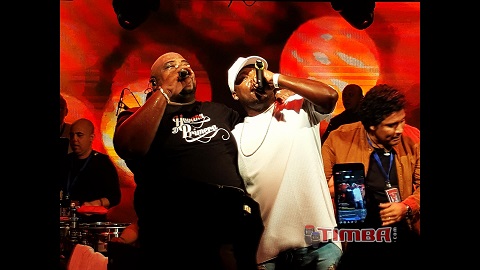 Alexander & FClan
Of course the song itself was great, but in addition, as you might imagine, there was plenty of dancing including rumba and even some animación - although not a lot of room on the packed floor for the audience to dance. It became quite an extended version.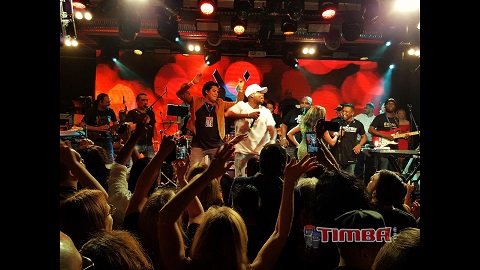 They dropped the tempo a bit with "Siempre sí" a song that has been hugely popular - and one they simply could not leave it out. The final song was "La Bailarina". El Chacal came on stage towards the end and did a very good improvisation. It became quite the onstage party with FClan, Alexander and El Chacal - another very extended version.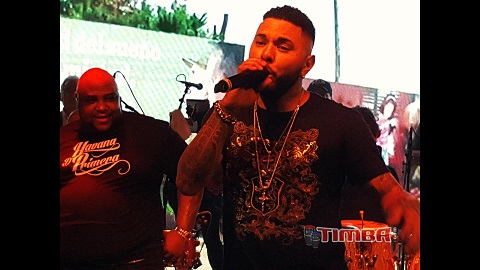 El Chacal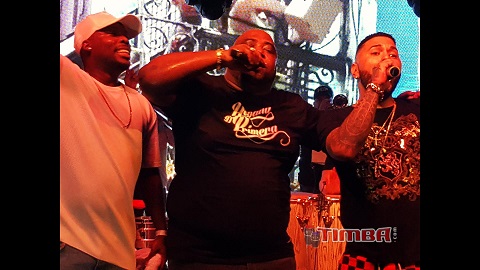 FClan, Alexander & El Chacal
There were two things that disappointed me. First, there was no encore. Granted they performed for a good hour and a half, but I wasn't ready to see them leave the stage. But it was only about 30 minutes until the venue had to close, so I guess they had to wind things down. Second, I didn't know that the band is selling CDs, DVDs, t-shirts and ball caps at their concerts. I never carry cash, so I didn't get to buy anything. Bummer. So if you'll be attending one of the remaining concerts, be sure to have some cash on hand!
I also want to mention that for Havana D'Primera's set the audio was very good. No matter how good a band is, they can't overcome a poor audio system. But this concert had Stockholm's best timba soundman Francisco Hernandez "Frasse" in charge and using his own equipment. A thank you to Frasse and to Isra for bringing him in.
Havana D'Primera track list:
Me dicen Cuba
Al final de la vida
Qué sorpresa
Pasaporte
Yo vengo de Cuba with FClan
Siempre sí
Bailarina with El Chacal
Michelle White - Monday, 30 October 2017, 07:19 PM