CD Review: La Formell mania (antología Juan Formell y Los Van Van)
(Bis Music 2013)
Review by Bill Tilford, all rights reserved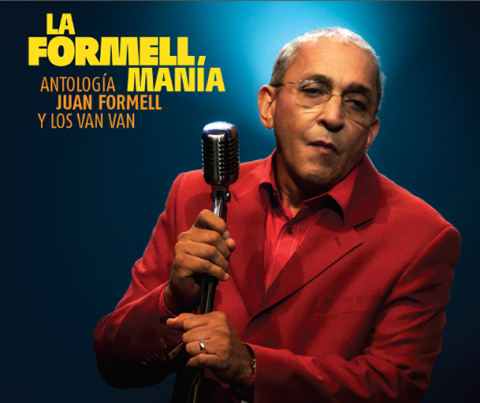 What is there left to say about Juan Formell and Los Van Van? There have been so many anthologies, so many documentaries, and yet, this one was put together so well that it deserves notice. This three-CD set of historic recordings represents the 1970s, 1980s and 1990s quite well and almost flows like three original albums. The production values are excellent, especially with some of the oldest songs like Aquí se enciende la candela, which has appeared with variable audio quality in some other compilations over the years. If this writer needed to choose an anthology of Los Van Van's music to give to a new listener, La Formell Manía would be an extremely strong candidate for his choice.
The Bis website is here.
Songs:

CD 1:

1. Aquí se Enciende la Candela
2. El baile del Buey Cansado
3. Dale Dos
4. Yuya Martínez
5. Si una Mamita
6. Te Traigo
7. El Martes
8. La Habana Joven
9. Chirrín Chirrán
10. Marilú
11. Qué Palo es Ese
12. Nosotros los del Caribe
CD 2:
1. Ay, Mamá, Recíbeme
2. Por Encima del Nivel (Sandunguera)
3. La Habana o Aguanta Más
4. Anda, Ven y Muévete
5. La Habana Sí
6. La Titimanía
7. Recaditos No
8. El Negro No Tiene Na´
9. Hay Mujeres
10. ¿Hasta las Cuantas?
11. Ese es Mi Problema
12. Ella Tiene Algo que No Sé
CD 3:
1. ¿Qué Tiene Van Van?
2. Aquí el que Baila Gana
3. Ya Empezó La Fiesta
4. Un Solo
5. Qué Sorpresa
6. Soy Normal Natural
7. De Igual a Igual
8. Camina Pa´ que te Conozcan
9. De La Habana a Matanzas
10. ¿Qué Pasa con Ella?
11. Esto te Pone la Cabeza Mala
BonusTrack: 12. Oh, No
Bill Tilford - Saturday, 29 November 2014, 07:25 PM