Lo Nuevo
[hide]
Fotos Del Día
[hide]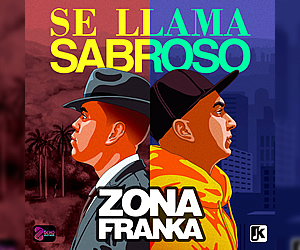 Pa' que se entere La Habana - (Inspector de la Salsa) - Released 1995
listen & purchase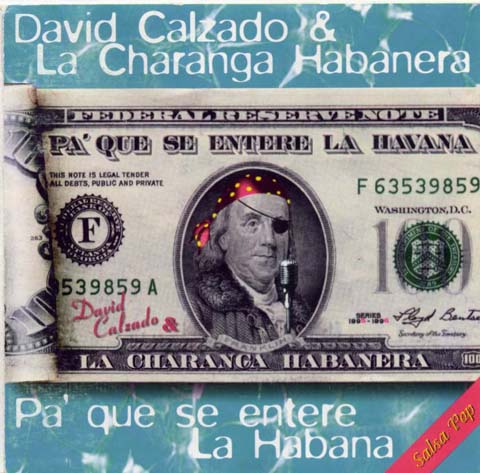 1995 - Pa' que se entere La Habana
Click here for Full Review -- Oprima aquí para leer la reseña completa
By 1995 Charanga Habanera and their second album, Hey You Loca, had become a major sensation in Havana. Their concerts were packed with young "Charangueros" who danced and dressed as they did and knew all of their songs, each of which became, in rapid succession, a huge radio hit. With the band's popularity reaching "mania" proportions, singer Leo Vera left without warning to join Chucho Valdés' legendary Irakere. Leo had sung half of the band's hits and when he departed, his version ofMi Estrella was the #1 hit in the country. It was a major blow but David Calzado, as he continues to do today, landed on his feet by relying on his uncanny ability to find and quickly mold new talent. To replace the mature and virtuosic Vera, he shocked everyone by choosing a 16-year old boy with a much lower range, forcing Sombrilla to take over most of Leo's songs. That 16-year old turned out to be none other that Michel Maza, who was an immediate success and remains to this day one of the biggest stars in Cuba.
The drastic musical changes brought about by the Timba revolution were accompanied by equally drastic changes to the inner workings of the Havana music scene. Musicians were allowed to earn dollars from their performances and a convoluted quasi-capitalistic economic substructure began to develop. Those with musical talent became highly motivated to become Timba musicians and the fierce competition forced them to higher and higher levels of virtuosity and creativity. Meanwhile a whole industry of "jineteros" grew up around the club scene, with attractive young Cubans of both sexes seeking out foreigners for everything from cigar sales, to "romance based on finance", to outright prostitution. It was the "end of the innocence" for La Habana and La Charanga Habanera and the societal upheaval provided irresistibly fascinating material for lyrics. Following in the footsteps of Juan Formell and Los Van Van, the charangueros became chroniclers of pop culture and language. From their vantage point as the superstars of Timba, they began to write lyrics about the scene and their own role in it. For the first time, the bandmembers themselves wrote the bulk of the songs, rather than applying their innovative arranging ideas to the work of established songwriters Limonta, Piloto and Manolín. The new lyrics used freshly-invented jargon, humor, and heaping doses of double-entendre to paint an irreverent and at times brutally honest portrait of the Havana of the mid-90's. They also began to change their musical ideas, catering to the wild new sexual dancing styles and incorporating a kind of Cuban rap into their coros that drove their crowds to a frenzy. And they did it all brilliantly, with intense musical precision and creativity. "Pa' Que Se Entere La Habana" was a key turning point, with one foot in the bright, euphoric world of Me sube la fiebre and Hey You, Loca and the other striding forcefully towards the dark, powerful and aptly-title Tremendo delirio, the fourth and final album before the band splintered into three pieces in 1997 and 1998.
Click here for Full Review -- Oprima aquí para leer la reseña completa
Llega 1995 y La Charanga Habanera y su segundo LP, «Hey You Loca», son la sensación de La Habana. Los conciertos se repletan de jóvenes charangueros que bailan y se visten como sus ídolos y se conocen las canciones de memoria a medida que, una tras otra, se van conviertiendo en éxitos superestelares. Y justo en el apogeo de su popularidad, el cantante Leo Vera decide abandonar el grupo sin aviso previo para unirse al legendario proyecto Irakere de Chucho Valdés. Vera habría protagonizado la mitad de los éxitos más añorados de la banda y al momento de hacer maletas, su versión de «Mi Estrella» era número uno a través de la isla. La noticia remece la agrupación profundamente, pero David Calzado, tal como lo hace hoy en día, cae con las manos al frente confiando en su habilidad inaudita de hallar talento y rápidamente moldearlo a la perfección. Para reemplazarlo al inconfundible Leo Vera, Calzado sorprende a todos eligiendo a un muchachito de a penas dieciséis años que, para el horror anticipado de sus seguidores, cuenta con un alcance vocal muy inferior al del respetado Vera, lo cual además obliga a Sombrilla a cantar las canciones que quedaban sin dueño. Ese jovencito era nada menos que Michel Maza. Su éxito llega inmediatamente y es todavía una de las estrellas más grandes del pop cubano.
Los cambios drásticos que se observan en la música cubana a raíz de la revolución timbera son acompañados de cambios drásticos en la dinámica del ambiente musical habanero. Se permite, por ejemplo, que los músicos sean remunerados por sus presentaciones en dólares, lo cual inevitablemente implica el desarrollo de una subestructura económica pseudo-capitalista. Aquéllos con talento musical se ven motivados a ser músicos de timba y una competencia feroz los obliga a alcanzar niveles cada vez más elevados de creatividad y virtuosismo. Mientras tanto, la industria de «jineteros» empieza a gestarse alrededor de los músicos, y en los clubes nocturnos, cubanas y cubanos atractivos y jóvenes se entregan a extranjeros para todo desde vender puros a concretar «romances por dinero», y entre otros tipos de negocio, la prostitución abierta y descarada. Es el «fin de la inocencia» habanera y la turbación social proporciona excelente material para las letras. Siguiendo los pasos de Juan Formell y Los Van Van, La Charanga Habanera se convierte en la cronista principal de la cultura y lenguaje populares. Desde su atalaya escénica de superestrellas de timba, sus partícipes empiezan a escribir letras a cerca de lo que sucede a su alrededor y de su papel dentro de todo aquel desbarajuste. Por primera vez en su trayectoria, son los propios miembros de la banda los que componenen la mayoría de los temas, en lugar de aplicar sus ingeniosas ideas arreglistas al trabajo de autores al margen de la agrupación como Limonta, Piloto o Manolín. Las nuevas letras utilizan palabras novedosas, quizás hasta inventadas por ellos mismos, una gran dosis de humor y doble sentido para expresar una visión irreverente y muchas veces brutalmente honesta de su ciudad y sus ocurrencias a mediados de los noventa. Además, las ideas musicales empiezan a cambiar, satisfaciendo los nuevos y sensuales estilos bailables del momento e incorporando una mutación de rap a lo cubano en sus coros, concepto que sencillamente hace de su creciente público una muchedumbre desaforada. Estos cambios son realizados, sin embargo, con claridad de concepto y estética, con una precisión musical sobrecogedora e intensa creatividad digna de alabo. «Pa' que se entere La Habana» es una obra de transición entre el animado y eufórico universo de «Me sube la fiebre» y «Hey You Loca», y la dirección inapelable que tomaría el conjunto hacia el terreno oscuro y poderoso de «Tremendo delirio», su cuarto y último trabajo antes de sufrir la completa fragmentación de sus partes en 1997 y 1998.
Kevin Moore - miércoles, 28 mayo 2014, 05:14 am