Quatro: The Definitive Collection - (Sony Music Latin) Released 2012
CD Review: Quatro: The Definitive Collection by Tito Puente (Sony Music Latin 2012)
Review by Bill Tilford, All rights reserved
(This review was originally prepared for our Nuestros Primos Musicales section, which covers music of interest to our readers that may not always fall under a strict definition of Cuban music)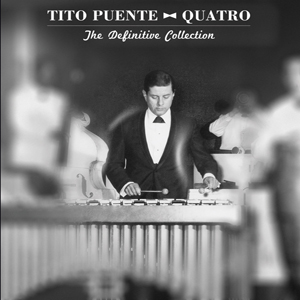 2012 was not the 75th anniversary of Ernest Anthony "Tito" Puente Jr's entire career, but it was the 75th anniversary of the founding of his 9-piece Piccadilly Boys, which became a full orchestra in 1949. With an output of well over a hundred LP recordings during his career and an additional run of 78 rpm sides, there is plenty of room for argument about which of his releases were his very best work, especially since he worked with such a huge number of other artists and performed styles from Latin Jazz to Cha Cha Cha to Mambo to Salsa. That being said, this limited edition (5000 copies) box set reissue of four key albums from the period 1956-1960 - Cuban Carnival, Night Beat, Dance Mania and Revolving Bandstand along with a fifth bonus CD of several singles and outtakes is impressive, and this does happen to represent one of the most dynamic and creative periods of Tito Puente's career.
The packaging is absolutely gorgeous. Each of the four albums is packaged in a meticulous replica of the original cover art (both sides) and liner notes in both the CD and the 180 gram LP version. There is also an extensive booklet with additional technical notes about each album as well as historical notes about Tito's career and comments from a number of musicians influenced by Tito's life and work. For serious collectors, this would be reason enough to want the reissues even if the originals were already on the shelf (as was the case with this writer.) The audio is also beautiful - the recordings were digitally remastered for this collection.
Cuban Carnival, issued in 1956, produced some hits that have endured to the present day. Pa' Los Rumberos was later covered by Santana; Que Sera (What Is It?) has been covered by more Salsa bands than we can count, and Cuban Fantasy has been covered by numerous Latin Jazz bands.
Night Beat, a big band instrumental album issued in 1957, throws down some serious CuBop, especially in the tracks Mambo Beat, Night Hawk and Emerald Beach, which can hold their own with any of the Latin Jazz coming out of other big bands at the time and still hold up today. Tracks like Sea Breeze and Carioca alternate nicely between straight ahead and Latin Jazz. The Late, Late Scene mixes in a nice Blues motif. There is also some Afrocuban 6/8 as in Night Ritual. There are some wailing saxophone solos throughout the album that a lot a people unfamiliar with Puente's work from this period wouldn't automatically associate with him along with some solid trumpet work from Doc Severinsen. This is probably the recording from the early part of his career that you could use if you ever needed to settle an argument about whether Tito should be taken seriously in the Jazz department.
Dance Mania, issued in 1958, remains one of his most famous dance albums and includes the enduring classic Complicación. This was before the Salsa era, and the songs still had specific dances associated with them - Mambo, Son Montuno, Guaguanco. Mambo Gozon illustrates why Tito was one of the big three in New York at the height of the Mambo craze. There is a lot of nice vibraphone work in this recording, and although Tito's most popular title "El Rey" is usually associated with his work with the timbales, historically speaking, his pioneering use of the vibraphone in this music will prove to be a more enduring contribution in the opinion of this writer.
Revolving Bandstand, issued in 1960, is an interesting faceoff between Tito Puente's and trombonist Buddy Morrow's bands playing the same classics such as Autumn Leaves and Harlem Nocturne but alternating styles as they go. Rather than separate takes of each songs, the arrangers had each band take passages within the same song. Consequently, there are regular shifts between straight ahead and Latin Jazz throughout every track in the recording. In the wrong hands, this could have been a disaster, which probably explains why it hasn't been tried very often, but this recording is seamless.
A fifth bonus CD includes the definitive versions of Ran Kan Kan and Timbal y Bongo along with seven outtakes of Pa' Los Rumberos and some other surprises. The outtakes provide some insight into how demanding Tito could be during the recording process.
It is always been fashionable in a few circles to try to dismiss Tito Puente on various grounds - "He was a non-Cuban playing inauthentic Cuban music", for example, or "His Latin Jazz wasn't serious enough" are the two that we have read and heard most often over the years. The first complaint has usually come from people who are unaware of the time that Tito spent in Machito's orchestra before forming his own band and working with numerous Cuban musicians over the years. As to the second complaint, Mr. Puente has already had the last laugh in the marketplace after winning popular acclaim from listeners and the majority of interested musicians, and if we ever had to bring his career before a musical tribunal, Quatro mounts a splendid defense of him. The dance music in the collection clearly shows why he was able to become one of the big three in New York during the Mambo craze at a time when his competition included the likes of Perez Prado, and anyone who has never really explored his early Jazz recordings will walk away with renewed respect for that side of him after listening to these sessions.
If you are already a serious Tito Puente fan, Quatro is a must-have collectors item. If you like Cubop and the Latin Jazz of the 50s but aren't that familiar with Tito's work from that period, you should also check this out without hesitation - there will be some revelations for you in these recordings (especially Night Beat). Ditto if you are any sort of Mambo fan at all. These sessions went down before Salsa came up, and people still remembered that different rhythms had different names.
Kevin Moore - Thursday, 05 September 2013, 05:04 PM