Reencuentros - (Independent Release 2011, EGREM 2012) Initial Release 2011
CD/DVD Review: REENCUENTROS by Maraca & His Latin Jazz All Stars
(Self-Produced 2011 / EGREM 2012)
(Review by Bill Tilford, all rights reserved)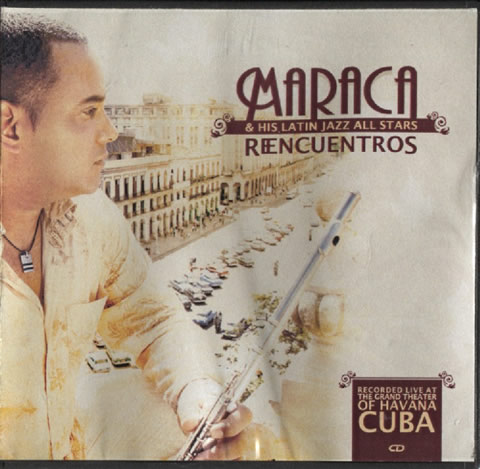 In the United States, we sometimes get too fixated upon labels and boundaries when discussing music, partilcularly when it comes to Jazz and Classical; some Americans like to entertain the notion that the two disciplines rarely mix well, and consequently, when strings (other than solo violin) are incorporated into Jazz recordings here, the results are sometimes met with suspicion by casual listeners and critics alike who fear, rationally or not, that the session is a cynical attempt to crack the "easy listening" market.
Cuban musicians aren't confronted with that issue, at least not to the same degree. Even in the middle of the last century, Cachao, a key figure in the development of the Mambo as well as the art of the descarga, had a dual career as a classical bassist, and most if not all of the younger generation of Cuban jazz artists has been classically trained as well. No sane listener would accuse the best of them of a failure to swing as a consequence of their familiarity with classical idioms.

This brings us to Maraca's latest Jazz recording, Reencuentros, which was recorded live at the Grand Theater of Havana with a specially-assembled, international all-star cast of jazz musicians including:
Orlando "Maraca" Valle, Flute
Horacio "El Negro" Hernández, Drums
Giovanni Hildalgo, Percussion
David Sánchez, Tenor Saxophone
Hugh Fraser, Trombone
Harold López-Nussa, Piano
Feliciano Arango, Bass
Julio Padrón, Trumpet & Flugelhorn
Yusef Díaz, Keyboards
Enrique Lazaga, Guiro
Sayaka, Violin
plus Orquesta de Cámara de la Habana, Iván del Prado, Director
We're going to start by describing the CD part of the package. The opening number, Camerata en Guaguancó, opens with the Chamber Orchestra performing a sort of pizzicato "job share", substituting for what would normally be percussion to open up the guaguancó. Maraca's flute handles the heavy melodic lifting on this track. Giovanni Hildalgo and Horacio Hernández enter near the end of the piece, but this largely is a guaguancó rendered by a chamber orchestra, and it works thanks to the creative voicings of the strings. The second number, Afro, one of Maraca's compositions, gives the strings a rest while the rest of the ensemble gets a Cuban jazz-funk workout with some nice solos by Maraca, Julio Padrón, Harold López-Nussa and Hugh Fraser. This might prove to be the favorite track of listeners who also happen to be fans of late 70s-early 80s Irakere. Danzón Siglo XXI, another Maraca original, brings the strings back and contains some interesting updates to the traditional danzón (we'll save the details for an interview question). Sayaka adds some swinging violin solo passages here, and Harold López-Nussa mixes in some beautiful piano work. Noche De Batá (another original) starts as a laid-back 6/8 that seques into some straight-ahead jazz, during which Julio Padrón, Feliciano Arango and Harold López-Nussa contribute. The chamber orchestra provides a nice atmospheric setting to the piece without becoming saccharine. Manteca lets Giovanni Hidalgo remind us why he came with a nice opening solo that tells us that he could take the bass line and the melody as well if he wished. Before he gets that chance, Feliciano Arango asserts himself on bass, and the metales get to take a time out (surprise, no Dizzy Gillespie imitations here) as Maraca handles the melody for the duration, but not without Giovanni jumping in to say his piece again and Horacio Hernández uttering a strong retort on traps. Serenata Cubana, a slower, lyrical piece, brings David Sánchez into the picture on tenor for a pretty jazz waltz with the string section in support followed by a Maraca solo. The closing number, Parque Central, another original, is a harder-charging piece with an overall vibe that reminds us a little of some of his earliest recordings along with the late Emiliano Salvador's best work, and Yusef Díaz contributes on keyboards here. Sayaka also puts in a violin solo that helps bring the piece to that "grand finale" pitch.

The DVD is the actual concert, which includes the pieces mentioned earlier in a slightly different order with the addition of three other Maraca originals: Balado de Marzo lets Maraca and Harold stretch out a bit on a ballad. Presentacion is an updated version of a Latin jazz/rumba piece that originally appeared on the Formula Uno recording and shows some evidence of Emiliano Salvador's influence in Maraca's early development. This piece calls up most of the cast for solos including Maraca, Davd, Harold, Hugh and Feliciano Nueva Era originally appeared in the Havana Callingalbum and also channels multiple wonderful solos. These two pieces will particularly delight viewers who loved the Formula Uno and Havana Calling recordings. Ignacio Cervantes' Los Tres Golpesis given a novel modern makeover in a rock/canción mode. The DVD also contains a nice "making of" section (the story of how this all came together is interesting in itself), and both the DVD and the well-done liner notes are trilingual (Spanish, English and French).

Maraca's stellar flute work is present throughout, and he stretches out a lot more here than he does when playing more for dance audiences. Many otherwise-excellent flautists frequently have techniques that let you know when they are working up a sweat during difficult solos, but Maraca has a command of the instrument that makes the more challenging solos sound as if they were effortless.

Overall, this is our personal favorite of Maraca's recordings since his first Otra Visión album, Havana Calling, and although there are perhaps fewer obvious pyrotechnics in the CD portion of Reencuentros, the DVD adds some major additional fireworks with Presentacion and Nueva Era, and overall, this new CD/DVD combo is frequently as intricate as the early recordings in a subtler, more mature way even when it's not trying to start fires. It's a mellower session, but that shouldn't be confused with simple and certainly can't be dismissed as "easy listening". Jazz and dance fans alike should know that Reencuentros should be taken seriously as a Jazz album as opposed to a "jazzy" dance album. However...........

Fans of Maraca's more dance-oriented recordings will be pleased to know that there is also a new CD in the works for dancers as well. Watch for this in the months to come. Also, two of the musicians on this project turned up in another recent recording; watch for our review of Harold López Nussa's recording, El País de las Maravillas, a wonderful trio-plus-one project that also features David Sánchez.

Reencuentros is currently available at concerts, and we have been advised that it will soon be available as Internet downloads. We'll share more about that in the near future.

January 2012 update: At this writing, you can find Reencuentros on CD Baby, and an MP3 album version can be found on Amazon.com. Some CD stores now stock it as well.
2013 Update: EGREM picked up the recording in 2012.
Kevin Moore - jueves, 05 septiembre 2013, 08:55 pm