Sonando Ya - (World Village) Released 2010
CD Review: Sonando Ya by Sierra Maestra (World Village label, 2010)(Review by Bill Tilford, all rights reserved)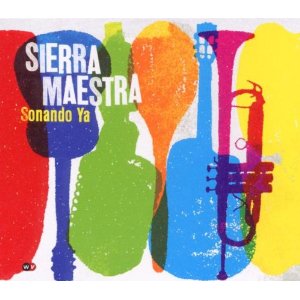 The World Village label was busy with Cuban musicians in 2010. We covered Septeto Nacional Ignacio Piñeiro first due to the way that the tour schedules unfolded, but a few months prior to the release of the Septeto's wonderful Sin Rumba No Hay Son, Sierra Maestra actually beat them out of the gate with Sonando Ya, which was nominated for Best Traditional Tropical Album in the Latin Grammy awards later in the year.

Sierra Maestra is a younger band than Septeto Nacional (it is coming up on the band's 35th birthday in October), but it draws the core of its inspiration from the same source of early traditional Son. Some key differences are that Sierra Maestra's size (Sonando Ya was recorded as a Nonet), the use of some congas and some differences in some phrasings give it more of the fuller conjunto sound that came a little later in the 20th Century, and it casts a slightly wider net than the Septeto when it comes to incorporating more contemporary rhythms into the reportoire. The lead vocal duties are shared among three different band members -Jesús Bello, Virgilio Valdés and Luis Barzága. Different members of the band also contributed compositions to the song list. As is the case with the Septeto, the fact that the music's roots go back a century doesn't make it sound "old" at all. A very important reason why the Son has not died is that from the beginning, it was a form open to improvisation and growth, and the best of its exponents understand this and run with it. As we mentioned earlier, Sierra Maestra is more prone to wander outside of the traditional box, and one of the tracks on Sonando Ya is a non-traditional "fusion" piece with a very contemporary feel.
The recording as whole, aside from being great listening and dancing, is also an excellent way for American dancers to go to school for a little bit about what makes the different rhythms feel different; the CD opens with Pal' Monte, a laid back Son Montuno with some nice call and response trumpet work, followed by two Guaracha Son numbers, Un Toque De Bemb é and No MeGuardes Rencor. This pair opens relatively slowly as Son but then builds into a much faster Guaracha Son tempo as they progress. Another number, La Mulata Presumida, was written by Angel Bonne, and is a swinging modernized Guaracha. Five of the tracks are pure Son and are excellent reminders that some things, including Son, are quite tasty when cooked more slowly. There is also another Son Montuno, a Changui (Juan Andres) and a Conga finale. Overall, a nice variety of tempos in the recording.
The multilingual (English, Spanish and French) liner notes add the nice touch of a synopsis of the song lyrics to the usual personnel roster, band history etc.
The personnel on the recording were
Luis Barzága, Vocals and Claves
Virgilio Valdés, Vocals and Maracas
Jesús Bello, Vocals, Guitar
Eduardo Himely, Bass
Alejandro Súarez, Claves and Cowbell
Carlos Puisseaux, Güiro
Yelfris Valdés, Trumpet
Eduardo Rico, Congas, Bongos, Cowbell
Emilio Ramos, Tres
Since the Latin Grammy folks already weighed in on this one, it's not as if you have to take our word for it, but just in case: ¿Sonando Ya ? Compralo ya...
Kevin Moore - jueves, 05 septiembre 2013, 08:47 pm