Sin Limites - (No Borders Entertainment) Released 2013.04.29
CD Review: Sin Limites by Alfredo de la Fe and Rodry-Go
(No Borders Entertainment 2013)

Review by Bill Tilford -- All rights reserved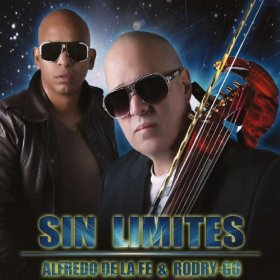 Say whatever else you will about Alfredo de la Fe, the man has never been afraid to take risks, and he has frequently used a blend of tradition and the cutting edge in his music. Sin Limites, a new collaborative project with Rodry-Go (Colombian Salsero-Reggaetonero Rodrigo Rodriguez), is an excellent example of this. Normally, titles like Sin Limites, Lo Mejor, Lo Maximo, etc. etc. etc. would inspire a yawn in this writer, who has seen so much hype about so much music that he becomes almost instantly suspicious about such things on general principles. That being said, this version of Sin Limites (not surprisingly, there are at least three, probably many more, other albums by different artists with the same title floating around in the marketplace) is one of those cases where the title really is legit. There is some rocking modern Charanga here along with elements of multiple other genres including Hip Hop, Reggaeton, Merengue, Cumbia, Vallenato, Salsa, R & B, and Latin Pop.
Alfredo and his bandmates in Tipica 73 took some serious heat from the old guard in the Cuban-American community in New York and Miami three decades ago when that band covered some songs by groups like Los Van Van and Reyes 73 as part of their repertoire and did a recording, Intercambio Cultural, with musicians in Cuba at a time when doing that sort of thing could be hazardous to your career. During the decades that followed, Alfredo has built up an extensive discography in a successful solo career along with appearances with several other bands, but if anyone is really left from the "all Cuban music written after 1960 is bad" crowd, as a public health service, those individuals are hereby advised that the album opens with a rollicking version of Que Se Sepa, which was a Los Van Van hit a few decades back.
At least thirty musicians were involved in the project, but Arturo's violin work is prominently featured throughout (and sometimes makes a world of difference between whether a song might have been a questionable choice or very listenable), and there is an excellent brass section which includes trombonist Jimmy Bosch. The many guest artists include Adalberto Santiago and Sonny Bravo from the Tipica 73 days. The album is very well arranged, and this, too, makes a difference.
Rodry-Go is a reasonably solid Salsero as well as a listenable rapper (to the extent that this writer will acknowledge this to be possible), and he seems to be stylistically at home in both worlds, unlike some very good Salseros who should be arrested for attempted rap whenever caught in the act. We are seeing more recordings these days where bands are dropping various "F-bombs" ("F" for Fusion in this case), so the fact that this recording mixes genres is less surprising than the fact that one of the genres is Charanga, and make no mistake, the Charanga is very solid here; for most of the recording, the other elements were incorporated in such a way that this writer enjoyed the album even though it does a lot of things that most bands probably should not attempt themselves. The two tracks that really go off on their own, Bad Girl and En Party, are a little like those R & B or Soul tracks that used to crop up unannounced in the middle of US-made Salsa recordings by groups like Orquesta Novel or the different groups doing some Salsoul in the 1970s (well, the language in En Party wouldn't have cleared 1970s radio, but otherwise.....), and even Bad Girl is something that one could at least theoretically picture Carlos Santana doing.
Listeners, this is a fun recording, well-made and worth checking out, especially if you already like Charanga. Alfredo still has it. Musicians, please don't try this at home without supervision by someone with skills equivalent to Alfredo's. In the wrong hands, this could have been one seriously hot mess instead of the entertaining surprise that it is. Producers and marketers: Please, please, please at least do a Google search before naming your next album.
Tracks:
Que se Sepa
Dama de Blanco
Quiero una loca
Pa' mi Colombia
Bomboerita
Oyelo Tocar
Enamorado
No Volvere
Pachanga Changa
Bad Girl
Tragao de Ti
En Party
Personnel Roster for Sin Limites
Role - Instrument
Name
Producers
Alfredo de la Fe, Rodrigo Rodriguez; Allan Phillips (co-producer for "Que se Sepa")
Strings, Coro
Alfredo de la Fe
Lead Singers
Rodrigo Rodriguez; Adalberto Santiago (No Volvere), Raheem de Vaughn (Bad Girl)
Raps for En Party
Papi Sanchez, Franco Magistro, Jun LP
Pianos
Cesar Correa, Milton Salcedo, Sonny Bravo, Yeisson Villamar, Allan Phillips, Carlos Irarregorri
Bass
Dimitris Chrisopulos, José Tabares, Maximo Rodriguez, Carlos Irarregorri
Percussion
Edwin Sanz, Danny Gonzales, Rodrigo Rodriguez
Brass

Trumpets: Raúl Agraz, Richie Viruet
Trombones: Pablo Santaella, Jimmy Bosch, Chris Kollar

Flutes
Eddie Perales, Octavio Cortes
Guitars
Javier Gutierrez, Alfredo Taufik
Synthesizers, Beats
Maximo Tatti, Pascale Gullon
Kevin Moore - Thursday, 05 September 2013, 04:12 PM