New Stuff
[hide]
Photos of the Day
[hide]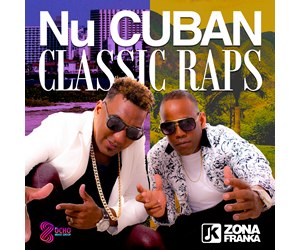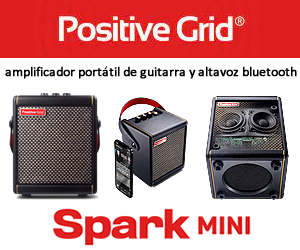 Latin Music School - ISAAC - Higher Institute of Afro-Caribbean Arts
An international Latin Music School - The Higher Institute of Afro-Caribbean Arts (Institut Supérieur des Arts Afro-Caribéens, ISAAC) is a music school in Paris, France, for everyone who is interested in the music of Cuba and the wider Caribbean. ISAAC phone = (00 33) 9 52 76 60 77
At ISAAC you can learn, practice and perfect the music and dance of a cultural hemisphere that stretches from New York to Tierra del Fuego via the Caribbean. All music -- whether it be salsa, Latin jazz, son, bolero, Afro-Cuban or any other genre -- is the result of mixing and crossbreeding. Latin music is one of the richest examples of this process, having absorbed numerous different cultures without ever losing its own identity. Throughout its history, Latin music has combined with other genres, creating new styles, new fashions, new combinations of instruments and new forms, and its contribution to the music of the 19th and 20th centuries is immense.

ISAAC's goal is to open up this rich cultural heritage to musicians of all origins and all degrees of aptitude. Among the numerous characteristics of this music, two elements are particularly important:
All musicians, whether their original training is in classical, jazz or pop music, can find a place in a Latin orchestra. Classical musicians can play in a Latin ensemble without this undermining their training or playing technique. Cuban music combined very early on with European classical music and the two are highly compatible. Jazz musicians will find in Latin music a natural complement to jazz that enriches their style of playing and opens up access to a culture that has played a crucial role in all the major stages of the development of jazz. Pop musicians will discover obvious parallels with major modern genres like funk, reggae and soul and be able to develop new crossover ideas that will enrich their personal musical identities.
Most performers of Latin music are multi-instrumentalists
This music is based on counterpoint and polyrhythmic patterns. To comprehend his or her place in the orchestra and the way in which each instrument complements the others, the musician needs to be able to understand and play several instruments.
ISSAC offers a wide -- and increasing -- range of activities so everyone can find their place in this music, the end goal being to enable students to play in fully-fledged salsa orchestras, in public.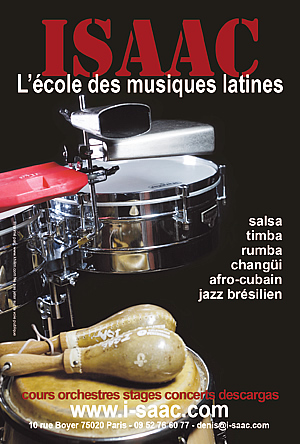 Classes at the school come in several shapes and sizes:

If you are a total beginner and have never played a musical instrument before, a useful place to start is our Percussion for Beginners class. This will teach you the basics of Latin rhythms on congas and bongos, as well as different musical terms and conventions.

If you already play an instrument but have never played in a Latin ensemble, at ISAAC you can take a combination of instrument lessons + training orchestra. This way, you learn the basics of the main musical styles on your chosen instrument and then apply them in the training orchestra -- a good way to prepare yourself for joining a fully-fledged orchestra.

If you have already played Latin music, in an ensemble, the ISAAC orchestras will give you an opportunity to build up a repertoire and perform live, in pulbic, several times a year.

ISAAC also offers classes in music theory, harmony, arranging and even Spanish, to complement and expand your practical musical abilities and your understanding of the culture from which Latin music flows.

The overall aim of ISAAC is to immerse our students in the atmosphere, culture and teaching found in top Cuban music and dance schools such as the Escuela Nacional de Arte (National Art School, ENA) and the Instituto Superior de Arte (Higher Institute of Art, ISA). ISAAC is an accredited professional training organisation (AFDAS, FONGECIF, UNIFORMATION and others).

The school has an intranet site which keeps our teachers and students connected outside practical lessons. The site provides educational support and information on activities run by ISAAC through audio and video links, music scores, articles and newsletters. It also contains forums and wikis so students can exchange information and work together on musical projects.
Michael Lazarus - Saturday, 11 June 2011, 08:56 PM