Michelle White - Juan Manuel Ceruto - Best Timba Saxophonist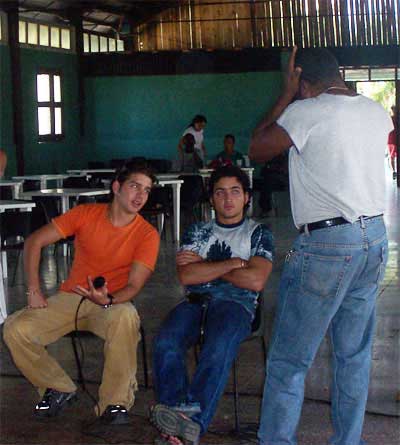 Juan Manuel Ceruto working on his latest project, 2005-01-07
Juan Manuel Ceruto is one of the most respected names in Timba today. He was voted Best Timba Saxophonist in December 2003 by readers at Timba.com. But his role in the development of Timba extends far beyond his playing. His arrangements while with Paulo FG are some of the most outstanding in timba, and since leaving he has become one of the most sought after arrangers/producers in Cuba.
I ran into him at a rehearsal of Ebblis and Kelly, but I didn't have the prize with me at the time. I was able to stay and watch for 1 hour and hoped to return the following week for an interview and to give him the prize,. But as often happens in La Habana, the rehearsal was either moved or cancelled. At any rate they weren't there, and I missed the opportunity.
Instead I spoke with Ceruto on the phone and he told me he was busy working on the last 5 songs for the Boni y Kelly CD. So I just dropped by his house and left the award sitting on the table. Hopefully he has been able to make use of it, filling it with either coffee or rum, depending on his preference, as he works hard finishing up his current project.
martes, 22 marzo 2011, 07:32 pm