Tom Bauer - Bayerischer Hof
all photos on this page ©Tom Bauer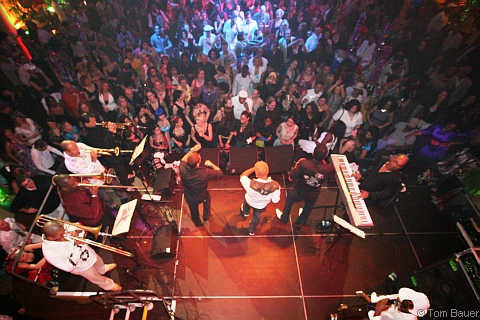 Bayerischer Hof is a great venue and Pupy brought in a huge crowd
For Pupy the Festsaal of Bayerischer Hof was like coming home after a long time. He played there first with Los Van Van in 2000 during their Grammy Award tour. The atmosphere there was good as always. Good sound with just the right volume to feel the music. It was not sold out but there was a huge crowd.
They started as planned shortly after 9.30 p.m with Duni and Osiris hitting the stage and opening Calla Calla. Then the rest of the band came up. At last Pupy himself, smiling and striding with pride. And wow: All the singers did a very good job. Their singing helps "forgetting" Pepito and Mandy with Pupy y Los Que Son Son. Only their stage presence is a point for little improvement step by step. You can feel that they still have humbleness because they are the newest members of the band and have quite famous predecessors.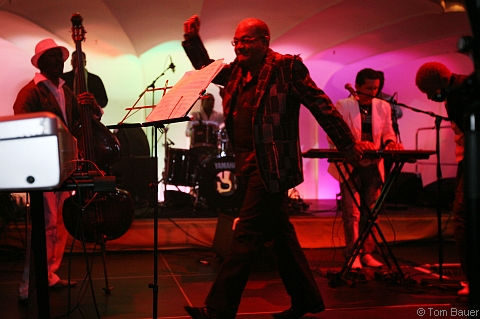 Pupy takes the stage
They played two sets each about 75 minutes. Songs I can remember: Calla calla, Un poquito al revés, Si me quieres conocer, Se parece a aquel, Olvídala, Dicen que dicen, Machucadera, El pregonero, A la italiana, Bala de Billy... One encore. Of course De la timba a pogolotti with Rusdell on lead.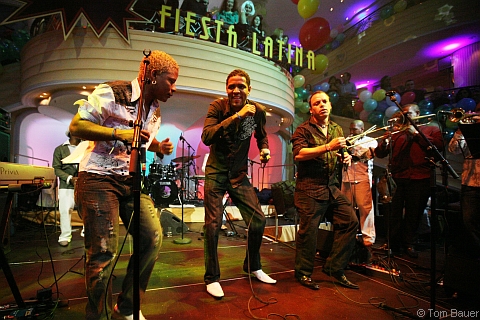 The new singers - Michel Pérez, Rusdell Nuñez & Norberto Gómez
Pupy was in a really good mood. He was laughing, dancing, conducting and acting like a teenager. Its hardly to believe that he was born in 1946. He still really has fun with what he is doing. During the break and after the concert we had a lot time to talk to Pupy and the band. With Duni we talked a lot about the "old days" with Bamboleo, the greatness of Manolin, Tony Calá, Melón (with whom he studied). Osiris reported about their latest successes in Italy. I got the opportunity to tell Norberto that his interpretation of Dicen que dicen was for me even better than Pepitos version.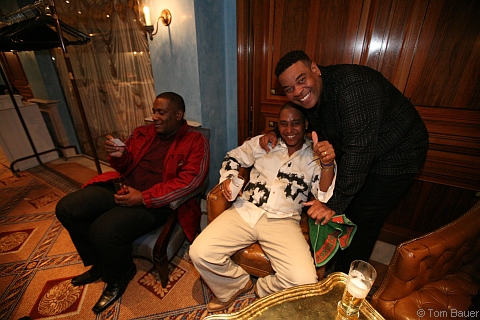 Hanging out after the show
Pupy was enthused about our T-Shirts (Timba o muerte & Pupy y Los Que Son Son) and forced Jindra to take a picture together with him. For sending him the picture he donated us two Pupy-Shirts.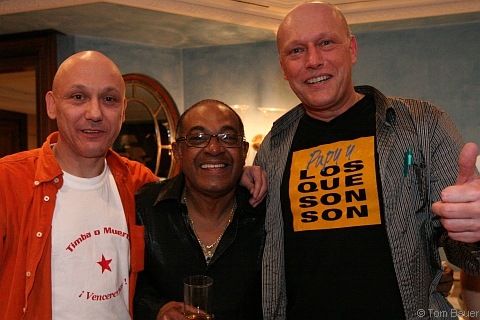 Pupy asks for a photo with Hendrick and Tom and their homemade t-shirts
All and all an unforgettable night ended 4.30 a.m. :-)
Click here to see more of Tom's fantastic photos from the Bayerischer Hof concert.
Tuesday, 22 March 2011, 07:32 PM