Tom Bauer - Cubamemucho
Cubamemucho - Munich, Germany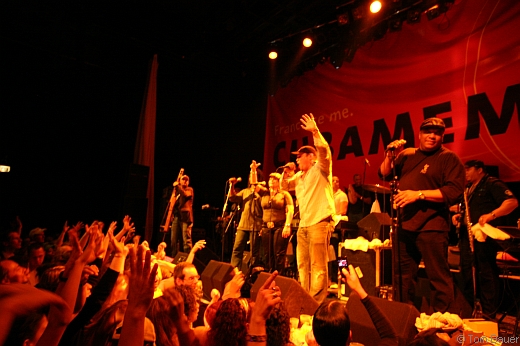 Van Van played two times! Friday night the 7th. first a full concert at Muffathalle (open ticket sales) and at 0.45h til 2.15h at cubamemucho congress.
The first concert was a full concert with a real solid performance, very good interaction with the audience, standard playlist and new "Me mantengo", one encore "Cabeza mala", also a long dancing contest took place. (Mayito and Robertón had fun). Juan formell was not with the band. Very good music before the concert (DJ Melao).
The second concert was shortened (no "Me mantengo" and one or two others), had a better sound and also an enthusiastic audience. Again top music from Melao, Samurai and the french DJ, I don't remember his name. I wish to hear that level here in germany too. Anyway, it is worth to see them on this tour. It was a long night. arrived at home at 6 in the morning very tired but very happy.
Click here for Tom Bauer's photos of Los Van Van at Cubamemucho.
Sunday the 9th Charanga Habanera kicked ass but beginning late (announced 9 p.m, starting nearly 11 p.m.) during Cubamemucho salsa cubana congress. Los Van Van looked like real old men against them. If you like their music or not: it was a real espectaculo, perfect in music and show. They only played songs from their last three CDs and "Charanga light". Before and after the concert I had a lot of time talking with Melao about the "real" stuff.
Click here for Tom Bauer's photos of La Charanga Habanera at Cubamemucho.
Tuesday, 22 March 2011, 07:32 PM