Indice - Table of contents
New Stuff
[hide]
Photos of the Day
[hide]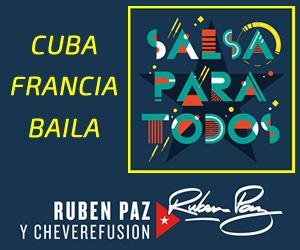 SpanishEnglishDiscography - 1995-En directo desde el patio de mi casa

1995 - En Directo Desde el Patio de Mi Casa - Like Los Van Van's "Lo Ultimo en Vivo" this is an album of all-new originals, recorded live in front of a huge crowd. As anyone who has played or listened to a lot of live salsa knows, this is an incredibly difficult task from every perspective, but the virtuosos of NG pull it off in their stride. There are two personnel changes. Raúl "El Yulo" Cárdenas, a founding member of Los Van Van, takes over on congas and the front line gains a new singer, Jorge "El Gafas" David Rodríguez, who now sings with Bamboleo. There's also an unidentified female voice in some of the coros and a guest vocal from rapper Athanay. After a long spoken intro by Tosco, the album blasts off of the starting blocks with "Papa Changó". The opening (at 1:44) is a bomba bass breakdown under a great piano montuno. It starts out as a normal Manolito-esque Timba montuno, but listen to the beautiful displaced sequence at 1:51 and the way it resolves into the entrance of the coro, which itself is another a great hook. Next comes an extended horn intro from Los Metales de Terror and then the cuerpo, sung in harmony. The guías are vintage Tony Calá.
The first half of "Ternuras Impacientes" is one of the first of Tosco's experiments with writing R&B ballads. Other than the Spanish language it has no Timba or Salsa qualities whatsoever. The often-voiced criticism is that NG, known for its innovations in Salsa, isn't particularly innovative when it crosses over into other genres. But if this isn't an innovative R&B ballad, repeated listenings reveal it to be a beautiful and extremely well-crafted piece of songwriting complete with a great intro and bridge. At the three minute mark it goes into salsa and here, back in the Latin element, it does get innovative, especially in the vocal harmonies. Unfortunately this is one of the few places where the live recording gets in the way, as the harmonies are quite out of tune in a few critical places. This section really deserves a studio recording and if the two excellent coros here had been executed as written they would have been quite spectacular. Getting the coros right on the money in the hostile stage monitor environment of a live concert is virtually impossible, and the coros on this record don't come close to the supremely great coro singing of En la Calle and the other early CD's. We long for the day when Latin bands can afford the type of in-ear monitoring systems that Peter Gabriel and Phil Collins use. The other ballad is Juan Luis Guerra's beautiful "Hasta Que Me Olvides", the composition of which is ironically attributed to "D.R." (In Spanish, "D.R." means "public domain", but in this case "Dominican Republic" might be more appropriate!)
The newest NG CD, "Baila Conmigo" contains a medley of snippets from hits of all the great Cuban bands and when NG comes up in the list, the tune Tosco chooses to represent his oeuvre was "La Apretadora", the penultimate track on "En Directo Desde el Patio". The coro is immediately addicting and the arrangement is very clever with the clave changing effortless back and forth between verse and chorus. "El Baile Chino" is a great groove based on timbafying Chinese restaurant music. The intonation of Tosco's vocal slightly mars the opening, but all is forgiven with entrance of one of Peruchín's wickedest displaced montunos at 2:02 under Calá's guías and it's off to the races from then on. In summary, "En Directo Desde el Patio de mi Casa" isn't the place to jump into NG La Banda, but it's a must for serious NG fans.
Wednesday, 23 March 2011, 03:31 AM