Archivo
Lo Nuevo
[hide]
Fotos Del Día
[hide]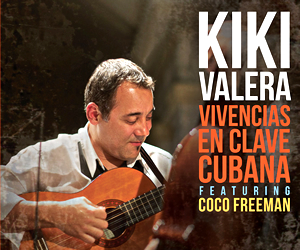 Sin Clave No Hay Na
martes, 25 octubre 2016, 08:18 am
COMING SOON: JAZZ PLAZA & JOJAZZ 2016
PRÓXIMAMENTE: JAZZ PLAZA & JOJAZZ 2016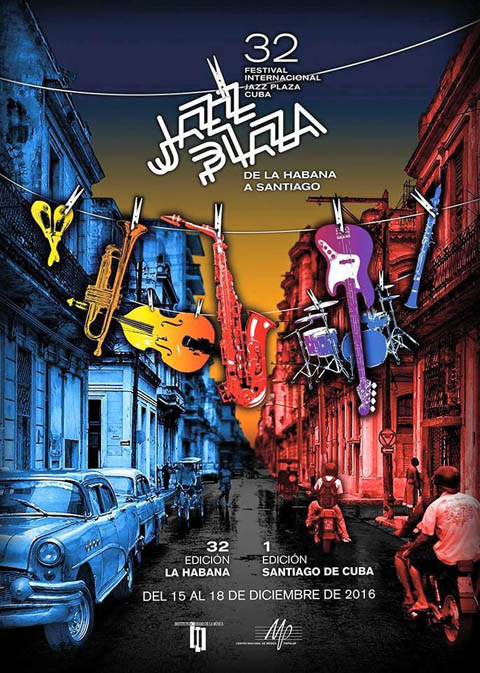 ENGLISH : The 32nd International Jazz Festival of Havana, also known as Jazz Plaza, will take place from December 15-18 in Havana, and, for the first time, in Santiago de Cuba as well. In addition to adding Santiago de Cuba, which has a small but thriving Jazz scene of its own, other firsts for the festival are a nice festival website and more intensive participation by international sponsors.
For more about the Jazz scene in Santiago specifically, I had the pleasure of speaking with Robier González Garbey , Director of the wonderful Iris Jazz Club, in December. You can hear a recording of that (in Spanish) here. I also spoke with Raydelis Guibert , an agent for the Iris Jazz Club; you can hear that conversation here. There is a LOT of background noise in both, but also a lot of interesting information.
Other items about Jazz Plaza 2015 and Jazz Plaza 2013 can be found elsewhere in this blog and in the photo galleries.

ESPAÑOL: El 32º Festival Internacional de Jazz de La Habana, también conocido como Jazz Plaza, se llevará a cabo a partir del 15-18 de diciembre en La Habana, y, por primera vez, en Santiago de Cuba también. Además de la adición de Santiago de Cuba, que tiene una pequeña pero próspera escena del jazz de sus propios, otras novedades para el festival son una muy buena página web para el festival y la participación más intensa de los patrocinadores internacionales.
Para más información acerca de la escena del jazz en Santiago específicamente, tuve el placer de hablar con Robier González Garbey, Director del maravilloso Iris Jazz Club, en diciembre. Se puede escuchar una grabación (en español) aquí. También hablé con Raydelis Guibert, un agente para el Iris Jazz Club; se puede escuchar la conversación aquí. Hay un MONTÓN de ruido de fondo en ambos, pero también una gran cantidad de información interesante.
Otros artículos sobre Jazz Plaza 2015 y Jazz Plaza 2013 se pueden encontrar en otro lugar en este blog y en las galerías de fotos.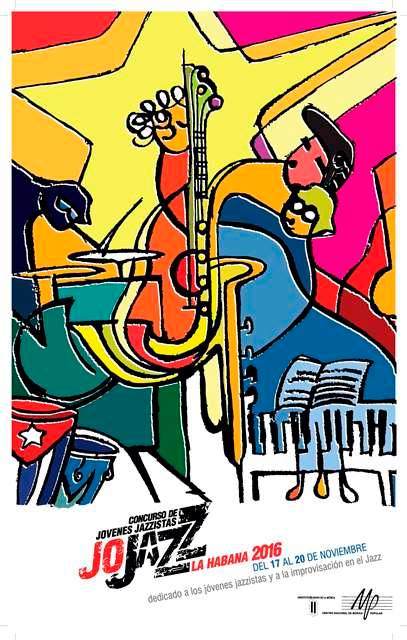 ENGLISH : An event perhaps even more important for the development of young Jazz artists in Cuba is JoJazz, a competition for young Jazz artists between 16-30 years of age. The 19th Edition of JoJazz will take place between November 17-20 in Havana. Many of the excellent Jazz recordings reviewed on this website, especially those in the The Jazz Young Spirit series from Colibrí, are by winners of this competition, and if you attend a lot of concerts by young Cuban Jazz artists, you have probably seen several winners on stage. This competition is international and enrolls contestants almost up to the last minute. YOU CAN READ THE OFFICIAL CONVOCATION HERE.
The radio program From the Isle of Music will feature music from past winners of JoJazz and interviews with the founder, Alexis Vázquez , and the director of many of the large ensembles of young artists, Joaquín Betancourt , during the next two weeks. This program airs Monday nights on shortwave on WBCQ The Planet, 7490 KHz at 8pm Eastern time (US) and Tuesdays at 1900 UTC on Channel 292, 6070 KHz (shortwave) from Rohrbach, Germany. Tunein.com carries a live stream of WBCQ The Planet.
ESPAÑOL: Quizas aún más importante para el desarrollo de jóvenes jazzistas en Cuba es JoJazz, un concurso para los artistas entre 16-30 años de edad. La 19ª edición de JoJazz se llevará a cabo entre noviembre 17-20 en La Habana. Muchos de las excelentes grabaciones de Jazz reseñadas en este sitio web, especialmente los de la serie de Colibrí El joven espiritu de Jazz, son por los ganadores de este concurso, y si usted asiste a una gran cantidad de conciertos por los jóvenes jazzistas cubanos, es probable que haya visto varios ganadores en el escenario. Este concurso es internacional y se inscribe concursantes casi hasta el último minuto. EL TEXTO DE LA CONVOCATORIA ESTÁ DISPONIBLE AQUÍ.
El programa radial From the Isle of Music contará con música de ganadores anteriores de JoJazz y entrevistas con el fundador, Alexis Vázquez , y el director de muchos grandes ensembles de artistas jóvenes, Joaquín Betancourt , durante las próximas dos semanas. Este programa se transmite en onda corta lunes por la noche en WBCQ El Planeta, 7490 KHz a partir de las 8 pm hora del Este (Estados Unidos) y los martes a las 1900 UTC en el Channel 292, 6070 KHz (onda corta) desde Rohrbach, Alemania. Tunein.com lleva una transmisión en vivo (no en demanda) de WBCQ El Planeta.