Archivo
New Stuff
[hide]
Photos of the Day
[hide]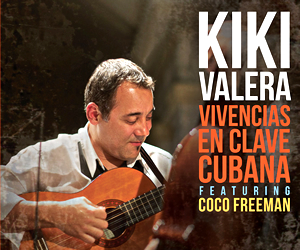 Sin Clave No Hay Na
CUBADISCO 2018 NOMINATIONS ANNOUNCED
DAR A CONOCER LOS NOMINADOS EN CUBADISCO 2018

ENGLISH: In a ceremony in the Hotel Tryp Habana Libre on Friday, September 14, the nominees for Cubadisco 2018 were announced. Over 240 recordings were submitted to the competition, which among many other things ranks as Cuba's equivalent of international competitions such as the GRAMMY awards. One key difference between Cubadisco and the GRAMMY awards is that Cubadisco is also a festival with an academic symposium, a fair, and many concerts throughout an entire week, which this year takes place September 23-30 in Havana.
We will carry a full account of Cubadisco in early October after the end of the event, in the meantime, you can see a partial nomination list which has been tailored to the special interests of TIMBA.com followers here.
It is a special pleasure to share the nominees this year because two of the TIMBA.com team participated in recordings that were nominated - Michael Lazarus for mastering Tablero by La Tabla and Vamo´ hacerlo by Angel Yos (Mike also co-mixed the second one), both of which are nominees in Música bailable - jóvenes talentos, and Bill Tilford for contributing some of the liner notes for Escape by Alberto Lescay & Formas, which is a nominee in Jazz Fusion, Grabación and Opera Prima (Cubadisco's version of Best New Artist). Both feel that it is an great honor to be part of this amazing music.
ESPAÑOL: En una gala en el Hotel Tryp Habana Libre el viernes 14 de septiembre, se anunciaron los nominados para Cubadisco 2018. Se entregaron más de 240 grabaciones a Cubadisco, que entre varias otras cosas se puede clasificar como el equivalente cubano de competiciones internacionales como los premios GRAMMY. Una diferencia clave entre Cubadisco y los premios GRAMMY es que Cubadisco es también un festival con un simposio académico, una feria y muchos conciertos durante toda una semana, que este año se lleva a cabo del 23 al 30 de septiembre en La Habana. Publicaremos un relato completo de Cubadisco a principios de octubre después del evento, mientras tanto, puede ver una lista parcial de nominaciones que se ha adaptado a los intereses especiales de los seguidores de TIMBA.com aquí.
Es un placer especial compartir los nominados este año porque dos del equipo de TIMBA.com participaron en las grabaciones que fueron nominadas: Michael Lazarus por la masterización de Tablero por La Tabla y Vamo' hacerlo por Angel Yos (Mike también comezcló la segunda), ambos de las cuáles son nominados en Música bailable - jóvenes talentos, y Bill Tilford por contribuir con algunas de las notas de presentación de Escape por Alberto Lescay & Formas, nominado en Jazz Fusion, Grabación y Opera Prima (la versión de Cubadisco de Mejor Artista Nuevo) . Ambos sienten que sea un gran honor ser parte de esta increíble música.