Timbera Mayor
BUENA FE - CARNAL
International Release November 15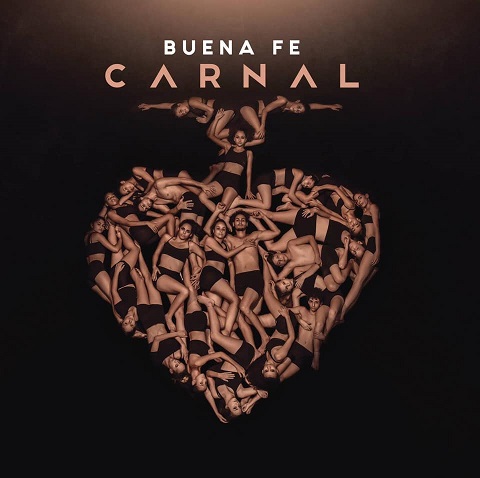 Art & photography: Gabriel Davalos
Graphic Design: Raul Muñoz
ENGLISH: On Monday, November 11th, EGREM released Buena Fe's 11th studio album "Carnal" with a press conferance at Hotel Parque Central Iberostar. The physical CD is now available in Cuba at the EGREM stores at the Casas de la Música as well as in the airport. If you're in Cuba, please pick me up a hardcopy! In the meantime, I will content myself with the digital version which is scheduled for international release on the Metamorfosis lable Friday, November 29th.
As we have come to expect, as much thought has been given to the cover art as to the CD itself. Carnal's cover is by Gabriel Davalos and Raul Muñoz with the participation of dancers from Danza del Alma and Baila Cuba, from Santa Clara. "Carnal" was recorded in Havana at Vieja Linda Records and offers listeners 14 tracks, 13 composed by Israel Rojas and one,"Mía", composed and arranged by Yoel Martinez. We will delve more deeply into the full album credits in the review. For now, suffice to say that Buena Fe continues to defy categorization.
Buena Fe will be giving three grand concerts at Karl Marx Theater in Havana for the release of "Carnal" November 22, 23 and 24. If you will be in Havana, do your best to get tickets! Follow Buena Fe at Facebook to keep up with the lastest news, videos, interviews, and concert information!
ESPAÑOL: El lunes 11 de noviembre, EGREM lanzó "Carnal", el undécimo álbum de estudio de Buena Fe, con una conferencia de prensa en el Hotel Parque Central Iberostar. El disco físico ahora está disponible en Cuba en las tiendas EGREM en las Casas de la Música, así como en el aeropuerto. Si estás en Cuba, ¡por favor, recógeme el CD! Mientras tanto, me contentaré con la versión digital que está programada para su lanzamiento internacional por la disquera Metamorfosis el viernes 29 de noviembre.
Como hemos llegado a esperar, se ha pensado tanto en la portada como en el CD en sí. La portada de "Carnal" es de Gabriel Davalos y Raúl Muñoz con la participación de bailarines de Danza del Alma y Baila Cuba, de Santa Clara. "Carnal" fue grabado en La Habana en Vieja Linda Records y ofrece a los oyentes 14 pistas, 13 compuestas por Israel Rojas y una, "Mía", compuesta y arreglada por Yoel Martínez. Profundizaremos más en los créditos completos del álbum en la reseña. Por ahora, basta con decir que Buena Fe continúa desafiando la categorización.
Buena Fe ofrecerá tres grandes conciertos en el Teatro Karl Marx en La Habana para el lanzamiento de "Carnal" el 22, 23 y 24 de noviembre. Si vas a estar en La Habana, ¡haz todo lo posible por conseguir entradas! ¡Sigue a Buena Fe en Facebook para mantenerte al día con las últimas noticias, videos, entrevistas e información sobre conciertos!
Track list:
Patakí de libertad
Valientes
Sobre el arte de retoñar
La Catrina
Carnal
Mía
Cámara lenta
Quién soy yo
Mujer ciudad
Cuatro cuentos
Ni una más
Blues que Guateque
Música vital
Madurar
continue reading Timbera Mayor