Concert Report - Santa Cruz - 2002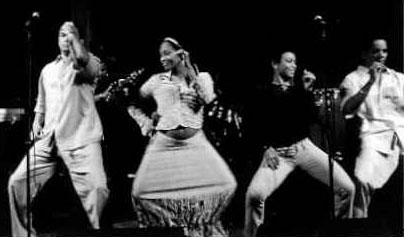 I've seen Bamboleo live almost 30 times in Cuba and California and they've never failed to give me what I call the "timba buzz" -- that euphoric surge of adrenaline that courses through my veins when I hear one of the top timba bands on a good night.
Nevertheless, I had any number of reservations about this show. Due to visa problems, the last few Bamboleo tours have fallen through. Rumors had been running rampant about various key figures leaving the band, and there were also rumors that the group was working with New York producer Sergio George and diehard fans were concerned that Bamboleo hard-driving style might be watered down in an attempt to make it with the ballroom-dancing, salsa romantica-listening record-buying public of "La Yuma". To top it off, the live tapes I'd been hearing out of Cuba had shown very little change in repertoire since the release of "Ya no hace falta" in 1999. I'm happy to report that Bamboleo has overcome all of these obstacles, that the band is actually improved as a result of the personnel changes, and that I'm extremely excited about the upcoming album.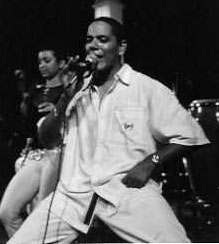 Needless to say, there were no visa problems this time. As for personnel changes, there were three, but the dynamite percussion section and principal vocalists remain intact. The incredible bassist Rafael Paceiro was pilfered by Pupy Pedroso for Los Que Son Son, scheduled to arrive in the States in September. Paceiro is one of a kind, but the new bassist (see below) is excellent in his own way. Pupy also absconded with one of the trumpeters ("Chocolate"), and singer Jorge "El Gafas" David, who sang "Yo tengo Bamboleo", has also left Bamboleo, apparently for South America. Unfortunately, I still don't have the name of his replacement, but as much I like the charming "El Gafas", this guy is even better. His dancing and coro-singing is strong, as are his lead vocals on several of the new songs, which brings us to the most exciting new development: the new material! There's almost a full album of it and it's very strong and different, using more major tonalities and packed with catchy hooks and bloques. The ecstatic Bay Area crowd heard not a trace of selling out or watering down of the trademark Bamboleo sound. As it turns out, the Sergio George idea fell through and the band is self-producing the upcoming album, which, like the first four, will be on Jimmy Maslon's Ahi-Nama Records. If I correctly understood leader/pianist Lázaro Valdés rapid-fire Spanish, one track has already been recorded in Los Angeles.
Here are some photo highlights of the show, with thanks to Tom Ehrlich for the great photos and apologies for my failure to get any of the names of the new players (I was so intent on following the famous numbered bloques and hand signals, and being generally blown away by the rhythm section that I didn't conduct my usual due diligence in the research department).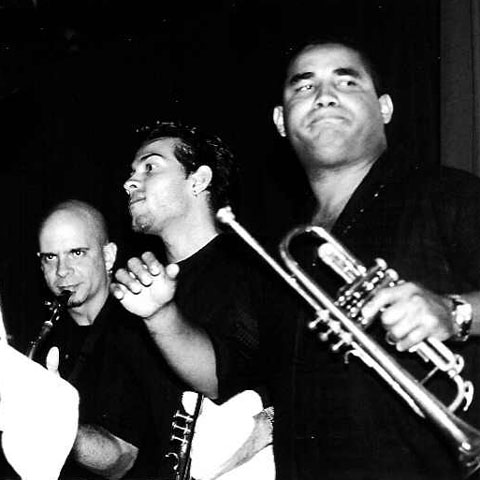 Carlos Valdés, the new trumpeter, and Carmelo Camero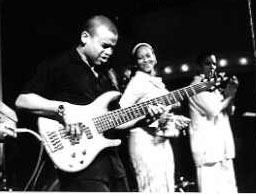 the new bassist, Vannia, Yordamis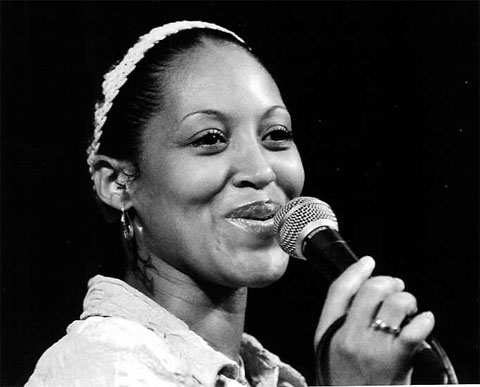 Vannia Borges -- Seven months into her first pregnancy, Bamboleo's sultry diva was singing better than ever and gracefully adapting her dance moves to her new physique.
martes, 22 marzo 2011, 07:31 pm