New Stuff
[hide]
Photos of the Day
[hide]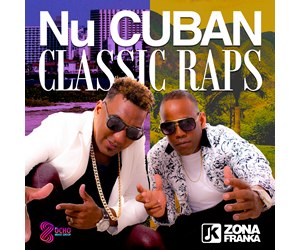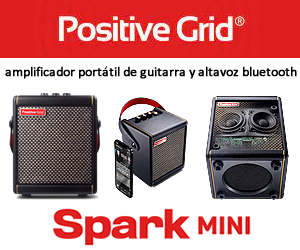 SpanishEnglishJuan Carlos González - History of Charanga Habanera
Introduction: Juan Carlos González is one of the most important figures in the history Cuban music, and the musical force behind much of the success of the original Charanga Habanera. In Part One, he recounts the early years of the band, leading to the phenomenal success of their early albums, and explains some of his reasons for eventually leaving the band. Part Two, coming soon, will cover the final year, the infamous "suspension" by the Cuban government, and the continuation of his career to the present, including his work with Dany Lozada, La Charanga Forever and others.

The True Story of La Charanga Habanera, Part One



by Juan Carlos González
(as told to Majela Serrano)
©2001
Charanga Habanera was founded in 1988 by Bernard Lion, the director of The Sporting Club in Montecarlo, Mónaco, to play traditional, pre-1959 Cuban music such as danzón, cha cha chá, bolero, mambo, son, guaracha, etc.
In the first year there were some very good musicians in the band, but the cabaret wanted to appeal to a younger audience, so the next year they replaced almost everyone, including the director, Gerardo Aguillón, a violinist from Santiago de Cuba. The only remaining members were David Calzado (violin) and Jorge Emilio Maza (flute).
I was working with "Los Violines de Tropicana", and I was called, along with Pedro César Fajardo (violin) to be part of this new band in 1989. The new director was a pianist named José Picayo.
We had to work really hard, playing two shows a day. Our first set was a dinner show and then later we'd play an opening set before the main band, which was frequently a very famous artist such as Stevie Wonder, Tina Turner, Barry White, etc. We had to change our repertoire every week. It was too much work for Picayo to arrange every song, so I started arranging as well. Picayo also helped David Calzado do an arrangement of "Aquellos ojos verdes".
Bernard Lion had a Chilean employee named Raúl Gómez who was very knowledgeable about Cuban music. Raúl was the one who came up with the name "Charanga Habanera", and he was also active in helping us choose new songs. He also arranged for us to record our first CD, "De La Habana a Montecarlo", which was unfortunately recorded in a makeshift studio and the results weren't very good.
In 1990 we added two new members, Victorino Patterson (trumpet) and Pedro Pablo Gutiérrez (cello and later bass). Sometimes in Montecarlo they asked for additional brass, and we would add more trumpets and saxes, but they weren't full-time members of the band.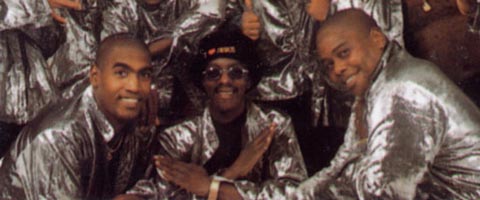 JC Gonzaléz with Victor "Vitis Man" Sagarra and Pedro Pablo Gutiérrez
At this point we decided to try to make Charanga Habanera our full-time job. We had been playing at The Sporting Club three months every year, but the rest of the time we barely saw each other, except those of us who worked at the Tropicana. When we started working together year-round, we improved our team work and became a much tighter band. Our first performance in Cuba was at a Charanga festival, and later at "Los Jardines de la Tropical", for an older crowd.
In 1991 David Calzado became director of the band. At a rehearsal at Vitorino Patterson's house I suggested to David and the band that we start playing popular dance music, but not the kind of music the other dance bands were playing. As a result of having been a jazz musician, I wanted to create a new kind of popular music, something different from the dancing music of the past. I wrote an arrangement of "Tú estás ahí", by Reinaldo Fernández Pavón. This was the first arrangement of the new "Charanga Habanera", and with this song we began to develop our own style -- our own approach to playing music. At that point Charanga Habanera consisted of the following members:
--3 violins (David Calzado, Pedro Fajardo, Joaquín Peláez)
--cello (Pedro Pablo Gutiérrez)
--flute and sax (Jorge Emilio Maza)
--piano (José Picayo)
--bass (Luis Quiñones)
--trumpet (Victorino Patterson)
--viola and paila (myself)
--congas (Humberto Pérez Medina, "Puchilán", also our manager)
To make this new style work, we needed younger, more modern players, so we had to make some changes.. I started playing piano; we eliminated cello and Pedro Pablo started playing bass; the third violin was eliminated too, and since Joaquín also played pailas we needed a real pailista. David called Eduardo Lazaga, the son of a famous musician, and he became a well-known pecussionist in a short time. We also found a new conguero, Víctor Sagarra, also known as "Vitis Man", and a new trumpet player, Leonel Polledo.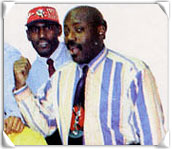 with Leonel Polledo
Our first singer was Luis Alberto Leyva, better known as "Empanada". He was very useful for us, because he was also a very good composer.
Making this modern music, with this new "swing", we were invited to go to Chile for a month to play with the Chilean band Intillimani. We combined our popular music with traditional Cuban music, Latin jazz and Afro-Cuban music. Almost every song we played during that period was written by Luis Alberto.
Back in Cuba, Santiago Alfonso, the director of Tropicana, invited us to play at his new "Cabaret Caribe", in the Habana Libre Hotel. We played the second show with the Tropicana´s dancers. It was here that we found Orlando Leyva, our bongó player. He was young and a great dancer and gymnast who was very useful in our stage show, to which we were already adding more and more elaborate choreography.
I became, essentially, the musical director, because I had the most training. My years of playing jazz taught me to be creative and I decided to break the rules and write a completely different kind of music - different from all the bands around the country. I tried to copy some ideas from the bands I saw in Monte Carlo, like "Kool and the Gang"; "Blood, Sweat and Tears"; and my favorite, which unfortunately I hadn't seen live, "Earth, Wind and Fire". Our "swing charanguero" was born there, with these experiments at imitating the styles of these earlier American groups.
David Calzado, the son of a great Cuban singer (Sergio Calzado of José Fajardo y sus Estrellas and Estrellas Cubanas), was born to success. He had played with the famous band "Ritmo Oriental", a band which was a pioneer of the "espectáculo", which is to say that in addition to the music, they had a dynamic stage show with lots of dancing and showmanship. This previous experience and his admiration for the unforgettable Benny Moré led him to create a new "espectáculo", with lots of choreography, and some "rules" which we followed on our way to success. He chose the right songs for our new style, our costumes, and our stage moves. That made him a very special director, and as I said before, he was born to success.
We made some changes in Cuban music. For example: I started using guaguancó (or rumba) clave instead of son clave because it created a sense of freedom and spontaneity. I used to play with the meter in the tumbaos I created for piano, bass and synthesizer. I invented the contratumbao, which is now a part of every timba band, a kind of tumbao in keyboards that complements the tumbao of the piano. For these parts, I started imitating phrases of funk guitar, and I developed it until it evolved into what it is now. I had the idea of mixing son with elements of rap and hip-hop. and with David's help we became the first band to integrate these influences into Cuban music. We also changed the traditional percussion patterns. I invented a new pattern for the cowbell. I also introduced the characteristic bass drum pattern which plays on the 3rd and 4th beats of each measure [or the 2nd and 4th beats if writing in 16th's], and Vitico y Lazaga developed conga and timbal parts to complement it, creating a rhythm that many Timba bands have imitated. [editor's note: see "Clave Changes in the Music of Charanga Habanera" for more on all of this, with audio examples]
As a piano player, I started changing the traditional piano tumbao, influenced by the changes that Rodolfo "Peruchín" Argudín had made in NG la Banda. He moved the syncopations to create new rhythmic tensions, but I took it farther and wound up creating a new language, where the tumbaos seemed to be alive. Sometimes it's a repetiton of a little phrase, or an answer to the bass tumbao. I also wrote the bass tumbaos, in order to make them fit with this new piano style. Until this point, the tumbaos of Cuban music were much like they were 50 years ago, boring and repetitious, and now, the young pianists create their own tumbaos following my ideas, and I enjoy it very much.
In 1991 and 1992, we were still working at Cabaret Caribe, and David invited his cousin, Juan Manuel Arranz, to play the piano in a TV program where I had to play viola. Later, I had to take a whole week off, and Manolito played for me. When I came back he stayed to play keyboards and also started playing piano on several tunes.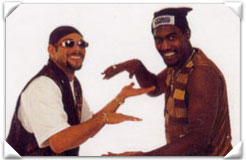 with Manuel "Manolito" Arranz
Suddenly, "Empanada" left the band, and we replaced him with Mario Antonio Jiménez Sánchez, known as "Sombrilla". At first he was only a temporary replacement because of his age. Luis Alberto had a unique singing range, and we couldn´t find such a singer, so Mario stayed and we later added Leucidio "Leo" Vera. At this point we had finally brought together the group that everyone thinks of as the original "Charanga Habanera" and we recorded our CD "Fiebre de amor" [Love Fever] at EGREM Studios in Havana in 1992.
We started planning this CD after the Montecarlo contract came to an end. Unfortunately the EGREM studio was not good at all. Antonio López was the engineer. He later became the manager of our group. When the group went on tour to Galicia, Spain, I stayed behind to help Antonio with the mix of the CD. Then I went to Mónaco to play briefly with the "Cha cha chá cuban boys".
We developed the material for this CD at our rehearsals at "Caribe", where Giraldo Piloto gave us his song "Me sube la fiebre". This arrangement has David´s melody, and I added the harmony and the mambos, in which I used a lot of unísons, one of the ideas I picked up from "Earth Wind and Fire". David wrote the guías for the singers.
I arranged the "Felicidad", "Para el llanto" and my own composition, "Te necesito". I also created every mambo, except those from "Crisis de amor", which were done by Juan Manuel "Manolito" Arranz, who also arranged and played piano on "Pregón del chocolate" and "Crisis de amor".
The first album has themes from composers such as Giraldo Piloto ("Me sube la fiebre"), Leonel Limonta ("Extraños ateos"), Issac Delgado ("El pregón del chocolate"), and Manuel González, better known as "Manolín el médico de la salsa" ("Te la voy a liquidar" and "Para el llanto").They all contributed to our success. Every song was a hit, one after another. "Me sube la fiebre" traveled around Cuba like a disease, everyone sang this song - old people, kids, teenagers, etc. The island opened its heart to Timba like never before. We were still working in "Caribe", and celebrities like José Luis Cortés, Issac Delgado, Los Papines and Gonzalo Rubalcaba went to see us. We were the youngest and most "in vogue" of all the groups, so we could started to play the most important Timba venues in the country. We were the most successful band of the moment.
At this point, in 1994, Francis Cabezas founded Magic Music in Barcelona. He needed new young talent, so he proposed that we record a new CD for his label. David thought it was a great opportunity. We didn´t have enough material for a new recording., but we were very excited about having access to a better studio, so we packed our bags and headed to Barcelona to record "Hey You, Loca!".
I wrote several arrangements for this new recording: "Quítate el disfraz", "Hey you, loca", "Tremenda atmósfera", "Verbo del amor", "Pelirroja", and "Placer de amar". To fill out the record we had to repeat two songs from our first CD, "Me sube la fiebre" and "Para el llanto". At the time we thought "Fiebre de amor" would never be released outside of Cuba. I was a little upset because the arranger wasn't mentioned in the album credit, just "Musical director: David Calzado".
This CD was our international debut, and we took our Timba style all around Europe, playing important festivals and a Spanish TV program called "Antena 3". We played with stars like Tito Puente (in Finland). This was a beautiful season, with Leo and Sombrilla.In Cuba we had thousands of fans, everywhere we played. They liked our music, our costumes, our dances, our "swing charanguero" - everything about us.
In 1995, Leo left the band to sing with Chucho Valdés´ Irakere. Leo had recorded about half of the songs on the new CD, including "Mi estrella", which was #1 in Havana´s hit parade at that moment. So, we had to look for a new singer, and we came up with Michel Maza Márquez, "El Menor de la Salsa". He was only 16 years old, almost a child, but he saved us from certain catastrophe. Leonel Limonta was working in our technical staff, and he wrote a new song for Michel (Nube pasajera). This new theme was a great success, and made him famous. I wrote the harmonies and tumbaos for this arrangment and the rest is David's.
In spite of Michel´s success, we acquired a third singer, Joel Barz, but he was only with us for a short time, singing my composition "Se te acabó la magia". David didn´t like his work that much, so after singing coro on the CD "Pa´que se entere La Habana", David decided to stick with just Michel and Sombrilla. We recorded this CD in 1996, and Michel jumped into the world market.
We also made some changes in our style, and although not everyone noticed, they were big changes for us. Whether the changes were for the better depends on one's point of view. We eliminated the violins that we had used on the first two CD's to provide sweet counter-melodies and we added a lead trumpet, Osmil Monzón, to make the brass cut through more. This gave us a harder, more aggressive sound. We started playing simpler music, and using a lot of phrases from the language of the street, some of them vulgar at times. At first this was funny, but later it started to get out of hand. Some of the arrangements started with only a piano or bass tumbao. We started focusing more on being a dance band and less on being musical revolutionaries. The people loved it and many bands, even some of the older ones, started copying us.
"Pa´que se entere La Habana" was recorded in Costa Rica, in Mar-Sol Studios. Although there are several arrangements from David and Manolito, "Dime A" was listed as David's even though it was my arrangement. They told me it was just a typo when the liner notes were printed.
That year we signed a contract with the English firm of Ronnie Scott, which also worked with Irakere and Van Van. They set us up with tours in Europe, working in all sorts of important festivals and other events, but our salaries stayed just the same. As our economic problems got worse Eduardo Lazaga left the band. He was replaced with Gilberto Moreaux.
Even though we were unhappy about the money, it was still a nice season, full of success, with fans following us around Europe. For me, this was still the most important thing. I could see thousands of people dancing to my creations, which gave me great joy after all the nights I had spent thinking about how to write them!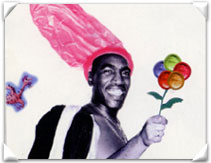 from "Tremendo delirio", 1997
In 1997, David added another singer, Danny Lozada, who wrote several songs which became big hits on our next CD. "Tremendo delirio", recorded in Havana, was my farewell to Charanga Habanera. I was upset about the money, but more importantly, I had still never received credit for my creative contributions. They put my picture in the album cover, but they still didn't properly credit me for my arrangements. This was the real I left the group to which I almost gave birth, although some people still think I left to escape the suspensión of August, 1997.
I knew David could find a pianist who played like me, and who could imitate my style, but he couldn´t think like I do. I think that Charanga´s success was not just because of our costumes or dances. I think it was because we broke the rules, brought in influences from around the world, and reawakened Cuban music.
[to be continued]

Special Thanks: César Díaz, Jacira Castro
Tuesday, 23 December 2014, 11:15 AM