New Stuff
[hide]
Photos of the Day
[hide]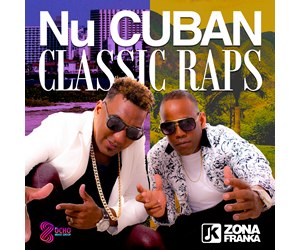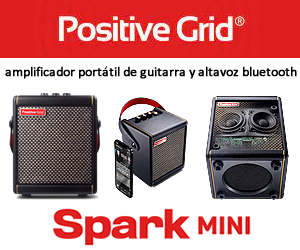 SpanishEnglishHistory - Los Charangueros de Ayer, pt. 2
The Charangueros of Ayer - Part 2
by Majela Serrano
(additions by Michelle White & Kevin Moore)
Between the Suspension and the Breakup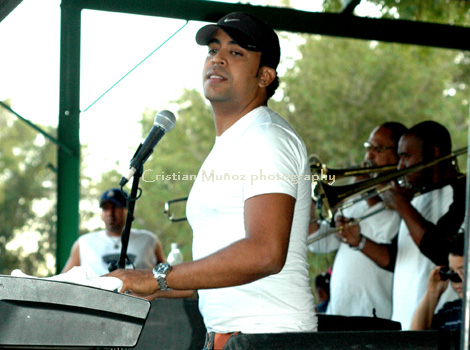 Roberto Carlos "Cucurucho" Rodríguez Valdés - When Juan Carlos González and Danny Lozada left the group after the suspension of July, 1997, Calzado replaced them with Cururucho and Sandier Antes, both of whom contributed songs and arrangements which weren't recorded until the two left with the rest of the group to form Charanga Forever.
Cucurucho is the consummate professional timba pianist, brought in to replace no less that four of the most important pianists in timba history. He later replaced El Majá in Issac Delgado's group, then Rolando Luna in Paulito FG y su Élite and finally, he received the ultimate acknowledgment when Juan Formell picked him to replace Pupy Pedroso in Los Van Van. Cucurucho is now one of LVV's principal writers and arrangers. [Kevin Moore]
The name "Valdés" is very common, but in this case it's very difficult to carry with dignity, ya que igualar el talento de la familia Valdés es una tarea bien dura.

From his grandfather Bebo, to his aunt Mayra Caridad, his mother Miriam, and the most famous of all, his uncle Chucho Valdés, the talent has been handed down from generation to generation. And although Roberto is the youngest, it certainly doesn't mean he's the least talented!

He studied at the "Guillermo Tomás" school, and then at "Amadeo Roldán" until the second year of the middle level.

If my memory doesn't fail me, he played synth in "Los Chicos de la Salsa", and he later took over for Tirso Duarte as pianist and musical director.

His biggest interest has always been jazz, and he's continued playing it simultaneously with his many jobs as a timbero.

He played with Charanga Habanera for a year, from the summer of '97, when he replaced Juan Carlos González, to the summer of '98, when he, along with most of the other members, left David Calzado to form Charanga Forever. It was during his time with Charanga Habanera that Vitico "El Vitis Man" gave him the nickname "Cucurucho" which he's kept to this day.

Although only 24, he's played with five of Cuba's most famous bands. After playing with the two Charangas he went to Issac Delgado, then Paulito F.G. and finally, in 2001, he replaced the legendary Pupy Pedroso in Los Van Van.

Cucurucho played some synth, wrote some arrangements, and, along with David Calzado, co-wrote the opening song of Charanga Habanera's most recent album, Chan Chan Charanga.

Here's hoping that he calms down and stays for a while with Los Van Van! [Majela Serrano]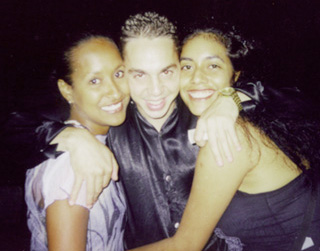 Sandier Antes with Zoe and your faithful author
Sandier Ante Fajardo a typical Scorpio. He was born on the 31st of October, 25 years ago..
He first studied music at a school called "Paulita Concepción", and later specialized in tuba at the consevatory"Amadeo Roldán".
Part of the curriculum of Amadeo resulted in the formation of a group called "Los Chicos de la Salsa", where, for a period of about a year, Sandier began his career as a singer. After leaving Los Chicos, and leaving school in the middle of his third year of the middle level, he started to sing in groups such as "La farándula" and "Sabrosura viva", together with his brother, Maikel Ante, who later sang with Irakere and now, among other things, sings with Sol y Soul.
From "La farándula" Sandier had the opportunity to become part of Charanga Habanera, en agosto de 1997, just after the famous suspension that the government imposed on the group.
As we know, Danny Lozada and Juan Carlos González left La Habanera in the final days of July of that year, after the concert which provoked the suspension. And it was Sandier who was brought in to replace the departing Danny Lozada. He rehearsed with the band for the almost six months of suspension, y contributed some of his own songs to the reportoire..
This gift seems to have been inherited from his father, Antonio Ante, a composer whose works have been included in algunos concursos OTI.
Sandier was only in Charanga Habanera for a year, and in the summer of '98 decided to go with the majority and to form the new group, Charanga Forever, with whom he stayed for some time, recording their first and only full length album. He also wrote various songs for this group, including the controversial "La Charanga soy yo".
He later decided to launch a solo career, participating in various projects, both Cuban and international (such as Sol y Soul), and also recorded his own songs with his brother Maikel.
In December of 2000 he was reunited with Juan Manuel Arranz (ex-keyboardist of both Charanga Habanera y Charanga Forever) in a musical project in Chile which is contracted for a year, with other young and talented musicians about whom we unfortunately know very little right now.
The Second Great Charanga Habanera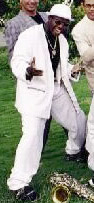 Tirso Oriol Duarte Lescay is one of the most talented of the new generation of pianists. He studied piano at "Manuel Saumell" and later at the conservatory "Amadeo Roldán" until his third year at the middle level..
At the age of 15 he was a founding member of "Los Chicos de la Salsa". In addition to playing piano, composing and arranging he was chosen as the musical director. A few months later, Cristian Alonso se ocupó de la dirección general y Tirso sólo de la musical, para de esta forma lograr ser apadrinados por Pachito Alonso, padre de Cristian.
For about two years Tirso continued as musical director of this group, which was a starting place for a huge number of musicians who later became important parts of the Timba scene. There was Jorge Baglán (drummer of NG La Banda), Helder Rojas (pianist of Charanga Habanera), Randolph Chacón (bassist of Bamboleo, and then Charanga Habanera), Yulién Oviedo (timbalero of Charanga Habanera), Pavel Jiménez (ex-percussionist of Azúcar Negra, Charanga Habanera and Charanga Forever), Rafael Labarrera (ex-singer and composer for Bamboleo and La original de Manzanillo), Armando Cantero (singer of Bamboleo, Charanga Forever, and now Pupy y los que son, son), and many more. We may have to make a special page for this group!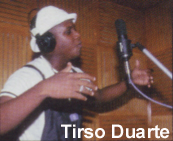 But getting back to Tirso, with this early experience under his belt, he decided in about 1996 to begin his professional career with Pachito Alonso y sus Kini Kini, where he played keyboards until the summer of '98, when he began his three years with Charanga Habanera.
In La Charanga, he began by composing, arranging and playing piano, and the following year he also began to sing. He stayed with the group until January of 2001 when he became a singer for NG La Banda.
Today Tirso is 24 years old and has two children, and in his professional life he's normally primarily a singer. He now singing with "Pupy y los que son, son", and has since the formation of the group in 2001.
On timba.com you can read an interview with Tirso and also read an educational article which deals in depth with his pianistic style. The main article on the album "Charanguero Mayor" also contains extensive information and audio examples of Tirso's piano playing. Tirso will be the subject of several volumes of Kevin Moore's upcoming piano method book series "Beyond Salsa Piano - The Cuban Timba Piano Revolution".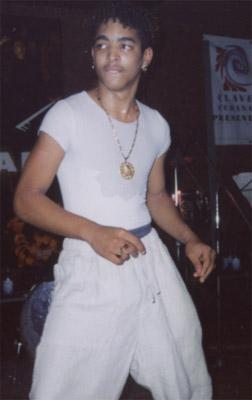 To write about this next member one would need to use every superlative and some which have yet to be invented! Yulién Oviedo Sánchez …to call him a genius is and understatement. In spite of being the youngest member of this gang of locos, he has a very extensive resume.
It all started on November 29, 1982, when Yulién, the first child of a super-talented musician, came into the world. And just as his father Calixto made history in Cuban music, Yulién was born to further increase the prestige of the celebrated Oviedo family.
The young Oviedo was studying percussion at Saumell, he requested a visa to travel to Italy to play in a special program, "Bravo, bravísimo" with four of the other most talented children in the world, accompanied the orchestra of an Italian television network. After this he travelled with his father's band, NG La Banda, to Japan, Mexico y and many other countries, to say nothing of participating in festivals, contests and workshops, even becoming a professor!
After all this, he finished at Saumell and enrolled in the ENA, but he never stopped playing professionally, working with, among others, "Aché Junior", "Los Chicos de la Salsa", "PG", "Química Perfecta", and his favorite group…La Charanga Habanera, which whom he began to play at the advanced age of 15!.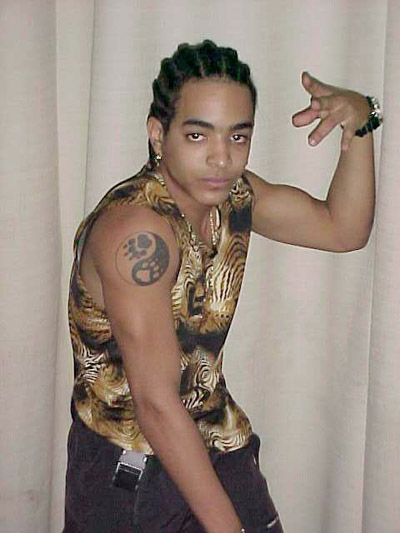 After joining La Charanga, he played with his dad on a European tour with singer Luis Frank and musicians of the Buena Vista Social Club. He also recorded many discs, such as "Afro Cuban All Stars", "Buena Vista Social Club", "La recompensa" (his dad's album), "Gracias Formell"; and with such icons as Tatagüines, Angá, Compay Segundo, Alemañy, etc.
Groups he's recorded with??? NG la Banda, Issac Delgado…the list goes on and on. As he himself says "con infinidad de orquestas" ("with an infinite number of bands!)
In Charanga his job was playing timbales…WAS! Now this genius sing (and how he sings!), dances and opens the "espectáculo". "El chiquitico jefe" is one of the key figures in the choreography of the Charangueros, and sings the most important voice, the bass, in the band's latest hit, the ballad "Entra en mi vida". At the beginning of the "espectáculo", just after the time-honored cover of the EW&F classic "In the stone", Yulién leaves his drums and starts the next song with … "estás preparado para mi Charanga?" ("Are you ready for my Charanga?")
I think the question would be - is the world ready for so much talent in one person???
After six years with La Charanga, Yulién has joined the project of a young rapper from Santiago and he is going to begin a career as a solist.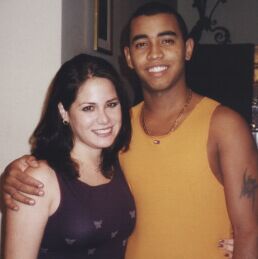 Pavel Rodríguez Jiménez
(with Paola Arias)
Pavel began his musical career, like so many of the younger Charangueros, with "Los Chicos de la Salsa". At age 14 or 15 he took over for Carlos Rodolfo, the group'/images/gallery_ps first bongocero.
Later, Pavel became the drummer of Leonel Limonta's Azúcar Negra and he continued with that group until he replaced one of the original Charangueros, Orlando "Orlandito" Leyva as the bongosero of Charanga Forever. A few months later he switched groups again, this time to substitue for Yulién in Charanga Habanera cuando éste salía a cantar algún tema, plaza en que quedó fijo al suplir a Yulién permanentemente por un espacio de 6 meses.
Yulién briefly returned to sing lead and share the timbal duties with Pavel. Eventually both left to form another group and Randy Malcom took over.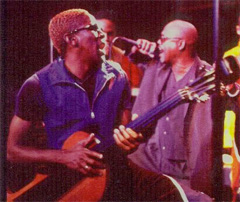 Randolph Chacón Paz joined Charanga Habanera in August of 1998, replacing Pedro Pablo Gutiérrez.
Born in Havana on April 6, 1977, he's tall and thin, with a huge smile and a great sense of humor. At 24 years of age, he's already the father of a one-year old daughter, Estelle.
Randolph studied contrabass at the Guillermo Tomás music school in Guanabacoa and he later graduated from the conservatory Amadeo Roldán and received awards for his bass playing in 1989 and 1992.
His first professional gig was playing electric bass with "Los Chicos de la Salsa" a young group created by students at Amadeo Roldán [see our interview with another member, Tirso Duarte, for more on this group]. After finishing his studies, Randolph took advantage of his classical training to get a job working with a quintet at the Hotel Cohiba. He also began to play Jazz in Jesús Fuentes' "Latin Project", along with another future Charanguero, Helder Rojas. But neither classical music nor Jazz appeared to be Randolph's destiny and he soon found himself playing Timba with Bamboleo. Although he was only briefly with the group, he recorded with them on a CD they made with Rolo Martínez - "Para bailar mi son".
Almost four years ago David Calzado offered Randolph the job of bassist with Charanga Habanera, with whom he's recorded two discs and toured internationally on many occasions.
The 2000s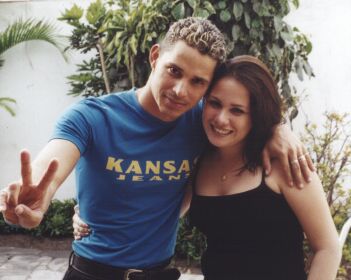 Leonardo "Leonid" Torres Alvarez.
He was born in Camaguey, November 24th, 1977. "I never studied music - I never had the opportunity. I was trained as a refrigerator repairman (Kevin: shades of "Money for Nothin'"), and even worked as one for a while. But I was always singing and my boss asked me every day why I didn't take it up professionally. Actually I always wanted to, and one day I tried out for a salsa band and...here I am".
That group was Costa Sur, from Camagüey, and he sang with them for only 3 months, because he said he didn't know how to sing salsa and couldn't do it. (of course, now he realizes how silly that was!). "I only wanted to sing ballads because I thought I couldn't sing salsa, and I didn't listen to reason -- I didn't want to keep singing. At that pointed I didn't realize that you're only born with your talent and everything else you have to learn."
After Costa Sur he was a comedian in his own group, "Los Cariduros". He wrote a lot of the scripts and played the part of the straight man. I imagine he did very well because Leonid is very talented, but given how he appears on the stage I couldn't have imagined how shy and introverted he is in person!

"My comedy career lasted only two years, because they convinced me to try singing again. In Los Cariduros I always used to sing this or that balled, and the people who saw me always asked me the same question: why don't you become a singer? I started to sing with a group that broke up after about six months and after that I returned to the comedy troupe. A little later I began to sing with Maravilla de Florida, and worked with them for two years. With them I recorded the CD 'Vieja, pero se mantiene'. Maravilla de Florida is the second oldest group in Cuba".
While he was in this group, he had to beat off the offers of working that were pouring in, in Camagüey and Havana, because "lo que está pa'tí, nadie te lo quita" ("nobody can stop you from doing what you're bound to do"). "And obviously, my destiny was La Charanga -- I say this because of the way that David discovered me. I always loved this group, but never in my wildest dreams did I ever imagine myself in it!. It was something that seemed too far away -- unreachable".
David Calzado arrived at the Havana airport one day and chanced to see a video of Maravilla de Florida in which Leonid was singing. Most people had never heard of the young singer, but David got a copy of the video and set out to track him down. He took Charanga Habanera to Camaguey to play a concert with "Maravillas" and when he met Leonid he said, "You're the singer that I want in my band". For Leonid it was a dream come true.

His first song was "Tiene de Cuba, tiene mela'o", a song that was first sung by Yulién and is now sung by Dantes. This left Leonid with three songs on the new album, including "Gozando y a lo cubano", the first song of "Chan Chan Charanga" (called "Tiene de Cuba, tiene mela'o" in Cuba).
"Not that many dreams come true in life, but this one did for me. I don't ever want to leave La Charanga, because I don't know where I'd want to go -- I can't think of another place I'd want to be".
For me, having been very curious to meet him and see him work, it was a reaffirmation of what all the musicians have told me, that "David knows what he's doing". Leonid fits in perfectly as a Charanguero. He does his job very well, as a singer, a dancer and part of the whole stage show. He's earned his place and become a key member of the band. Now I understand why there have been so many messages from fans of Leonid in the timba.com guestbook!
NOTE: Leoni left La Charanga Habanera to begin a solo career. His first solo CD Bajo La Piel was released in January 2008 and is a Pop/Rock/Dance CD with 12 songs, 7 of which he wrote himself.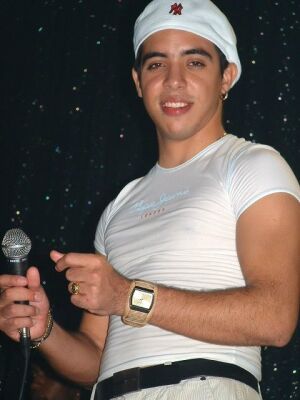 Leonardo Garrido was born in Havana City on November 23, 1983. From an early age he developed his potential as an artist in cultural activities in his neighborhood school. He participated in song festivals where he won various first pace prizes. At the age of 10 he became part of a children's group called "Sueño azul" where in addition to singing, he also evolved as an entertainer and actor. In 1995 he was chosen as presenter of the rising children's news program "Ponte al día". During this time he also evolved as a presentor and actor in a radio program on the station C.O.C.O. In 1998 he joined the group "Nueva Imagen" as a soloist. He continued working with this group for 5 years, developing Cuban nd international genres and musical rhythms that provided him with great experience. The professionalism achieved in this group allowed him to enter the artistic agency "Adolfo Guzmán" in 1997. He has shared the stage with important bands of the First-line such as: Los Van Van, NG La Banda, Carlos Manuel y su Clan; as well as with stars of international reknown such as Compay Segundo, Pancho Céspedes, Ricardo Arjona and Gabriel García Márquez. He later joined "Los Ángeles del La Habana" from which he was recruited to la Charanga Habanera where he is one of the 4 lead singers.
Noel Díaz Cruz was born February 26, 1970 and was an amateur athlete (you only need to look at him to see that). He played baseball, and studied Tae Kwan Do and gymnastics.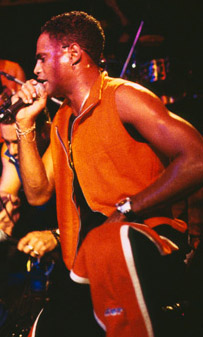 (photo by Peter Maiden)
His fascination with music began at a very early age, inspired by the example of his uncle, who was the director of Los Cuáceres, a traditional Cuban music group. "I said, 'Okay, Uncle, what do you want me to sing?' -- but he told me he could only use me as a roadie, not as a singer! But I was still interested in the songs and learned them all. One day he was missing a singer and I said 'Uncle, I can do it!'"
An it worked! This was in 1986, y and later he sang with Willy Montes y los Elefantes de la Salsa in 1993. LM Sobredosis also used him as a singer in 1996, y later Bakuleyé. From there he made the big jump to La Charanga, with whom he's sung since August of 1998..
"Here, I have a few numbers as a soloist, but my problem is that my voice has become the trademark of the coro, so I'll guess I'll be dedicating myself mostly to that".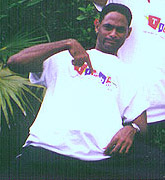 On the stage Noel exploits his abilities as a world-class gymnist and dancer, and his wide range plays a big role in the blend of Charanga Habanera's coros. He's one of the main parts of the show. And if you haven't seen it, why wait? As the coro that opens the show goes: "prepárate pa'l show de la Charanga, que está de película" ("prepare yourself for the Charanga show...it's like a movie"...as when you watch Noelito, you can see why!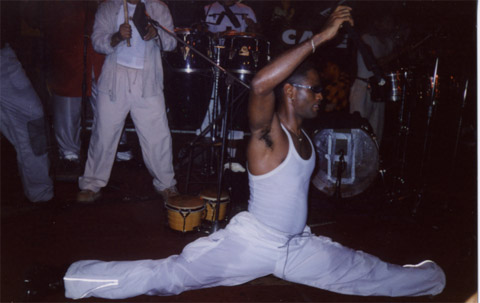 "Noelito…que no se diga que estás enfermito!" That's the coro that David sings when Noel turn comes in the dancing spectacle of "El Riki Ricón".
Ebblis "El Boni" Valdivia Díaz born April 16, 1979 joined the Charanga after the departure of Dantes. With his classic good looks and beautiful blue eyes it's easy to understand where David got the idea to write the song El Boni, which has been a big hit for the Charanga and earned Ebblis the nickname by which he is now known to timberos around the world (short for El Bonito).
But as we've seen in the past, David has a talent for finding band members who combine good looks with an excess of talent and Ebblis is no exception. He studied performing arts at the ENA and has worked both as an actor, in plays and on television in the popular series "Los Descamizados", and as a singer with the groups Chikcola, BM Expreso and Klímax.
Ebblis was singing with Klímax when he was invited to join La Charanga Habanera. I addition to El Boni, Ebblis sings lead on Mujeres on the hit CD Soy Cubano Soy Popular. He has a beautiful voice and is able to adapt it to reflect the type of song he's singing, be it a hard driving timba like Mujeres or a romantic ballad like Vuelve Junto a Mi.
The 'espetaculo' aspect of La Charanga Habanera allows him to make use of his talent for dancing, which combines despelote and tembleque with what could almost be called trademark body rolls. The energy and enthusiasm he brings to the show and his ability to develop a rapport with the audience have quickly earned him a place in the hearts of the fans of La Charanga Habanera.
To learn more about Ebblis, check out his interview, conducted by Ivette.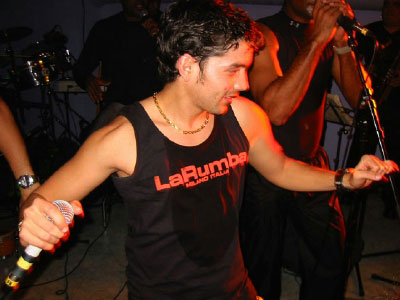 photo by David Doogue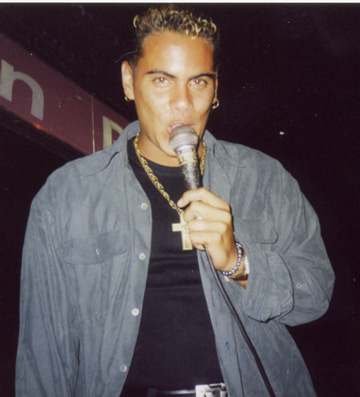 "El riki ricón" was born on the 28th of May, 1976, with the name of Dantes Cardosa González. A dancer by trade, he graduated from the school of Varietur of the prestigious Cabaret Tropicana, where he stayed for a year. From there he went to Varadero to dance for six month in about 1995 or '96."After dancing for a while I decided to try singing. I started with Impacto Latino, the group in which I made my first recordings, and stayed with them for about 8 months. In '96 I started to sing with Bakuleyé and continued until I joined Charanga Habanera in April of 1999".
His first song with La Charanga (and his only one for quite a while) was "El riki ricón", written by David y Tirso Duarte, ex-pianist and cantante of La Habanera. "David wrote the arrangement with Tirso and said 'this is the song will be your debut as a lead singer with Charanga Habanera ". He also occasionally sang Pancho Cespedes' "La Vida Loca", both by himself, and as a duet with Haila when she and Danny Lozada would sing with the band as guest artists. In the new CD he has five songs a lead vocalist.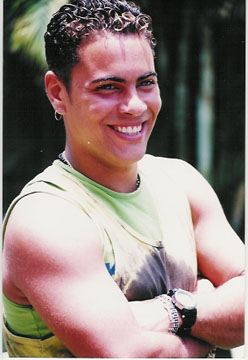 Dantes is more than just a pretty face as he's demonstrated in his work. I've had the chance to hear him singing casually at parties and he has a warm, pleasant voice (sweet enough to fall in love with!) and the ability to sing very good harmonies.
His stage presence leaves no doubt that he enjoys what he does, and that he was born to do it! In Cuba, (and as far as I've seen, in the rest of the world as well) it looks like he'll continue to be "el riki ricón", although he's already proven that he's much more than that.
Now Dantes has his own group Dantes y La Bomba.
photos by Majela Serrano (above) & Paola Arias (right)
Tuesday, 20 March 2018, 02:48 AM