Zomer Carnaval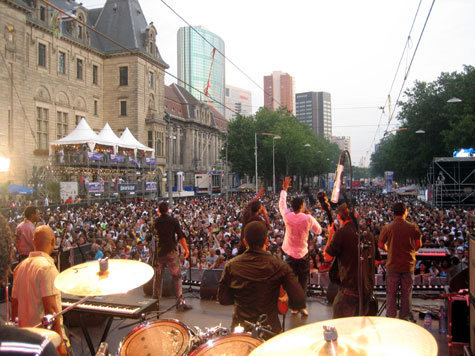 Salsa Mayor closed their 2008 summer tour with a concert at Zomer Carnaval in Rotterdam. The audience was estimated at about 50,000 people. The front rows were filled mostly with Salsa Mayor fans, some of whom had come from Belgium to see the band, but much of the audience was probably just "festival goers" who were unfamiliar with the band. Salsa Mayor had only 1 hour on the stage in which to present their music to a large, new potential fan base.
Maykel adapted the show to the timeslot by keeping the songs much as they are on the CDs, that is, they left out most of the dialog with the audience. They were able to play ten songs in one hour this way. They opened with a little presentation of all of the musicians that segued into the coro from Anda pégate . Then they went straight into one of the band's best known hits, Recoge y vete . Pepitín sings lead on Recoge y vete and has a timbre that is similar to the original studio version. Click on the image below to watch the beginning of the show.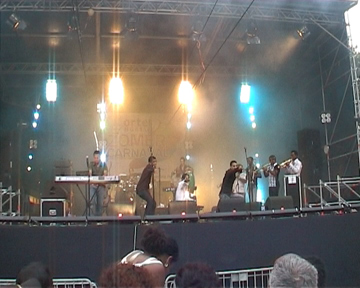 Anda pégate into Recoge y vete with Pepitín on lead
They followed immediately with an estreno that is fast becoming a favorite of mine, El destino . I have become quiet fond of the "Qué buena está la máquina" coro. I gave you a little taste of it in the last concert report but here is the full version and I expect this is very similar to how it will sound on the CD. Click the image below to see why I'm crazy about El destino .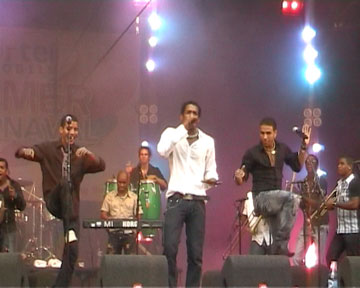 Pavel La Figura singing El destino - "qué buena está la máquina"
It was nice to see the audience participating so much with the band, considering that a good number of the people were probably seeing Salsa Mayor for the first time. They stayed in estreno mode with Yasser and Llévala . Here's some good advice from Yasser for guys who are in love: "Llévala a bailar con Maykel y Su Salsa Mayor". I especially like the part where Pepitín and Yasser sing harmony together around 1:46.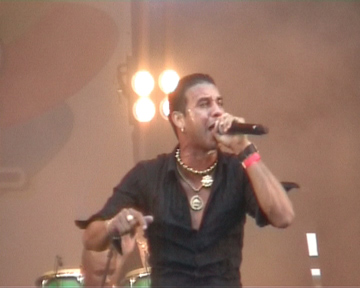 Yasser Ramos says "si la quieres, si la amas llévala pa' donde vayas"
During Cimarrón a fight broke out in the audience only a couple meters away from where I was standing. Someone threw a beer at the guys who were fighting and within a few seconds the security guards had it all under control. Afterwards the Mayores told me that they were surprised to see a fight in Europe. They said it was like playing at La Piragua. I told them that fights break out everywhere when people consume a lot of alcohol.
I went up on stage shortly after the fight, not because I was scared but because I wanted to get some pictures of the view from the stage. Unfortunately the smoke machines were on full blast so it was hard to see much of anything, either filming or taking pictures. During Qué tengo I finally complained to the band's manager, Ramón, and I was surprised that he actually went and got the people to turn off the smoke machines for me. The percussion section was happy to be rid of the smoke too because they could barely see Maykel at times. As we waited for the smoke to clear I filmed Amaury's drum solo in Qué tengo . Click the image below to watch...if you can see anything through all the smoke.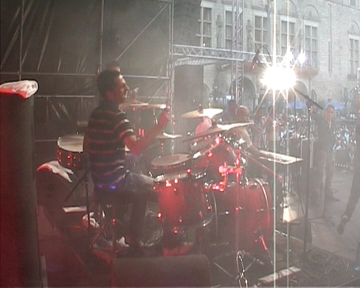 Amaury Reynoso's solo in Qué tengo
They finished up with Marisela , Brujería and played Esto está to close the concert. Yasser sings lead on Esto está now. Click the image below to watch a short clip to see how Yasser sounds, and keep your eye and ears peeled for...let's just say that if you know the song well, you'll notice something unusual.
Did you notice it? Right at 1:17? Maykel would probably prefer that I not mention it, but it's the individual quirks that make a concert interesting. Most of the band drops out and then right when Maykel stamps his foot at 1:19 they all start up again. I was told later that everyone just happened to mess up at the exact same time and start again at the exact same time. You can see the singers laughing a little bit. It seems that these guys are starting to play so tight that even their mistakes are coordinated.
And with that, the summer 2008 tour of Salsa Mayor came to an end. It was a truly grueling tour schedule, but as you can tell by the video, the guys gave 100% at all times. Now all we can do is await the imminent release of the new CD.
Friday, 05 October 2012, 02:35 AM