Qué Buena Está la Máquina - Festival Cubain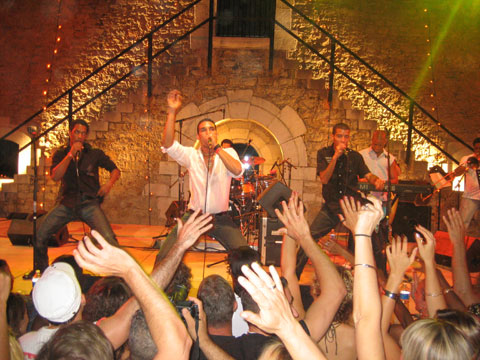 Salsa Mayor at Fort Napoleon in La Seyne Sur Mer
Let me begin by plugging the Festival Cubain de La Seyne Sur Mer. I have known about this festival for a few years now. It lasts for four days and brings in major Cuban artists, not always timba, but always great artists. But this is the first time I have attended a concert there.
Let me also say thanks to the people who helped me by taking pictures of the band with my camera while I was filming. It's very hard to get decent pictures with one hand while trying to film with the other.
The venue is an old fort, Fort Napoleon, on the top of a hill situated above La Seyne Sur Mer on the French Riviera. Does that sound tempting or what? Beaches by day and Timba by night! I stayed in Toulon which is just across the bay from La Seyne Sur Mer. During the afternoon I went walking on the pier, shopping in the winding streets of Toulon and later I took a 20 minute ferry ride across the bay to meet the band for the soundcheck. It was about a 15 minute walk uphill through neighborhoods of people who make a lot more money than I do, and finally through warm, pine-scented hills until I reached the fort.
This is the kind of festival that brings in Timba pilgrims. There was a group from England as well as a couple of guys from Stockholm, and of course people from Paris, Marseille and Toulouse and a mix of locals, both timba fans and the general "festival going" public who don't know the music but enjoy the concerts just the same. The 2008 festival was what I consider a dream line-up with Pupy y Los Que Son Son, Maykel Blanco y Salsa Mayor, Elito Revé y Su Charangón and La Charanga Habanera. It just doesn't get any better than that.
The concert began at 10:20 pm and the courtyard of the fort was full, including the bleachers that had been set up at the back. In fact, when a friend of mine from England came over to say "hi" to me, it looked like things could get ugly for a minute as one of the fans beside me felt he had lost his place. Well there has never been any love lost between the French and the English...but it turned out OK when he pushed his way in front of us. Let that be a warning to you: don't come between the French and their Salsa Mayor!
But now to the concert. I was very interested to see how the new singers would be received by the fans and in La Seyne Sur Mer they were quite popular. In fact, my friends from Stockholm said they thought the concert was better than the one in Stockholm in November and that the band was more exciting and energetic.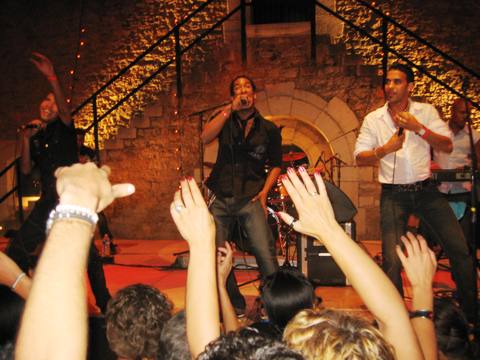 Pavel "La Figura" sings Anda pégate
They opened with the big hit from last year Anda pégate sung now by Pavel "La Figura" . The fans left no doubt that they love this song. Pavel is a charismatic performer and always give 110%. He is also a character and the nickname "La Figura" is well deserved. You'll have to see him live. Even the video doesn't do him justice.
And in Salsa Mayor trivia, Anda pégate was originally sung by Pavel, but the demo was recorded by Ricardito who took over Pavel's songs when he left the group.
The audio in the fort was excellent. I don't know if it is the particular acoustic characteristics of the courtyard with the open sky above or if it was due to the soundmen, but this is yet another reason why I recommend the Festival Cubain.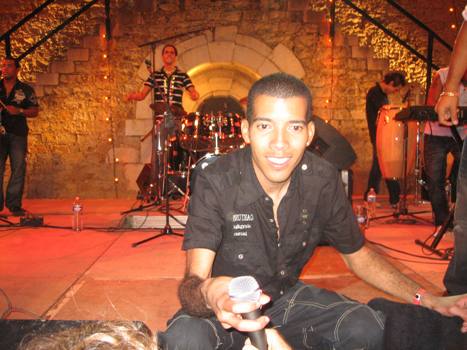 Pepitín has a great rapport with the audience
Up next was Pepitín singing Cimarrón . They led into the song with a nice intro by drums and congas. I personally love Cimarrón and still enjoy seeing audiences of men and women, black and white, all singing "Soy negro cimarrón".
Pepitín has had an interesting history as a singer including working for a while in Spain, recording his own CD, Estudiando , with Envidia and performing with a small son group in a bar in Habana Vieja for tourists, something that has taught him to quickly develop a good rapport with even the shyest audiences. Pepitín has become a favorite with fans because of his vocal and expressive range and his timbre. For those who have missed the original singers, Pepitín and Yasser both have voices reminiscent of the original Salsa Mayor singers.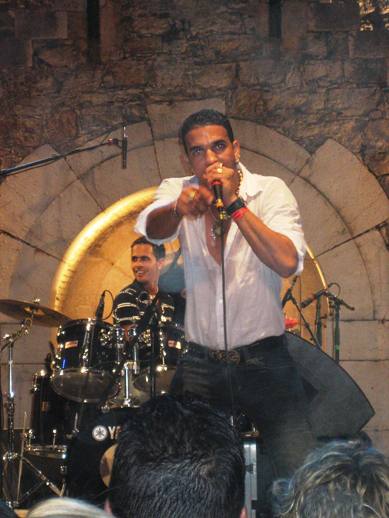 Yasser Ramos - Lo bello por dentro
Yasser has taken over some of the biggest Salsa Mayor hits such as Lo bello por dentro and Esto está . During Lo bello he invited güirero Pedro Yasser up front to show some moves. Both Yasser and Pedro Yasser, who is also called Yasser but for the sake of limiting confusion I will use his full name, were at one time members of La Charanga Forever, and Pedro Yasser quite obviously enjoys dancing. When you see the band live, take a little time to look past the front line and watch Pedro Yasser. He is a fun addition to the group. In the video below you get to see a bit of Lo bello with some of Yasser Ramos' own dance moves, including some rather energetic head-rolls, as well as how great the audience was, before Pedro Yasser comes forward to dance.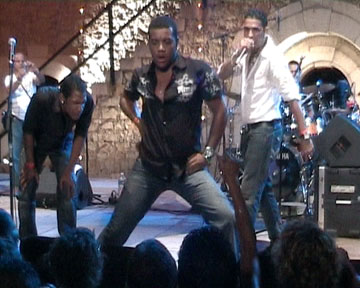 Pon cliq para ver Pedro Yasser bailando con Lo bello por dentro
The band performed four estrenos at this concert, and first up was El destino (qué buena está la máquina) sung by Pavel "La Figura". This song was written last year but could almost be a response to the recent songs by Azúcar Negra and Pupy y Los Que Son Son. In reality it has nothing to do with either song, but it does refer to the band, known to fans as La Nueva Máquina de Cuba, and to what it has achieved so far. You will have to wait for the Rotterdam report to see a clip of El destino . But for now let me tell you about the coros which give you an idea of what the song is about.
Coro 1: Qué buena está, qué buena está, qué buena está la máquina
Coro 2: La gente pregunta, la gente comenta, qué buena está la máquina
Coro 3: No te preocupes Chucho, que lo que traigo es mucho
Coro 4: La calidad, la calidad, no te preguntes más tú sabes la verdad
As you can see, these are coros that the audience can pick up quickly and at Seyne Sur Mer they did, singing right along with the band. Oh alright, I won't leave you hanging. I will throw you all a bone. Here is a bit of the end of El destino with a nice bloque by Amaury , the drummer, and then the audience takes over the coro. But be warned, these coros are likely to stick in your head and tomorrow at the water cooler you will probably catch yourself humming them.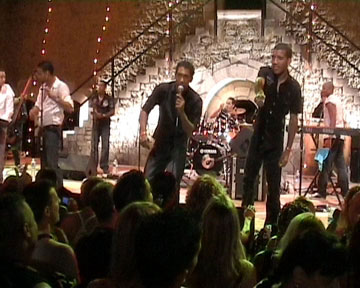 Pavel sings El destino (Qué buena está la máquina )
Qué tengo , sung by Pepitín was next and then it was Yasser's turn to estrenar. He sings lead on La balacera , which is a song about habladores: "estás hablando sin saber nada de nada". It is a fast-paced dance hit and you can really see how much fun Yasser has singing it. Click the photo below to see what it's all about. As Pavel says "¡Yasser expliiiiicale!".
Pavel followed with Brujería after which the band broke into the intro to Esto está making the audience scream, but it was only a joke, a teaser if you will. Instead they stopped after a few seconds and then went into the third estreno of the evening, Marisela (no pido tanto) .
Ever since I first heard Maykel teaching the coro to the singers in Zurich in 2007 , I have had a fondness for Marisela . It is a romantic, pop-type song, and as with Ella dice , they are starting it as a ballad in concert. Pepitín's voice is well suited for the romantic intro and we get also an unusually good look at Maykel's talents as a singer. Click the image below to watch.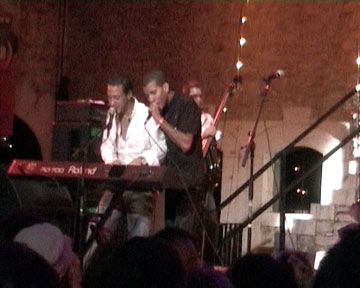 Maykel & Pepitín - Marisela (no pido tanto)
After Marisela Maykel took a minute to thank some of the people in the front row who are hardcore Salsa Mayor fans and always attend all the concerts throughout France. He even told them that he would let them pick the next song. "Anything you want," he said. To his surprise they wanted to hear Si le gusta repite. He asked how they knew about that song since it still wasn't released. Obvioulsy he doesn't realize that as soon as a demo comes out in Cuba, it finds its way to Europe. Unfortunately, the guys don't have all the new songs memorized and one of them didn't have the music to the song with him, so instead they followed with Control.
If you have Live, Desde La Casa De La Música , you know that this is another song that Pavel sang, that was taken over by Ricardito and now Pavel is back again. If you don't have Live, Desde La Casa De La Música, you should buy it immediately. The live versions of the songs are more fun than the studio versions and it also has La masa, Control and the Potpurri of stuff from Suprema Ley. Certainly one of my favorite coros from 2007 was "mami deja la duda, esa cosita es tuya". It was also a favorite of the audience at Seyne Sur Mer, who obviously have the Live CD.
The show ended with the fourth and final estreno, Llévala , which is also sung by Yasser. They performed this song at all four of the concerts I attended and it was the cintura contest song. At Seyne Sur Mer there were three dancers representing France, Cuba and Africa. Miss Africa won the contest. She did an amazing tembleque that had the guys talking even the next day and the conversation went something like:
Mayor 1:"Did you see how well she danced?"
Mayor 2: "Yeah, just Like a Cubana!"
Mayor 1:"Well, I suppose the roots are the same."
Of course the audience was not ready to say goodnight yet so they yelled "otra, otra" until the band came out again and this time really performed Esto está . After the show the DJ took over and some of the Mayores took a turn around the dance floor. A nice ending to another great concert in France.
viernes, 05 octubre 2012, 02:40 am