History - Documentary - "Popular!" - Synopsis
synopsis of the new documentary by Jennifer Paz
© Paz Media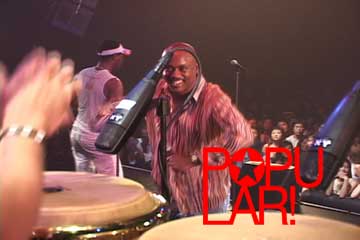 David Calzado
Popular!
Got Timba?
The "Buena Vista Social Club" movie made Cuban music world famous, but the music that is widely popular on the island is made by young musicians trained in Cuban academies since the revolution. The documentary "Popular!" introduces the island's most popular music stars. Their music makes no concessions; it is sexy, streetwise and mesmerizing and their stage show is a wild, high energy ride.
Popular! takes us on a tour from the hot nightclubs of Havana to the slick stages of Tokyo, Japan and back to the marginal barrio of Fanguito where rehearsals get the neighborhood dancing. The film was shot 2003-2005, as David Calzado and the Charanga Habanera reached a new pinnacle of popularity due to their bestselling album "Soy Cubano, Soy Popular". Featured interviews include Grammy Artists Chucho Valdes, Juan de Marcos and Haila Mompie.
The Charanga Habanera lept to notoriety in 1997 when lewd stage antics led to a government ban. The band members are heros to Cuban youth who respond to their street smart lyrical critique of social issues served up as infectious grooves.
The film introduces the controversial bandleader David Calzado who aims to stay on top in Havana's competitive music scene in spite of government restrictions and the loss of talent to greener pastures.
The songs in the film are from their albums Soy Cubano Soy Popular, Charanga Light, El Ciclón de la Habana and two albums from the 1990s. Also included is the making of their latest hit Esta es mi Charanga. David Calzado y su Charanga Habanera were nominated for a Latin Grammy in 2001.
As Chucho Valdes says, "The Charanga Habanera is Cuban music today". As David Calzado says, "What we do represents Cuba now".
Tuesday, 22 March 2011, 07:31 PM