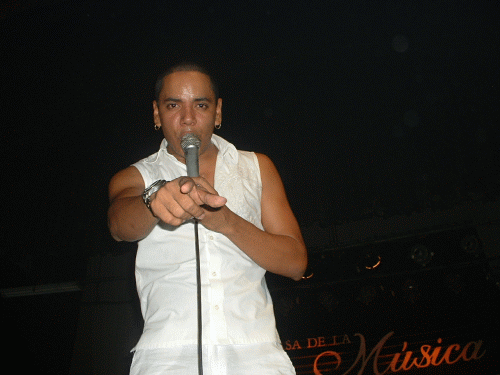 Alain Daniel joined Bamboleo in 2001, replacing El Gafas. In addition to singing lead, he contributed several Manolín-esque compositions during his 4 year tenure before leaving to form "Alain Daniel y su New Casino" in 2005. Currently the best source of information on this band is Yemayá's Verse . Gabriel has seen the band many times and written several excellent reviews and concert reports.
As of 2017 Alain has released three albums "Avisale a mi gente", "Bendita locura" and "Vestigos", as well as the popular singles "Una canita al aire" and "La carta" featuring Buena Fe, which has both a changüí-pop and a salsa version.
Here's a biography with more information:
Alain Daniel Pico Roque was born on August 27, 1977 in Santo Suárez, La Habana, Cuba. He began his musical studies at the Amadeo Roldán Conservatory. After finishing his studies, he traveled to Mexico where he worked with a Mexican group. He has been in different groups such as: Roberto Javier y su Grupo, La Constelación, Conexión Salsera and with a project called Estilo Fantástico. He was part of the SGAE (General Society of Authors of Spain) where he began to compose and produce records in Cuba. From there he continued composing and dedicated himself to solo record production. He also spent 5 years doing shows at Cabaret Parisien, at the Hotel Nacional de Cuba, from 1997 to 2001. Artistically he was heavily influenced by his family, mainly his grandparents and uncles who were musicians their entire lives. His grandmother was even the director of the trio "Las Hermanas Carmen". Later he joined one of Cuba's most popular orchestras, "Bamboleo", where he played a fundamental role as singer and songwriter of several hit songs such as "El chisme", "Mi negra tiene Boom Boom", "El Zorreo", etc.
Due to commitments of his solo work he felt the need to leave Bamboleo and form his new group called "Alain Daniel y su Nuevo Casino", an orchestra that had previously formed but this time was created with new musical perspectives. His debut at Casa de la Música Miramar took place August 7, 2005. The orchestra "Alain Daniel ay su Nuevo Casino" is made up of members with considerable talent, dedicated to offering a great contribution to Cuban music. Among the repertoire of the group are sonsg written by Alain Daniel many of which have already been popularized in his previous bands and people also request and enjoy thta he includes in his repertoire many songs by "Manolín el Médico de la Salsa". In this way and with the desire to enter into the Cuban music scene, showing a confidence on stage very rarely achieved at the beginning of a new project, Alain Daniel possesses great vitality and an abundance of charisma and unholds a Cuban way of making music.
Kevin Moore - Tuesday, 01 August 2017, 05:12 AM