Cuban Music Spotlight (Industry Mixer)
Latin Music for Music Supervisors, Composers, Directors & Video Producers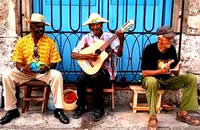 A unique event for anyone with a professional interest in Latin music for audio and video production, clearances, original scores or broadcast.

7-10pm Sunday, September 25
Bleicher/Golightly Gallery
1431 Ocean Avenue Santa Monica, CA 90401

Top-tier TV show music departments looking for Latin music will be invited, including Charlie's Angels, Dexter, Burn Notice, The Glades, CSI: Miami, Bad Mom, The River and Apartment 23. Plus, connect with a who's who of Latin music publishers who control *synch and master rights* for everything from crucial alternative and mainstream Latin releases, to perennial classics like Tito Puente, Celia Cruz and Willie Colón.
Easy $5 lot parking on 2nd street Tickets and info: www.artofmusicla.com
get a 20% discount by using latinpulsemedia as your discount code
For additional info, media passes and interviews contact:
Peter Petro / peter@mandevillestudios.com / 310.430.5096
The Art of Music is a groundbreaking series that presents criminally overlooked specialty music for film and TV -- giving music supervisors, film composers, film directors and other professionals a unique chance to explore niche music styles, learn about upcoming projects and forge new relationships in a collaborative environment.
Each The Art of Music showcase features musical masters performing a genre that lends itself to media but is generally under the radar. Cuban, Colombian and Mexican genres, Delta and pre-depression blues, and 1930's period music are just some of what you can expect from this lively series, which occurs every other month on Sunday evenings at the intimate Bleicher Art Gallery on Ocean Avenue in Santa Monica.
Join us Sept. 25 for "Cuban B-sides" featuring Cuban masters Son Mayor performing changui (similar to the son that made Buena Vista Social Club famous, but with a more haunting, percolating texture). Orquesta Charangoa rounds out the night with their lively charanga -- unique with its earthy wooden flute and violins, yet extremely useful for all-purpose "Latin" score cues.
This event is a MUST for anyone with an interest in Latin music for audio and video production, clearances, original scores or broadcast.
Beyond the performances and Latin music experts and resources on hand, composers looking for unique new textures will also find Cuban instruments for sale at wholesale prices.
Beyond the performances, all attendees get a copy of the Latin Music Resources handbook and a chance to win raffle prizes including a set of handcrafted Cuban bongos, a free mastering session from Michael Lazarus (Burn Notice, Little Girl Lost), two full album downloads from Timba.com, albums from Smithsonian Folkways renowned Latin collection, a copy of My Seductive Cuba (a newly released 328-page travel guide to Cuban arts and culture) and more. Handmade Cuban instruments will also be for sale at wholesale prices.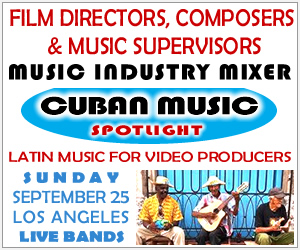 7-10pm Sunday, September 25
Bleicher/Golightly Gallery 1431 Ocean Avenue Santa Monica, CA 90401
Easy $5 lot parking on 2nd street Tickets and info: www.artofmusicla.com
For additional info, media passes and interviews contact:
Peter Petro / peter@mandevillestudios.com / 310.430.5096
Michael Lazarus - Tuesday, 08 May 2012, 08:22 PM