Maykel Blanco y si Salsa Mayor - U.S.A. Tour 2011
MAYKEL BLANCO y su SALSA MAYOR - U.S.A. Tour 2011
First Performance in the United States! - Direct from Cuba - Visas Approved
Los Angeles Flyer - Musician & Staff List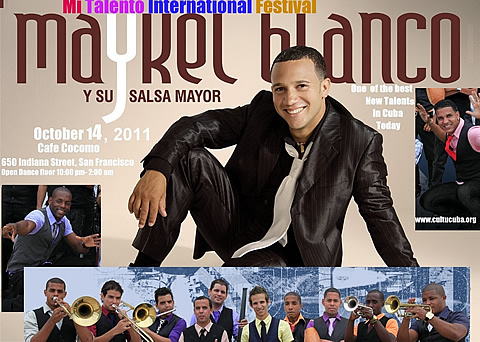 First Performance in the United States!


Current Tour Schedule:
Saturday October 8 - S.O.B's - New York City, New York
Thursday October 13 - Moe's Alley - Santa Cruz, California
Friday October 14 - Café Cócomo - San Francisco, California
Friday October 15 - Blue Horse Gallery - Bellingham, Washington
Friday October 16 - Club Sur - Seattle, Washington
Monday October 17 - Mission Cultural Center (Lecture) - San Francisco, California
Thursday October 20 - The Reef - Los Angeles, California
Saturday October 22 - Aché Supper Club - Miami, Florida
"Maykel Blanco y su Salsa Mayor" is one of the most popular new talents in the salsa world. The band defends the roots of Cuban music with tributes to Cuba's rich musical history, yet offers an updated sound, with a fresh and youthful image. They have an extensive repertoire of popular dance music (salsa), but also compose ballads, fusions and jazz. The group is comprised of seventeen musicians, who together create a unique sound that combines the old with the new.
Maykel Blanco was born on January 21, 1981 in Havana, Cuba. As a very young child, Maykel was involved in cultural activities at school, as well as in his neighborhood and in other public places. He taught himself to play piano in order to write and arrange his own songs. At the age of 12, he began to study percussion at night school "Geraldo Guanche" and later on at the conservatory "Amadeo Roldan". When he was just 15 years old, he established his own group and began to obtain great success in the movement of amateur artists and received multiple awards.
At 18 years old, he formed his first orchestra: "Suprema Ley", associated to the "Centro Provincial de la Musica Rafael Somavilla" in the province of Matanzas. Just two years later as the orchestra was created, a Spanish record company labeled "Envidia Record" included him in their catalog. The young Maykel became one of the most important music producers, revolutionizing the company's work. He produced over 10 CDs and recorded as a percussionist in more than 40 CDs.
At 23, Maykel founded Salsa Mayor acting as composer, arranger, pianist and backing vocalist. "Maykel Blanco y su Salsa Mayor" made their first public debut in Havana, on October 10, 2004 and quickly exploded on the salsa scene. In 2005, with a very clear concept of current Cuban popular music, Maykel assumed the position as musical director of "Salsa Mayor", devoting all his energy, creativity and musical talent to the group. The same year, the group received five nominations and awards, one of which was "Best Art Direction" by the event Lucas, which promotes Cuban video production. Over a short time the group became in high demand and placed themselves amongst the top musical groups in Cuba. The group has toured internationally through Italy, France, Belgium, Switzerland, Luxemburg, The Netherlands, Demark, Poland, Sweden and Peru; they have performed in important festivals, plazas and night clubs in major cities throughout the world. Since 2007, the group has been the center of attraction in the latino music stage in Europe. In Italy the group received the award for "The best Cuban popular music group" in 2006-2007. The same year, they received the prize for the best live concert in Paris, France. "Maykel Blanco y su Salsa Mayor" faithfully continues the richness of Cuban popular music, and many consider them as "La Maquina Musical de Cuba". Popular pieces such "Recoge y vete", "Esto esta", "Cimarron," "Que tengo," "Anda y Pegate", "Si le gusta repite," and "Quitame lo malo" among others, have enshrined Maykel Blanco to the list of great creators. In 2008, "Maykel Blanco y su Salsa Mayor" ranked first in the Hits Parade of Cuban Radio, gaining even more followers in the country and abroad.
Currently Maykel Blanco composes the majority of the group's songs and has produced more than 6 video CDs, 3 of them with Salsa Mayor: "Recoge y vete", and "Maykel Blanco Salsa Mayor live in Cuba", "Mus Havana" and "Anda y pegate".
"In a country with probably the worlds highest number of musicians per capita, where competition for coveted concerts slots at the "Casas de la Música" (the famous venues literally called 'Music Houses, one located in Miramar and the other in Centro Havana) is fierce, the rapid climb of the musical group Salsa Mayor to the upper echelons of the Cuban music scene is nothing less than astounding." -M.P. Lazarus (Cuba Absolutely, December 2007)
Michael Lazarus - viernes, 23 septiembre 2011, 05:51 pm