Jorge "Lele" Leliebre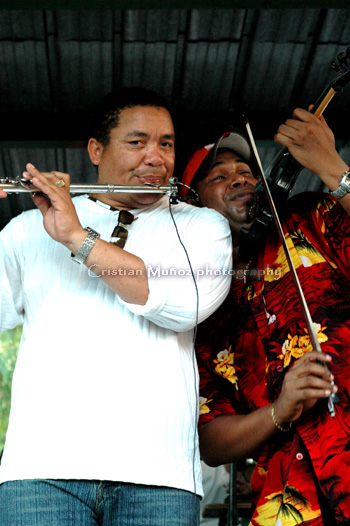 Photos by Cristian Muñoz
instrumento/instrument: flauta/flute; coro
grupos/groups: Los Van Van
grabaciones/recordings: Los Van Van: Arrasando, Los Van Van: Chapeando, Pupy Pedroso: Los Que Son Son, Pupy Pedroso: De la timba a Pogolotti, Los Van Van: Llegó Van Van, Los Van Van: Esto te pone la cabeza mala, Los Van Van: Ay Dios, ampárame
lugar de nacimiento/birthplace: ?
formación musical/musical background: ?
lugar actual de residencia/current residence: La Habana
Jorge replaced Orlando Canto and has played with Los Van Van since 1995. He has also sung and played on two of Pupy Pedroso's projects and is currently writing arrangements for Michel Maza.
Click here for an interview from late 2002 by Thor Anderson of planetcuba.com.
Michelle White - miércoles, 23 marzo 2011, 03:31 am