Orestes Machado Ferregut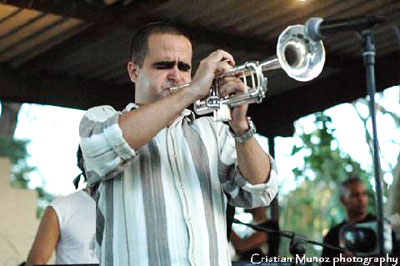 Photo courtesy of Cristian Muñoz
instrumento/instrument: trompeta
grupos/groups: Issac Delgado, Pupy y Los Que Son Son, Paulito FG, Carlos Manuel y su Clan, Mamborama, Manolín, Augusto Enrriquez y su Mambo Band
formación musical/musical background: graduado de trompeta de la ENA
lugar actual de residencia/current residence: Pontevedra, Spain
Trompetista graduado de la Escuela Nacional de Arte, maestro en esta respetabilísima institución desde el 1997 hasta el 2005. Durante todos estos años ha trabajado haciendo Latin Jazz, Timba, Salsa, Música Tradicional Cubana y Música Cristiana en la Liga Evagélica de Cuba.

Ha tocado con:
Carlos Manuel y su Clan. Paulo F.G. Augusto Enrriquez y su Mambo Band. Manolín el Médico de la Salsa. Isaac Delgado. Pupi y los que Son Son. Cubadisco All Star 2004 con Chucho Valdés. Mamborama. Anaís Abreu. Miriam Ramos entre otros.

Lo pueden escuchar en el disco Malo Cantidad de Carlos Manuel y su Clan, La Bolita de Augusto Enrriquez, Cubadisco All Stars 2004 con Chucho Valdés, en el disco hecho en la edición Pavarotti and Friends 2002, en la banda sonora del film El Benny, así como en múltiples anuncios publicitarios o también en MySpace.
Participó en múltiples giras por festivales de Salsa de los USA, Europa, México, Perú, Colombia, Martinica; fiesta benéfica auspiciada por Michael Jordan en el Hotel Atlantis en Bahamas. Pavarotti and Friends edición 2002 For Angola. Mega concierto de Salsa en el Auditorio Nacional de México. Barranquijazz entre otros.
Ha compartido escenario con artistas de la talla de Sting, Andrea Bocelli, James Brown, Zucchero, Grace Jones, Gino Paoli, Lou Reed, Gran Combo de Puerto Rico, La India, Los Van Van, Charanga Habanera.
Actualmente es miembro de la banda de Calixto Oviedo y reside en el norte de España.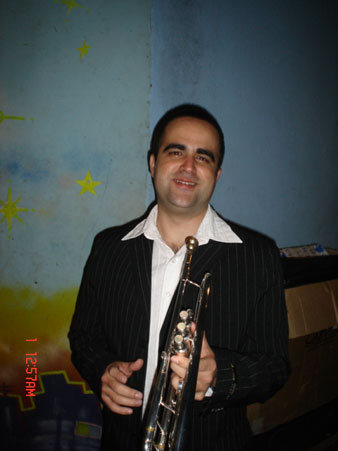 Before moving to Spain, Orestes was one of the top trumpeters in Havana, having played with many of the top timba bands. He studied at La ENA from 1991-1995 and then spent two years at the University of North Texas. When he returned to Cuba, he played with Carlos Manuel (back in the days that he was actually playing timba), and then Paulito FG, with various other stints with Issac, Pupy, Mamborama and others.
His new residence, Pontevedra, Spain, is also home to other expatriot timberos such as: Yosbel Bernal, Edward Machado, Marrón, and Carlitos Averoff. [Kevin Moore]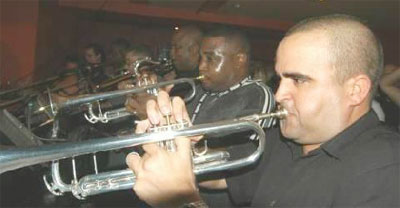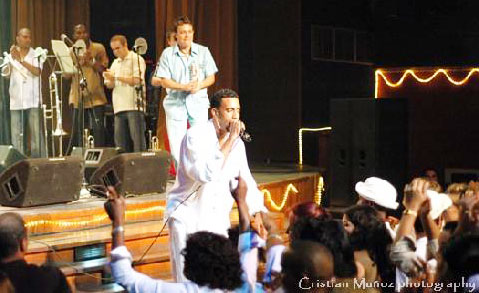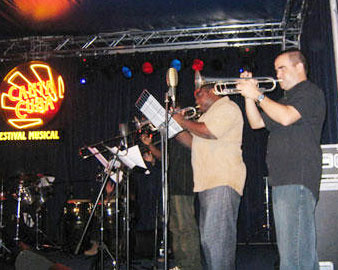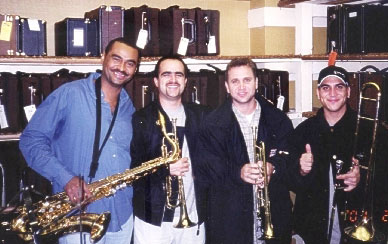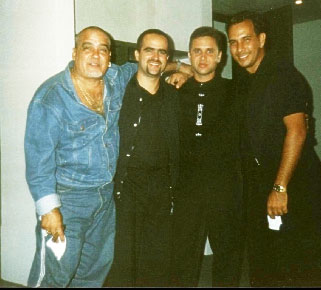 Michelle White - Wednesday, 23 March 2011, 03:31 AM