Lo Nuevo
[hide]
Fotos Del Día
[hide]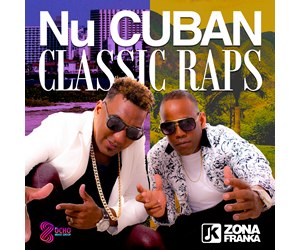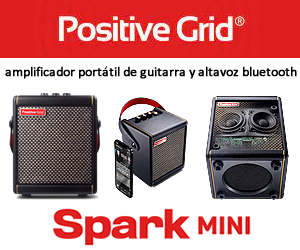 José "Pepe" Espinosa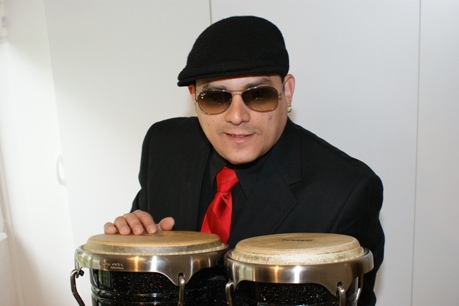 intrumento/instrument: timbale,
grupos/groups: Latin Train, Latin Groove Orquesta, Cubanismo, Danny Lozada y su Timba Cubana, Bamboleo
grabaciones/recordings: Habana Habierta: Boomerang (incl. duet with Bebo Valdés), Alain Pérez: En El Aire (2005), Yumury y sus hermanos (nuevo dsco 2004), La rumba soy yo II , Issac Delgado: La Fórmula, Juan Manuel Ceruto: A Puerto Padre, Klimax: Oye Como Va, Danny Lozada: Tanto le pedí, Bamboleo: Yo no me parezco a nadie
lugar de nacimiento/birthplace: Guanabacoa
formación musical/musical background: Conservatorio Manuel Saumel
lugar actual de residencia/current residence: Estocolmo/Stockholm
Desde 2003 Pepe es patrocinador de LP.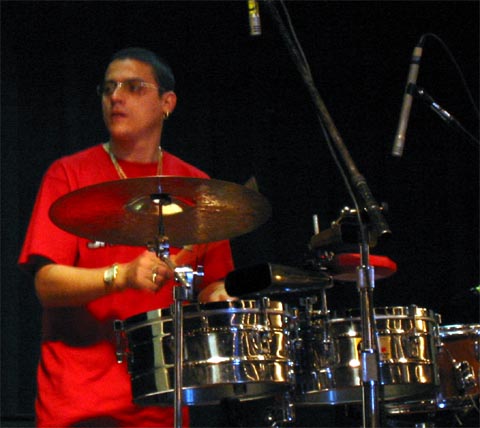 with Cubanismo - May, 2002
José "Pepe" Espinosa is one of the most sought after percussionists in Cuba. One need only mention that Juan Ceruto, the ultimate perfectionist, chose him to play on "A Puerto Padre", his tribute to Emiliano Salvador. That project was extremely important to Ceruto and he handpicked his players with the greatest care. Espinosa also played on the Issac/Ceruto/Betancourt grammy-nominated masterpiece, "La Fórmula" and shared the percussion duties on Klimax's latest disc with Yonder Peña. Currently he holds the prestigious timbale chair in Cubanismo, Jesús Alemany's unusual and extremely successful band of all-stars which plays traditional Cuban music as it's never been played -- primarily because the group is packed with top Timba musicians, lured away by Cubanismo's seemingly never-ending world tour and lucrative recording contract.
But to really hear José Espinosa swing, check out his playing on two of the hardest driving timba classics every recorded: Danny Lozada and Juan Carlos González' "Tanto le pedí" and Bamboleo's "Yo no me parezco a nadie". [Kevin Moore]
Update - April 2006
Pepe has been living in Spain since 2003 where he has played with various stars from the world of international salsa such as Cano Estremera ( El Albino ), Eddye Santiago, Grupo Niche, Adalberto Santiago, Isamael Miranda, Luisito Carrion, Paquito Guzman and Grupo " Guayacan ", among others. Pepe recently completed a tour of Europe with Latin Groove Orquesta, which includes Felipe Cabrera (Bass) German Velazco (Tenor Sax & Flute) Alexander Abreu (Trumpet) Calixto Oviedo (Drums) Hernan Lugano (Piano) Pepe Espinosa (Congas). Presently Pepe is working with Calixto Oviedo y su Latin Train. [Michelle White]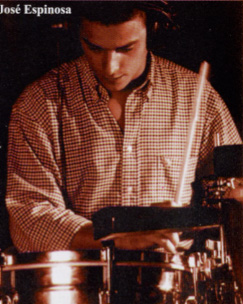 Michelle White - miércoles, 23 marzo 2011, 03:31 am