Sergio "Sergito" Noroña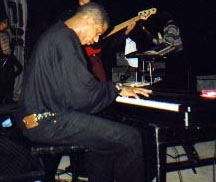 intrumento/instrument: piano; teclado/synth; voz/voice
grupos/groups: Paulito FG, Química Perfecta, Habana Yunior
grabaciones/recordings: Paulito FG: Con la conciencia tranquila (piano); Michel Maza: Fiesta (piano); Michel Maza: Que hablen los habladores (piano); Paulito FG: El bueno soy yo ("Paulito FG") (teclado); Paulito FG: Sofocándote (teclado)
lugar de nacimiento/birthplace: ?
formación musical/musical background: ?
lugar actual de residencia/current residence: La Habana
Sergio Noroña, nephew of Los Van Van's founding güiro player, Julio, is on the short list of critically important Timba pianists. In the 90's he only recorded one album as a pianist, but it was Paulito's "Con la conciencia tranquila" and his phenomenally creative piano playing was the final piece in the construction of that supergroup.
After leaving Paulito, he went to Colombia and then returned to Havana, where he's played off and on with various groups, including very briefly with Manolín, but for one reason or another he's yet to record another important Timba album although he's produced various recordings for hire in Centro Habana.
In 2005 and 2006, he recorded two brilliant albums with Michel Maza. Here's a mini-review of one of them with a number of excellent audio clips of Sergito's brilliant piano tumbaos: [Kevin Moore]
Michelle White - Wednesday, 23 March 2011, 03:31 AM