Mario Antonio "Sombrilla" Jiménez Sánchez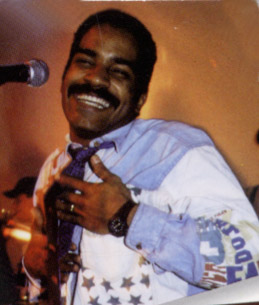 instrumento/instrument: voz/voice
grupos/groups: Charanga Forever, Charanga Habanera
grabaciones/recordings: Charanga Habanera: Love Fever; Charanga Habanera: Hey You, Loca; Charanga Habanera: Pa' que se entere La Habana; Charanga Habanera: Tremendo Delirio; Charanga Forever: La Charanga soy yo; Charanga Forever: Charanga Foreve; CHaranga Forever: La Cuqui quiere fiesta
lugar de nacimiento/birthplace: ?
formación musical/musical background: ?
lugar actual de residencia/current residence: La Habana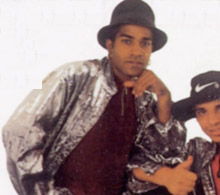 Sombrilla ("¿eh?" "¡ditu!") is the voice most closely associated with Charanga Habanera and Charanga Forever, and he remains with the latter group today, having remained a Charanguero of one sort or the other throughout his professional career. We've transcribed the lyrics, including his comments and raps, to almost every Charanga Habanera song (see Charanga Habanera/lyrics) If you read through a few of these, I think you agree with me that Sombrilla, as well as being an expressive singer, is an absolutely master of comic timing. He does all the voices in the little comic vignette that you hear when your first open timba.com ("la última"). This is from Yuya la Charanguera, and he also wrote the song. [Kevin Moore]
Mario Antonio Jiménez Sánchez "Mayito" y "Sombrilla", es el último de los sobrevivientes (o de los mohicanos) de la Forever. Empezó a cantar con la Habanera en 1991 en sustitución de Luis Alberto Leyva.
En 1998 se fue a la Forever, donde aún está, parece que para siempre, como dice (o decía) Manolín: "hasta que ñangue, mi gente". [Majela Serrano]
Mario Antonio Jiménez Sánchez "Mayito" y "Sombrilla", is the last of the survivors of La Forever. (Or should we say "The Last of the Mohicans"?) He began in 1991 when he replaced Luis Alberto Leyva, a tale which is told in JC González' article.
In 1998 he left for Charanga Forever,.where he remains today. As Manolín says (or said): "hasta que ñangue, mi gente". ("until it becomes ancient history, my friends") [Majela Serrano]
Michelle White - Wednesday, 23 March 2011, 03:31 AM