SpanishEnglishA mi qué - (EGREM) - Released 2018
CD Review: A Mi Qué by Septeto Santiaguero with José Alberto "El Canario"
EGREM 2018
Review by Bill Tilford, all rights reserved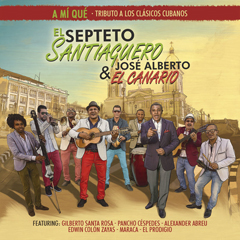 Although there are plenty of one-off international collaborations between various bands in Cuba and musicians in other countries, El Septeto Santiaguero has emerged as the indisputable king of the international project phenomenon with its body of work over several albums including this newest one, A mi qué, the second album with Dominican José Alberto "El Canario" sharing top billing. This project's extensive guest artist roster also adds a number of Cuban guest artists including string and wind ensembles from the Orquesta Sinfónica de Oriente in a couple of tracks, and the engineering team is as international as the musician roster.

The full tittle is A mi qué- Tributo a los clásicos cubanos, and the songs are quite familiar, but there is a slighly different interpretation of some of them - strong Rumba elements in La Guarapachanga, a very changüi El guararey de Pastora, a touch of walking bass and moments of beatboxing in A mi qué to mention just a few examples. Through it all, however, the Septeto remains in charge, and the songs never lose their Cuban sense of direction. It helps that the visitors, especially El Canario, who is such a key part of the vocals, take Cuban stylings very seriously (yes, El Canario had his brief little gaffe with the Timba - the genre, not the website - community in recent months, but no reasonable person would question his love and respect for Cuban music generally).

I have opined on countless occasions that if one is recording the 50th or 60th version of a song, there is an obligation to say something distinctive with it while avoiding the corny. A mi qué succeeds on this point.

As this is being published, A mi qué is not yet available in the digital stores, but we anticipate that it will be in the very near future.
Tracks:
1. Aprovecha, que llegó el sabor (intro)
2. No me voy a disgustar (feat. Orlando Valle "Maraca")
3. El Guararey de Pastora
4. Convergenia (feat. Gilberto Santa Rosa)
5. La guarapachanga (feat. Alexander Abreu)
6. Me tenían amarrao compé / Bilongo (feat Gilberto Santa Rosa)
7. Resulta un enigma (feat. Pancho Céspedes)
8.. La hija y la mama / Me botaron (feat. El Prodigio)
9. A mí qué
10. Qué te hace pensar (Alma mía)
11. Desmuéstrame tú (feat. Ivan Antonio el Sonero de Cuba)
12. Santa Bárbara (Qué viva Changó) (feat. Edwin Colón Zayas)
13. La guarapachanga (feat Rúben Bulnes "Osain del Monte" y El Puro)
Musical and Technical Credits for A mi qué
| Role - Instrument | Name |
| --- | --- |
| Director, Tres, Coros | Fernando Dewar |
| Lead Vocal 1, 9; Second Voice 7, 10; Coros | Inocencio "Chencho"Heredio |
| Lead Vocal 1, 2, 5, 13, Coros | Giraldo "El Flaco" Bravo |
| Lead Vocal 3, 8; Coros; Guitars | Rudens "Chiquitin" Matos |
| Baby Bass & Contrabass | Dairon Robert |
| Congas | Gabriel Montero |
| Trumpet, Flugelhorn, Coros | Alaín Dragoni |
| Lead Vocal 2, 4, 6, 8, 10. 12; Human Flute 1, 9 | José Alberto "El Canario" |
| Guest Artists | Gilberto Santa Rosa (Lead Vocal 4, 6); Pancho Céspedes (Lead Vocal 7), Alexander Abreu (Lead Vocal & Trumpet 5); Rubén Bulnes (Lead Vocal, 13); Iván Antonio "El sonero de Cuba" (Lead Vocal, 11); Edwin Colón Zayas (Cuatro, 12); Alejandro Almenares (Requinto, 7); Orlando Valle "Maraca" (Flute, 2); Krency García "El Prodigio" (Accordion 8); Juan de la Cruz "Chocolate" (Tambor & Congas 8); Rafael Carrasco (Güiro 8); Carlos "El Pinto" Ellis (second tres); Ismael Borges, Eglys Ochoa & Alejandro Garrido (Maracas); Tony Rodón (Coros); Maykel Salazar (Coros 5, 13); Jorge "Koli"Maturell (Bongó 4, 7, 10); Pedro Speck (Bongó de Monte 3); Renier Silegas (Bass Vocal 9); Omar Planos (Beat Box 9); Lázaro Banderas (Iyá); Georbelis Sosa (Cajón); Einar Leliebre (Chequeré); Carlos Guerra (Quinto) |
| Octeto de cuerdas de la Orquesta Sinfónica de Oriente (7) | Leonela Rodríguez, Clara Rodríguez (1st Violin); Daniel Guzmán, Mayra Quintana (2nd Violin); Katiuska Sliva, Wilmer de León (Viola); Orlando Hernández, Angélica Matos (Chelo) |
| Quinteto de viento de la Orquesta Sinfónica de Oriente (10) | Carlos Robert (Bassoon); Idelisa Ortíz, Rosario Gola (Clarinets); Berlis David (English Horn); Gerson Valverde (Oboe) |
| Producers | Fernando Dewar, Geovanis Alcántara & Alden González |
| Musical Coproduction | Rudens Matos, Gabriel Montero, Angel "El Puro" Valerino (5, 13) |
| Executive Producers | José Alberto "El Canario", José Raposo, Fernando Dewar, Alden González |
| General Production Assistant | Fernando Dewar Jr. |
| Creative Direction | Alden González |
| Recording Engineers | Ismael Torres, Edgar Leyva & Ivan Salas en Estudios Siboney EGREM, Santiago de Cuba; Guido Díaz in Skylight Studios, New Jersey; Rolando Alejandro in Rolo Studio, San Juan, Puerto Rico; Julio Felíz in Sky View Studio, Santo Domingo; Additional recording Marvin Mustelier Estudio 18 EGREM, La Habana; Ivan Salas Estudios Areito EGREM, La Habana; Pedro Mantecón in Mantekorg Estudio, Cancún, Mexico; Edwin Colón Zayas in ECZ Studio, Aguadilla, Puerto Rico; Janína Rosado in Chocolab, Santo Domingo |
| Mixing | Iván Salas, Ismael Torres, Geovanis Alcántara, Fernando Dewar & Alden González in Estudios Siboney EGREM, Santiago de Cuba |
| Mastering | Ronnie Torres in Power Light Studios, Miami, FL |
Bill Tilford - Sunday, 01 July 2018, 05:59 PM