SpanishEnglishDial - (Blue Night Entertainment) Released 2013.02.18
Dial by Buena Fe
Review by Michelle While - All Rights Reserved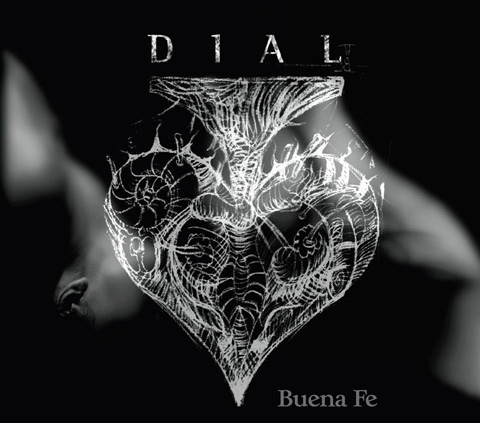 "Dial", Buena Fe's eighth studio CD, is a tribute to the 90th anniversary of Cuban Radio, which took place in 2012. It is also is an experimental project that goes in search of fresh sounds, marking a new phase in the band's artistic development. The result: "Dial" is a spectacular success that beautifully blends new musical expressions with the elements that constitute the hallmark of Buena Fe such as the exquisite harmonies between the voices of Israel Rojas and Yoel Martínez; the insightful poetry that inspires the listener to analyze and reflect, to dream, and sometimes to laugh; and the fusion of pop and rock with Cuban and Caribbean music such as comparsa, son, rumba, reggae and ska.
The structure of "Dial" is more complex than previous albums. It contains 17 tracks: twelve songs, four tracks that are short clips of iconic Cuban radio programs but recorded specifically for "Dial" and designed to introduce the songs that follow them, and the bonus track "Corazón universidad" recorded together with DcoraSon for the 90th anniversary of the University Student Federation (FEU), which also took place in 2012, the intended release year of the CD. Although it is possible in these times of digital download to just buy a portion of a CD, I recommend getting all 17 tracks in order to listen to "Dial" as it was intended by the artist.
Musically the band has never been easy to pigeonhole. With "Dial" Buena Fe continues to explore fusions but there is a maturity to the arrangements. If Buena Fe has previously been pop-rock, "Dial" is firmly in the rock camp with a noticeably harder edge. They were already hinting at this with "Miedos" on "Pi 3,14" but with "Dial", they demonstrate that they are on an equal footing with well-known Rock en Español bands such as Maná but also with groups of the stature of The Police. Stand-out rock arrangements are "Buena hembra, mala sangre", "Ojeo", "La culpa" and "Dial". The album also contains a number of upbeat Caribbean pop fusions with a rich rhythmic texture that will appeal to the dance faction of their fan base, "Acompáñame", "Pasa o parece" and "Se bota a matar", as well as the melodic ballads that have always been huge hits for the band, such as "Volar sin ti", "De proa a popa" and "Si yo fuera".
At heart Buena Fe is a modern interpretation of nueva trova , which means that the message is paramount. Israel Rojas is the lead singer and composer of Buena Fe and the author of all the songs on "Dial", with the exception of "Volar sin ti", which he co-wrote with Galician singer-songwriter Andrés Suaréz. With his exceptional vocabulary and facility for communicating ideas as poetry, Rojas is an artisan beautifully crafting each phrase. Whether humorous, critical or romantic, his use of language is a delight to ears, heart and mind, illustrating the concept of buena fe (good faith) that guides their work. In "Dial" Rojas touches on themes such as the technology, politics, dreams, disappointments, and personal relationships that make up our lives. With this album, Rojas also invites us in on a more personal level than before with songs such as "Si yo fuera", inspired by his wife's pregnancy and "Papel en blanco", which reveals the inner trial of the artist in the creative process. In the latter, Rojas sings Canto pa' que una tormenta vaya acompañándote por el camino "I sing so that a storm will accompany you on the road", and that is exactly what he achieves. On "Dial" Rojas delivers lyrics that range from stunningly beautiful to intensely impassioned, pulling listeners in, inflaming their hearts and minds, and finally, leaving them immensely satisfied.
To conclude, for lack of a more erudite expression, "Dial" is mind-blowingly good. The album has already received an outstanding response from longtime fans and is a perfect medium for introducing new fans to Buena Fe. Highly recommended. "Dial" is on sale via the Internet at iTunes, Amazon MP3, Spotify and certainly at other digital download sites. The CD hardcopy is currently only available at the EGREM stores in Cuba.
If you are ready to move deeper into "Dial", click here for a brief track-by-track look at "Dial",including video of some of the songs from the album.
Click here to read a brief interview with Israel Rojas and Yoel Martínez about the new CD.
Credits:
Design: Gabriel Dávalos & Sandy Ching (DC)
Art: Jesús Lara
Musical production: Ernesto Cisneros Cino, Israel Rojas Fiel & Adolfo Martínez Rodríguez "Fito"
Recorded at: Vieja Linda Records, 2013
Distributed by: EGREM
For the complete list of participating musicians see the original CD cover.
#
title
composer
arranger
1
Intro - Radio Reloj
soundtrack
voice - Ibrahim Apud
2
Acompáñame
Israel Rojas Fiel
Ernesto Cisneros Cino
3
Buena hembra, mala sangre
Israel Rojas Fiel
Ernesto Cisneros Cino
4
Pasa o parece
Israel Rojas Fiel
Ernesto Cisneros Cino
5
La novela
soundtrack
voices - Ariana Álvarez
Dairon Rodríguez
6
Ojeo
Israel Rojas Fiel
Ernesto Cisneros Cino
7
Volar sin ti (feat. Andrés Suárez)
Israel Rojas Fiel
Andrés Suárez
Israel Rojas Fiel
Andrés Suárez
8
Complaciendo peticiones
soundtrack
voices - Daniel Villasana
Isabela Cisneros
9
Si yo fuera
Israel Rojas Fiel
Ernesto Cisneros Cino
10
Pablo
Israel Rojas Fiel
Yoel Martínez Rodríguez
Aldo López Gavilán
11
Sandalio y Estelvina
soundtrack
voices - Aurora Basnuevo
Mario Limonta
12
Se bota a matar
Israel Rojas Fiel
Ernesto Cisneros Cino
13
La culpa
Israel Rojas Fiel
Ernesto Cisneros Cino
14
De proa a popa
Israel Rojas Fiel
Vincente Alejandro Trigo
Yibrán Rivero Pío
15
Papel en blanco
Israel Rojas Fiel
Ernesto Cisneros Cino
16
Dial
Israel Rojas Fiel
Ernesto Cisneros Cino
17
Corazón universidad
(Bonus track feat. DcoraSon)
Israel Rojas Fiel
Vincente Alejandro Trigo


Kevin Moore - Thursday, 05 September 2013, 10:06 PM