SpanishEnglishLos Van Van: Album Review for La Fantasia
CD Review: La Fantasia (Homenaje a Juan Formell) by Los Van Van
(EGREM December 2014)
Review by Bill Tilford, all rights reserved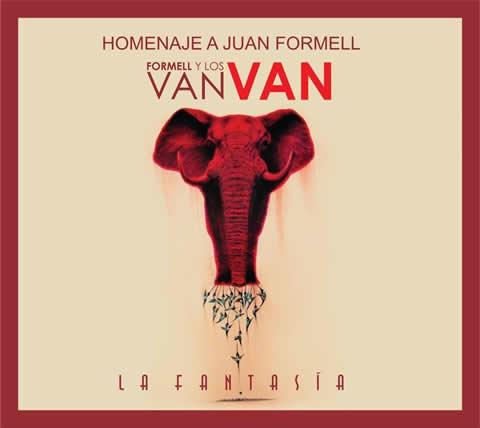 When Juan Formell passed away last year, there was a lot of speculation worldwide about whether Los Van Van would continue to be the musical force that it had been for decades. La Fantasia answers this question with a resounding "Yes"! As I listen to it, I find myself remembering that one of the most powerful and moving jam sessions that I ever attended was a wake in Chicago for a different (and less famous) bassist who had been a beloved mentor to many other musicians. Perhaps a similar depth of emotion helped motivate this project. This recording also carries the title Homenaje a Juan Formell, and in many ways the legacy of Juan is unmistakable: Samuel has stated publicly (in the website Cuba Sí for example) that Juan had already chosen the tracks while he was still alive, five of the compositions and one of the arrangements are Juan's, and Juan's voice is the lead vocal in La Fantasia, a song originally written for possible use by Luna Manzanares.

Samuel has also stated in other places that this is Los Van Van's best album. I confess to having a special place in my own heart for their third album (Llegue Llegue etc.) perhaps partially due to my age as well as the quality of the songwriting in that record. Having said that, and taking my own biases into account, I will agree that La Fantasía is one of their best albums. It contains a very effective mix of Songo & Timba, and there are a few factors in addition to the excellent quality of the music that make this project something special:
1. Juan Carlos Formell has joined the band as its bass and has contributed one of the songs, Bótalo y Guárdalo. This song represents a stylistic change from the past several years of his career, and it will be interesting to see if he has some more of these to share.
2. When you take a close look at the composers and arrangers, this was a very participatory project, and that and gives one reason for optimism about the group's musical future in the studio with new compositions and arrangements.
3. This is the second album in sequence for EGREM after the band worked with other studios for many years. Artistically speaking, we can consider this a success for both EGREM and Los Van Van. It is to be hoped that EGREM will be able to use recordings like this one to expand its presence in the global marketplace.

This was released as a limited edition, and it may not be easy to find in stores yet. I would like to suggest to the public that even if you are able to obtain this through the various methods by which so much file sharing takes place today, you should purchase this once you are able to do so. In the years to come, the future success and stability of the recording industry in Cuba will depend in part on its ability to sell (NOT share) its recordings to the rest of the world, and recordings like this one deserve our full support.
Songs

1. Soy Añejo (A. Cantero "Mandy")
2. Somos Diferentes (R. Hernández "Robertón")
3. Me Basta Con Pensar (J. Formell)
4. Soy La Mujer Que Quiero Ser (J. Leliebre)
5. Todo Se Acabó (Samuell Formell)
6. Se Vende (J. Formell)
7. Bótalo y Guárdalo (J. C. Formell)
8, La Moda (R. Hernández "Robertón")
9. La Fantasía (J. Formell)
10. Es Mucho (J. Formell)
11. El Aparecido (J. Formell)
12. No Me Digas Hello (J. Ballestero)
13. Voy a Decirte Cosas (Jorge Leliebre)
14. Soy Van Van (S. Formell)
Personnel in La Fantasía (Homenaje a Juan Formell)
| Role - Instrument | Name |
| --- | --- |
| General direction, Drums & Timbales | Samuel Formell |
| Bass | Juan Carlos Formell |
| Piano | Efraín Chibás "Pacho" |
| Congas | Joel Cuesta |
| Güiro | Julio Noroña (Fundador de Los Van Van) |
| Trombones | Hugo Morejón, Álvaro Collado, Edmundo Pina |
| Flute and Coros | Jorge Leliebre |
| Violins | Irving Frontela y Pedro Fajardo |
| Viola | Irving Frontela |
| Keyboards | Boris Luna |
| Vocals & Coros | Yenisel Valdés "Yeni", Armando Cantero "Mandy", Roberto Hernández "Robertón", Abdel Rasalps "Lele" |
| Guest Musicians | Alexander Abreu (Trumpet in Soy Van Van); Pedro Cardenas (Cello); Joel Driggs (Batá in La Fantasia); Coro Diminuto de la Escuela Alejandro García Caturla bajo la dirección de Carmen Rosa López (La Fantasía); Angel Bonne (Coros); Eduardo J. Sandoval Ferrer (Trombón) |
| General Production | Samuel Formell |
| Musical Production | Samuel Formell, Jorge Leliebre, Boris Luna, Efraín Chibás |
| Arrangements | Juan Formell (11); Samuel Formell (5, 14); Boris Luna (1, 2, 3, 10, 12); Efraín Chibás (6, 7, 9) "Pacho"; Jorge Leliebre (4, 8, 13) |
| Recording Engineer | Alejandro Pulido |
| Mix | Juan María Aracil "Mayito"; Ernesto Nodarse & Samuel Formell |
| Mastering | Carlos Alvarez |
| Recording Studio | Estudios de 18, EGREM, Havana, Cuba |
| Mixing & Mastering Studio | GML Recording Studios, US |
Bill Tilford - Sunday, 01 February 2015, 11:35 PM