SpanishEnglishLa Salsa TIene Mi Son - (Bis Music) Released 2015
CD REVIEW: La Salsa Tiene Mi Son "Homenaje a Elio Revé"
Elito Revé y su Charangón
Bis Music 2015
Review by Bill Tilford, all rights reserved.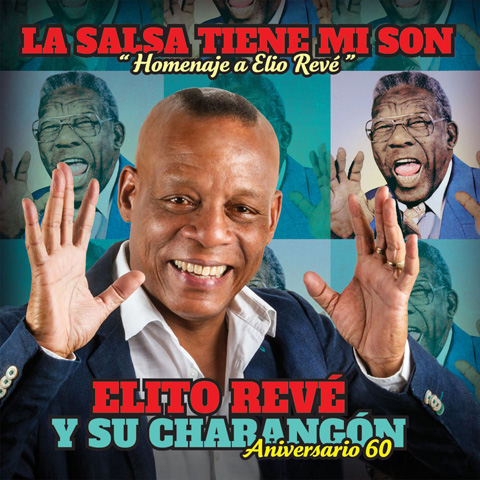 2016 marks the 60th anniversary of the foundation of Elio Revé y su Charangón (aka Orquesta Revé) by Elio Revé Matos of Guantanamo (23 June 1930-24 July 1997). His son Elito Revé has directed the orchestra since his death, and this recording commemorates 60 years of the Orchestra.

It's impossible to exaggerate the importance of the Charangón to modern Cuban dance music. Not only did it take Changüi, a folkloric form that has been around forever, in new directions, it also played an important role in the development of many of the musicians who later formed other important orchestras including Los Van Van (including Juan Formell himself), Ritmo Oriental and Dan Den (including Juan Carlos Alfonso, who contributes a few arrangements to this new recording) among others. Kevin Moore has more to say about the role of Revé here.
This recording is not a full historical retrospective; rather it focuses heavily on the 1980s and 1990s, but the selections are excellent, and the many guest vocalists and musicians fit perfectly.
The title of the album is a bit of a play on the song Mi Salsa Tiene Sandunga, which is also the first track.

This album won both one of the two Gran Premio awards and the category Música Bailable - Maestros in Cubadisco 2016. The music is still fresh enough that the Charangon may have another 60 years in it.
Songs:

1. Mi Salsa Tiene Sandunga (guest vocalist Juan Miguel Díaz Zayas "El Indio de la Revé")
2. La Ruñidera (guest vocalist Pablo Milanes)
3. Muévete Pa Aquí (guest vocalist Gilberto Santo Rosa)
4. Changüi Campanero (guest vocalist Issac Delgado)
5. Esa Mujer (guest vocalist (Israel Rojas Fiel)
6. Pupu Chan Chan (guest vocalist Armando Cantero "Mandy" y Juan Miguel Díaz Zayas "El Indio de la Revé")
7. Yo No Quiero Que Seas Celosa (guest vocalist José Alberto "El Canario")
8. Espero Que Pase El Tiempo (guest vocalist Haila Maía Mompié)
9. .A Mi Lo Mismo Me Da
10. Lo Que Tu Esperabas (guest vocalist Sixto Llorente Terry "El Indio")
11. Que Cuento Es Ese (guest vocalist Mario Rivera "Mayito")
12. 1999 (guest vocalist Alexander Delgado)
13. Rumberos Latinoamericanos (guest vocalist Paulo Fernandez Gallo y Los Munequitos de Matanzas)
Roster for La Salsa Tiene Mi Son
| Role - Instrument | Name |
| --- | --- |
| Director General; piano 2, 7 | Elito Revé Deverger |
| Musical Director; bass | Aisar Hernández Segundo |
| Vocal and Coros | Susel Orietta Gómez Pérez "La China", Dagoberto Vázquez Valdés "El Clásico", Serguei Yera Madera "El Moro", Lázaro Maya Morejón "Lachy Fortuna" |
| Piano | Wilfredo A. Naranjo Fernández |
| Tres | René Avich Wanton |
| Trombones | Yamer Pérez García, Orlando Montaner Valle, Yosniel Baró Farbes |
| Drums | Andy Fornet Betancourt |
| Congas | Arian Chacón Hernandez |
| Güiro | Maykel Díaz Rodríguez |
| Bongó | Ariel Hernández Lima |
| Invited Musicians | Juan Carlos Alfonso, piano, 2; Yamer Pérez, trombone, 2 & 6; Orlando Valle "Maraca", flute, 4; Dayron Tordríguez, guitar, 6; Dagoberto A. Gonzalez Jr, violin 7; José Alberto "El Canario", whistle, 7; Los Muñequitos de Matanzas, rhythm 13; Juan Manuel Ceruto, baritone sax, 13 |
| Recording Engineers | Jorge Benítez Herrera, Alexeis Pérez Guzmán |
| Recording Assistants | Milena Labastida, Dayana Rodríguez |
| Mix Engineers | Isaías García Asbun, Alexeis Pérez Guzmán |
| Mastering Engineer | Isaías García Asbun |
| Studios | Sounid ABDALA; PM RECORDS |
Bill Tilford - Sunday, 03 July 2016, 03:18 PM