SpanishEnglishLegado - (EGREM) - Released 2017
CD REVIEW: LEGADO by Formell y Los Van Van (EGREM 2017)
Review by Bill Tilford, all rights reserved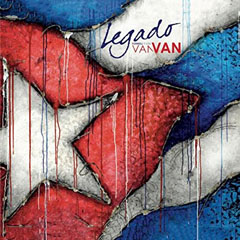 Winner Cubadisco 2018 Special Award
Nominated for 2019 Grammy Best Tropical Latin Album
When a group like Los Van Van has left such a vast body of wonderful works, it gets more and more difficult for writers like yours truly to say something new and insightful that has not already been said so many times in so many other places. Legado, however, merits a couple of special observations:

1. With Los Van Van's 50th anniversary approaching, it would have been easy to do a simple restrospective album. Legado is more ambitious. It does feature some of Juan Formell's early compositions, including one of my personal favorites from the early years of the group, Por qué lo haces, but with new arrangements that respect the feel of the originals while sounding modern. There are also new compositions by Samuel Formell and other members of the group, and this, too, makes it more than a retrospective
2. This album digs deep into the Songo roots of the band, and since very few other bands (except those of former members) ever truly mastered Songo, Legado is a potent reminder of what made Songo's appearance on the cultural scene so distinctive. Like the Son, however, Songo lives and evolves.
3. Samuel Formell has always been an excellent drummer, but his work truly stands out here and adds an extra dimension to the sound.

If I were to choose an album out of Los Van Van's last half-dozen to introduce a new listener to the group, Legado would probably be the one. It captures the original excitement of Songo in a bottle while sounding brand new.

Legado was awarded a Special Prize in Cubadisco 2018 and is currently a nominee for Best Tropical Latin Album in the GRAMMY® awards.
Tracks:

1. Legado opening (Samuel Formell)
2. Vamos a pasarla bien (Abdel Rasalps)
3. Vanvanidina (Armando Cantero)
4. Culpable de nada (Jorge Leliebre)
5. Vanvaneo (Roberto Hernández)
6. Al paso (Samuel Formell)
7. Qué pena (Boris Luna / Juan Ballestrero)
8. Te extraño (Juan Formell)
9. Por qué lo haces (Juan Formell)
10. Yo no soy un mango (Samuel Formell / Alberto Alberto)
11. Hecho pa' bailar (Roberto Hernández)
12. Legado de vida (Jorge Leliebre)
13. Amiga mía (Juan Formell)
14. Anda, camina Juan (Roberto Hernández)
Musical and Technical Credits for Legado
| Role - Instrument | Name |
| --- | --- |
| General Direction, Drums, Timbal | Samuel Formell |
| Piano | Efraín A. Chibás |
| Bass | Juan Carlos Formell |
| Congas | Joel Cuesta |
| Güiro | Julio E. Noroña |
| Keyboards | Boris Luna |
| Trombone | Hugo Morejón |
| Flute | Jorge Leliebre |
| Violins | Irving Frontela, Ricardo M. Labrada |
| Viola | Irving Frontela |
| Coros | Armando Cantero, Angel Bonne, Maday Poll, Jorge Leliebre |
| Lead Vocals | Vanessa Formell, Roberto Hernández "Robertón", Armando Cantero "Mandy", Abdel Rasalps "El Lele" |
| Guest Artists | Carolina Rodríguez (Cello), Añel R. Sarduy & Giselle Sánchez (Violin); Jonathan S. Formell (Guitar) |
| General Production & Direction | Samuel Formell |
| Musical Production, Arrangements | Samuel Formell, Boris Luna, Efrain A. Chibás, Jorge Leliebre |
| Recording Engineer | Alejandro Pulido |
| Recording Assistant | Reinier Álvarez |
| Mix Engineer | Mario Aracil |
| Mastering | Carlos Álvarez |
| Studios | El Rincón Vanvanero & Estudio 18 EGREM |
Bill Tilford - Saturday, 09 February 2019, 03:17 AM