SpanishEnglishLa Maquinaria - (EGREM) Released 2011
CD Review: La Maquinaria by Los Van Van (EGREM 2011)
Review by Bill Tilford, All rights reserved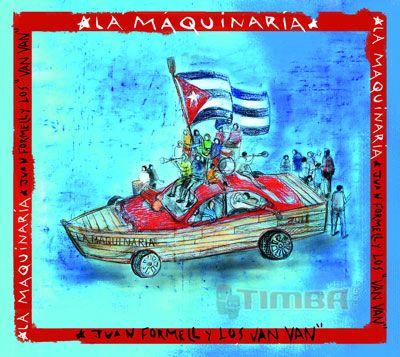 More than a few people have asked this writer: "Why haven't you reviewed La Maquinaria? It's a Los Van Van recording, and it was nominated for a Latin GRAMMY. Where is the review?" This is a fair question, and the time has arrived for a fair answer. Writing a review of this CD is a little like attempting to answer the question "Does this dress make me look fat?" after your wife has gained 30 lbs and purchased a terrible dress at an exorbitant price. This writer is old enough to have listened to Los Van Van via shortwave radio as it was being born, and this group will always have a special place in his heart as well as in the history of modern Cuban dance music. But almost every band that lasts for decades - regardless of what genre of music - occasionally produces an album that doesn't quite measure up to the high standards that fans have learned to expect. La Maquinaria is not a bad album, but that is precisely what it is - not bad - and we expect more from Van Van. We have delayed this review because (to our surprise) the CD did receive a Latin GRAMMY nomination, and we were so happy to see a Timba album - ANY Timba album - get recognition that we didn't wish to interfere with its chances in that process.
In fairness to Mr. Formell, this recording was released at a time when many other groups were also putting out retrospectives and/or new arrangements of old songs. For some reason, 2011 was not one of Timba's better years for the output of new releases. On the other hand, one can also argue that redoing older material is justified only when it improves upon the original, and for the most part, La Maquinaria fails to deliver those improvements.
There are some nice touches in this album, such as the guitar adornments in Control, and Yo No Le Temo A La Vida, a Songo, succeeds in capturing the energy of the Los Van Van that we fell in love with years ago. However, the shortcomings in the album are illustrated by the final track, Final, which is actually a redo of the final sequence of Diferente y Especial from a couple of decades ago. Alexander Abreu's trumpet solo is a nice addition to the track, but it isn't enough to make the new version better than the original recording of the entire song.
In retrospect, it might have been better for Van Van and EGREM to have approached this project as EPs rather than an entire CD. We could have lived quite happily without brand new versions of Eso Que Anda and Recibeme, for example, but Control, Yo No Le Temo a la Vida (the album's best track in our opinion), the title track La Maquinaria and the new version of Un Año Despues would have made nice singles.
Serious collectors and long-term fans of Van Van will want this recording for the sake of completeness, but La Maquinaria is not the CD that we would use to introduce a new listener to the group - there are too many recordings that are far better.
Los Van Van, we still love you, but after 40+ years, you now have a historic legacy and a reputation to uphold. Creative slumps happen to the best of geniuses, and you might want to consider focusing on singles (or EPs) until you have enough genuinely new material to justify a new album. Yes, we understand that you didn't do something that others did not also do, but you have a special place in the music, and that carries special responsibilities.
Track List:
1. La Maquinaria
2. Recibeme
3. Qué Tiene Ese Guajiro Que
4. Mis Santos Son Ustedes
5. La Boberia
6. Eso Que Anda
7. Control
8. Un Año Despues
9. Yo No Le Temo a la Vida
10. Final
2013 Update: Since this review was first written, I have received some feedback from some readers making the point that one virtue of remakes and updated versions of songs is that the production values are often better in the newer versions due to better technology and, in some cases, better coros and other innovations. This reviewer can't deny that the production values are frequently better in the newer versions of songs and wishes to clarify that he was referring to the songwriting and the creative aspects of the material. --BT
Kevin Moore - Thursday, 05 September 2013, 11:05 AM