SpanishEnglishEstado de ánimo - (Cinquillo/Colibrí) Released 2014
CD/DVD Review: Estado de ánimo (Cinquillo/Colibrí 2014)
Review by BIll Tilford, all rights reserved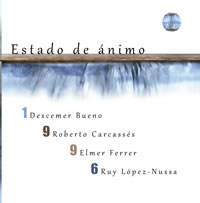 One of the most interesting Jazz/Fusion projects inside of Cuba during the 1990s is also one of the most obscure outside of it: Estado de ánimo. At its core were Ruy López-Nussa, Roberto Carcassés, Elmer Ferrer and Descemer Bueno (those who only know of Descemer's work with artists in popular music will be amazed by his prowess on bass here). Sadly, it was unable to leave us a body of albums, so this is a truly special find - a live concert at the Metropol discoteque in Tuí (Galicia, Spain) had been recorded in 1996 and preserved. In 2013, it was mixed and mastered.

This group has a very distinct, compelling and atmospheric sound, and it is not easy to name good points of reference, but this is every bit as good as the best of the Jazz/Fusion projects that were recorded in the US a few decades ago - Estado de ánimo will have special appeal to fans of groups like Return to Forever, Jan Hammer, Stanley Clarke, Billy Cobham, and the Mahavishnu Orchestra, to name a few (incidentally, Mr. Bueno has a moment playing tablas as well as bass in this recording). I have not yet seen the DVD portion, which contains a documentary and a photo gallery, but I have listened to the CD portion, and this is an amazing discovery. I hope that there is more concert footage like this out there somewhere.
Estado de ánimo was nominated for Cubadisco 2015 awards in the Jazz and Musical Documentary categories. It will be virtually impossible to find this extraordinary recording in stores yet, but I hope that I won't be able to say that for very long.
Songs

1. El mueble de bebita (Elmer Ferrer)
2. El rap de Aurobindo (Descemer Bueno)
3. El canguo loco (Descemer Bueno)
4. La calabacita (Descemer Bueno)
5. Señor de que extrañas maneras te apareces (Roberto Carcassés)
6. Aunque no lo quieras reconocer estamos separados (Roberto Carcassés)
7. La cajita de música (Descemer Bueno)
8. Poliscandú (Roberto Carcassés y Ruy López-Nussa)
9. Sin nombre (Elmer Ferrer)
DVD

Documentary: Aunque no lo quieras reconocer estamos separados; Photo gallery
Personnel in Estado de ánimo
Role - Instrument
Name
Piano
Roberto Carcassés
Bass, Tablas
Descemer Bueno
Guitar
Elmer Ferrer
Batería
Ruy López-Nussa
General Production, CD & DVD
Ruy López-Nussa
DVD Direction
Luís Najmías Jr., Ruy López-Nussa
Recording, Mix and Mastering
Isaac Palacin
DVD Editing
Ana María Hernández,
Luís Najmías Jr.
Camera
Nacho Vázquez
DVD Author
Mildrey Ruíz
Bill Tilford - Tuesday, 07 July 2015, 05:01 PM