SpanishEnglishEterno Formell - (Bis Music) Released 2014
CD Review: Eterno Formell by Various Artists (Bis Music 2014)
Review by Bill Tilford, all rights reserved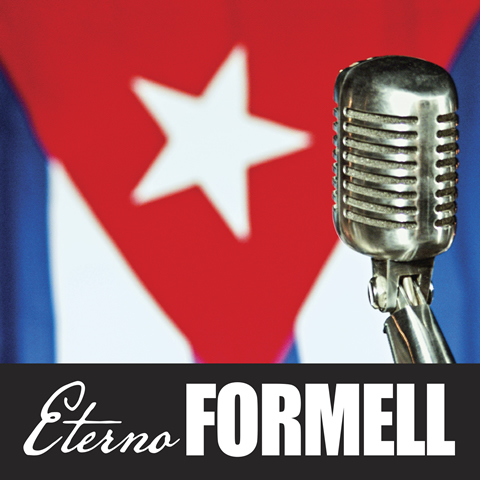 This is an all-star homage to Juan Formell, but with a difference: rather than attempt to do straight "covers" of some of Juan's songs, the arrangers decided to experiment a little. Tempos and in some cases styles are a little different than the original versions. As with Juan Formell's own musical experiments during his life, some of these work better than others - I like this version of Que Palo Es Ese better than both the original and any cover version that I have heard, for example. None of these are bad, but a couple will be a matter of taste. Si Mami Se Va is performed as an R & B arrangement for example, and it's very well-crafted, but some will like it more than others. Jeny Valdés sings Despues de todo as a Bolero with a keyboard accompaniment set to what is almost a bandoneon tone. Aquí el que baila gana and La Titimania are given a touch of Son complete with tres in the orchestration. Even here, though, there is no mistaking that these is a Formell compositions - they sound and feel distinctive
One thing I really like about these arrangements is that the instrumentalists are given a little more spaces for solos than what you would hear in a typical Los Van Van arrangement (this is particularly valuable in Yuya Martínez). Tu me haces falta with Issac Delgado on vocals is somewhere between R & B and a Jazz ballad (including some nice flugelhorn). Even A ver que sale, which stays in Songo/Timba mode, is given a different feel.
Each of the rest of the songs is a distinctive reimagining of the original, all faithful to the spirit if not exactly the letter. I suspect that Mr. Formell would approve.
Eterno Formell is a genuinely imaginative tribute to the master, and unlike so many all-star projects, it does not feel sterile. It won an Extraordinary Prize in Cubadisco 2015, and the more I listen to it, the more I like it.
Songs (all composed by Juan Formell):

1. Aquí el que baila gana (feat. Alex D'Lara)
2. Tu me haces falta (feat Issac Delgado)
3. La Titimania (feat Sixto Llorente)
4. Por encima del nivel (feat Dagoberto Vazquez)
5. Si mami se va (feat Joel Ezpinosa Solis)
6. A ver que sale (feat. Mandy Cantero)
7. Yuya Martinez (feat. Angel Bonne)
8. Despues de todo (feat. Jeny Valdés)
9. Que palo es ese (feat. Tony Cala y Telmary)
10. Fracase (feat. Joel Espinosa Solis & Danara Campanioni Corzo)
11. El baile del buey cansao (feat. El Misha)
12. Tal vez (feat Lilibeth Daly)
13. Chirrin Chirran (feat Michel González Poli)
Personnel in Eterno Formell
| Role - Instrument | Name |
| --- | --- |
| Lead Vocals | see Songs, above |
| Coros | Andres Martínez, Enrique Castellanos, Dagobero Vázquez, Marianni Rosell Isacc |
| Bass, Musical Director | Arnaldo Jiménez Villafranca |
| Piano and Keyboards | Boris E. Luna Méndez |
| Guitar | Rogelio Nápoles |
| Congas | Agusto Lage Isaac |
| Bongo | Osvaldo Huerta Cucalo |
| Percussion | Andres Cuayo |
| Trombone | Heikel Fabián Trimiño |
| Trumpet | Lázaro Oviedo; Orlando Carrodeguas Boza (also flugelhorn solo 2) |
| Tres | Juan de la Cruz Antomarchi |
| Drums and Timbal | Edgar Araujo Coll; Fabián Sirgado (timbal, 3) |
| Baritone Sax, 3 | Yuniet Lombida |
| Musical Production | Arnaldo Jiménez Villafranca |
| Orchestrations | Arnaldo Jiménez Villafranca & Boris E. Luna Méndez |
| Recording & Mastering | Ramón de la Paz |
| Mix | Ramón de la Paz & Arnaldo Jiménez Villafranca |
| Studio | Estudios SAMNIC |
Bill Tilford - Thursday, 25 June 2015, 08:38 PM