SpanishEnglishTodo está bien - (Colibri) Released 2012
CD Review: Todo está bien by Giraldo Piloto & Klimax
(Colibri 2012) - Review by Bill Tilford, all rights reserved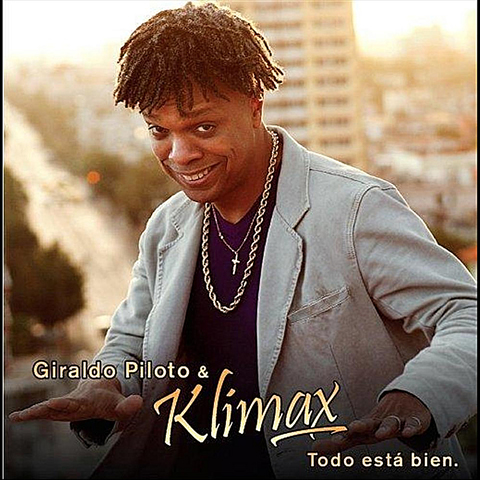 This is, quite simply, one of the best new Timba releases by any group in the last decade. It has variety, melody lines that will prevent musicians from getting bored, dance grooves that will keep real Timberos on the floor and an intense level of energy that is missing from so many recordings in all genres today. Mr. Piloto has always put so much music into his recordings and performances, and some people have described Klimax as being for hard-core enthusiasts only, but I wouldn't hesitate to use this to introduce a new listener to Timba, not because it is simple, but precisely because it isn't. At this writing, Todo está bien has justifiably been nominated for the Popular Dance Music Category in Cubadisco 2013.

The one major diversion from Timba in this recording is a Cuban Funk version of Michael Jackson's Black or White complete with English lyrics. This writer isn't really a serious Michael Jackson fan, but if Michael had been this funky, I would have been one. This ensemble could easily hold its own with Tower of Power, Mandrill or Parliament/Funkadelic if it wanted to. Mr. Piloto, I usually frown on Salsa and Timba covers of American pop songs, but if you want to bring us more of the Funk, by all means, please do.

The songs Regresa and Quiero salir esta noche contigo will be completely accessible to North American Salseros and may end up in the hands of some DJs in the United States. Hay que recordar is a Bolero with a few surpise modern touches and a guest appearance by Josefina Barretto on vocals. Homenaje a Michel Legrand is a Cuban take on some themes from The Umbrellas of Cherbourg. The other six tracks are solid Timba, and we do mean SOLID. There are some extra touches, such as the wailing electric guitar in Todo está bien, but this is the real deal. If this isn't in your collection already, it should be.
Tracks:
La abusadorcita
La pelirroja
Que sería de mi
La descarga
Lola
Black or white (Michael Jackson)
Regresa
Todo está bien
Quiero salir esta noche contigo
Hay que recordar
Homenaje a Michel Legrand
Personnel for Todo está bien
Role/Instrument
Name
Director, drums, timbales, maracas
Giraldo Piloto
Piano and keyboards
Yusef Díaz, Yandy Martinez, Dayramir González, Rolando Luna, Javier Moreno
Congas and percussion
Julio López, Tomás Ramos,
Jean Roberto San Cristóbal
Trumpets
Alexander Abreu, Alberto Ferro
Alto sax
Delvis Ponce, César López
Tenor sax
Gustavo Díaz, José Luis Hernández
Trumpet
Eddy "Chuti" Lobaina
Trombone
Amaury Pérez
Guitar
Jorge Luis Chicoy, Héctor Manuel Quintana
Tres
Arturo Cruz
Vocals
Leonardo Garrido, Noel Díaz, Oscar Trujillo
Oscar Reinaldo Correa, Josefina Barretto
Producers
Giraldo Piloto and Yusef Díaz


Kevin Moore - Thursday, 05 September 2013, 06:17 PM