New Stuff
[hide]
Photos of the Day
[hide]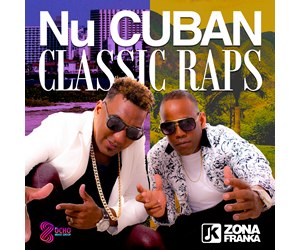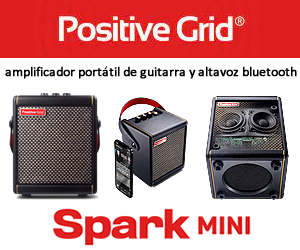 David Peñalosa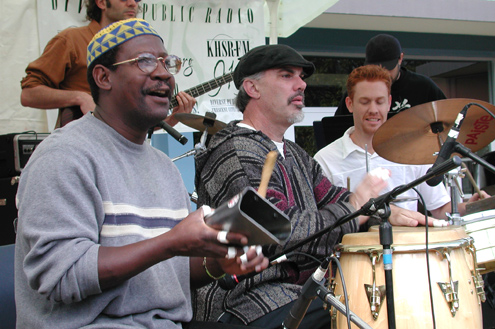 Kachimbo's drummers, from left: Luis "Chichito" Cepeda, David Peñalosa, Rama Boyd
(photo by Bob Doran - 2001)
Born in Los Angeles, David Peñalosa's earliest memory of drumming is hitting his mom's pots and pans in the kitchen as a toddler. David studied African drumming and jazz improvisation in college and popular dance at Cuba's National School of the Arts (ENA). He has spent most of his life performing, teaching and promoting Afro-Cuban music. David has written numerous reviews of Cuban music, hosted a Latin music radio show and as Executive Producer for Bembe Records (www.bembe.com), has re-released classic Cuban recordings such as Música Yoruba (Conjunto Folklórico Nacional de Cuba) and El Trombón Majadero (Generoso Jiménez) and introduced ground-breaking music such as Bata Ketu (Michael Spiro and Mark Lamson) and the 1997 Grammy-nominated Babalú Ayé (Irakere). He also produced and directed the acclaimed CD Drum Jam (Descarga al tambor) for Bembe (2000).
David formed and directed Kachimbo, a salsa band which appeared throughout Northern California. As a batá drummer, David has played ceremonies and accompanied countless dance and song classes, including some conducted by José Francisco Barroso, Roberto Borrell, Los Muñequitos de Matanzas, Lázaro Ros, and members of the Conjunto Folklórico Nacional de Cuba.
As a teacher, David has taught numerous drummers who have gone on to become teachers themselves. He is a regular faculty member of the annual Afro-Cuban Dance and Drum workshop, held on the Humboldt State University (www.humboldt.edu/~extended/afrocuban), working with Cuban masters such as Francisco Aguabella, Lázaro Galarraga, "Sandy" Pérez and Regino Jiménez.
David is a preeminent clave theorist, sought out by scholars and authors for his analytical expertise. He is credited with conceptual guidance in the Tomás Cruz Conga Method books, Kevin Moore's multi-volume Roots of Timba Piano and Conor Guilfoyle's Odd Meter Clave. David's 2009 book The Clave Matrix is the most comprehensive work to date on the subject of clave.
David Peñalosa lives with his son Henry in the small college town of Arcata, California, where he performs and teaches Afro-Cuban percussion.
Kevin Moore - Tuesday, 22 March 2011, 07:31 PM