Archivo
New Stuff
[hide]
Photos of the Day
[hide]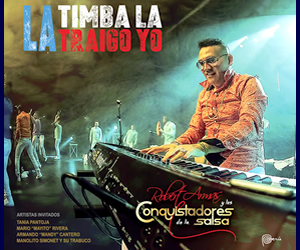 Sin Clave No Hay Na
An Iris Blooms in Santiago
The Iris Jazz Club in Santiago de Cuba
Un Iris florece en Santiago
El Iris Jazz Club en Santiago de Cuba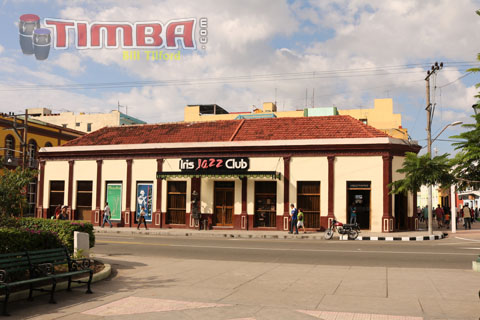 ENGLISH: Santiago has a relatively small but EXTREMELY impressive Jazz scene, and its epicenter is the Iris Jazz Club, right next to the Plaza de Marte. It was modeled after the best Jazz clubs in both Cuba and other countries including the United States, and both the ambience and the sound are very impressive.
ESPAÑOL: Santiago tiene una escena relativamente pequeña pero extremadamente impresionante del Jazz, y su epicentro es el Iris Jazz Club, justo al lado de la Plaza de Marte. Fue modelado segun los mejores clubes de Jazz en Cuba y otros paises incluyendo Estados Unidos, y tanto el ambiente y el sonido son muy impresionantes.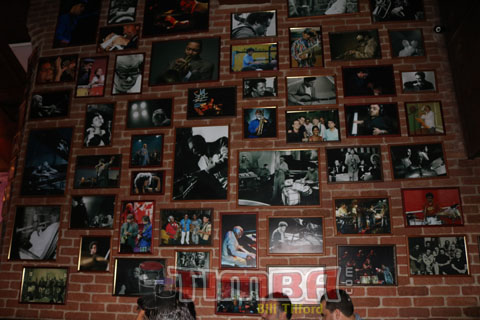 ENGLISH: The building had a few previous lives and began operating as a Jazz club in 2012. It has live music six nights per week and features both local talent and groups from Havana and beyond. (Arturo O'Farrill performed there one night during my sojourn in Santiago).
ESPAÑOL : El edificio tenia unas vidas anteriores y empezó sus opercaciones como un club de Jazz en 2012. Se presenta música en vivo seis noches cada semana y cuenta con talento local, grupos de la Habana y más allá. (Arturo O'Farrill toco allí durante mi estancia en Santiago).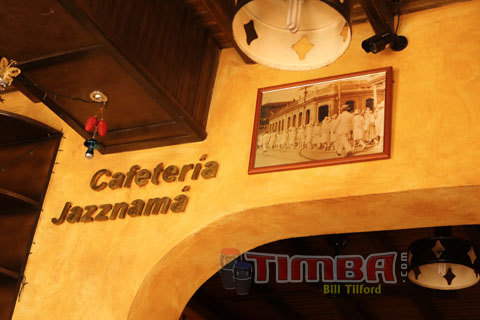 ENGLISH: There is a cafeteria, Jazznamá, and a bar dedicated to Emiliano Salvador .
ESPAÑOL : Hay una cafetería, Jazznamá, y un bar dedicado a Emiliano Salvador .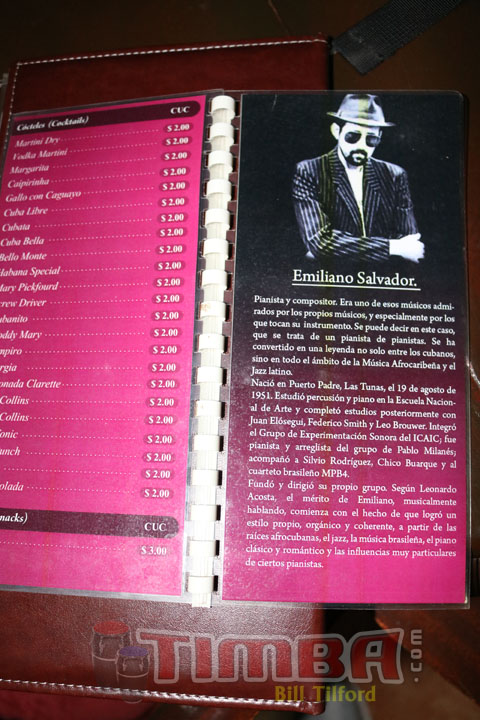 ENGLISH: I had the opportunity to record my conversation with the Director of the Club, Robier González Garbey, about the history of the club and the Jazz Scene in Santiago. You can listen to that conversation (in Spanish) here.
I did the same with the agent for the club, Raydelis Guibert, and you can listen to that conversation (also in Spanish) here.
ESPAÑOL : Tuve la oportunidad de grabar mi conversación con el Director del Club, Robier González Garbey, acerca de la historia del club y la escena jazzistica en Santiago. Puede escuchar la conversacíón en español aquí.
Hice lo mismo con el agente para el club, Raydelis Guiber, y puede escuchar la conversacion (también en español aquí)
ENGLISH: For a closer look inside the club, see two photo galleries: Albertico Lescay & Formas , and Arturo O'Farrill and Others and the review of Ivan Acosta
ESPAÑOL : Para ver más de cerca el interior del club, vea dos galerías: Albertico Lescay & Formas y Arturo O"Farrill and Others y la reseña de Ivan Acosta